Traditions, folklore, history and more. If it's Irish, it's here. Or will be!
"People will not look forward to posterity who never look backward to their ancestors."
-Edmund Burke
---
Quotes

Library: Books, Movies, Music

Prints & Photos

Poetry

Jokes

---
---
Shops Ireland
---
Bunús na Gaeilge
(Basic Irish)

---
---
---
Himself/Herself
Write to Us
Readers Write..
Links/Link to Us
---
Advertise with us

---

Help keep us free
Throughout the site you will see many items available for purchase from well-known merchants such as Amazon. Not interested in what we're featuring? It doesn't matter. Click on any link and then shop for whatever you wish - we will still get credit, if you buy something.
Thanks for your help.

---
Photography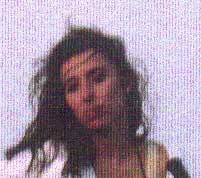 Laura Jean Zito

Laura is a graduate of Harvard University's Visual and Environmental Studies Department, with a Summa Cum Laude thesis in photographic printing from noted photography critic Ben Lifson. She is the First American and the First Woman to win the Grand Prize in the Nikon Contest (she won many other prizes as well).
And there we pull up short. Her shows, credits and awards span many years and many countries.
So why is she here, on Irish Culture and Customs?
The easier answer is the grandparents who came from Strokestone and Castlerea. The answer with meaning is a portfolio of living Irish writers and Ireland at large.
We chanced on Laura in pursuit of photographs. The living Irish Writers and poets deserve to be seen in a good light; as they are read in good light. In our usual poking about, we found Laura's pictures. As you browse through our poetry pages, you will see Laura's work. For choices, you will be seeing more and more of Laura's Ireland and her Irish writers.
We hope to make arrangements for you to purchase any you may like.


Shows, Credits and Awards:
She is the First Prize winner in Photography in "Art of the State 2002" at the Pennsylvania State Museum in Harrisburg, as well as the Purchase Prize winner for artists in all disciplines in Pennsylvania for 2002. She also won the Purchase Prize for the Michener Museum in 2002 in the Artsbridge Exhibit at Prallsville Mills in Lambertville, N.J. Ms. Zito also took First Prize at the annual Cape May Art Show for the Body of Work, the first time photography was ever awarded any prize in this show. Other prizes awarded in 2002 include the Purchase Prize for the Ocean City Boardwalk Show, a Second Prize at the Millard Sheets Gallery in L.A., curated by jurors from the Getty Museum, and a Third Prize at the Da Vinci Art Alliance in Philadelphia.
Ms. Zito will have a one-person show in Philadelphia at the Pi Gallery at Race and 2nd Street in the spring. She had a one-person exhibit at the Ocean City Arts Center in N.J. in October, 2002. She is scheduled to hold a one-person exhibit at the Hyatt Regency Galleries in Sharm-el-Sheikh, Sinai, to be arranged when the timing is right. She is currently hanging in Sharm-el-Shiekh at the Rustichella Galleries in Na'ama.
Ms. Zito has been published in periodicals such as Camera Arts, the Photo Review, Darkroom Photography, FotoMundo, the L.A.Times Magazine, Harvard Magazine, Natural History, The Cultural Survival Quarterly, Time, Newsweek, People, and many other newspapers and journals.
Ms. Zito's photos have graced the covers of books including, Curtin and London's "A Guide to Great Pictures," and Wayland's "Bedouin – Nomads of the Desert" , as well as the inside pages.
Ms. Zito curated groups shows at Fotoforum, her photography gallery at 47th and Fifth, for three years, as well as a group show for the Museo de Arte Moderno in Buenos Aires, Fotoforum – 25 New York Photographers. She had one-person shows at the Overseas Press Club, the Egyptian Tourist Authority at Rockefeller Center, the South Houston Gallery, and the Mix Company, all in NYC. She also had one-person shows in Buenos Aires at the Casa Pardo, in Tel Aviv at the Bet Sokolov, and in Eilat at the City Library. In Ireland, Ms. Zito had one-person shows at the Stationmaster's House Gallery in Kiltimagh, County Mayo, a town dedicated to artists, at Farranfore Airport in County Kerry, where she had a long-term installation (four years), and at the Listowel Cultural Center, where she had the inaugural exhibit. Ms. Zito also participated in the Clifden Arts Festival, and has several photographs currently on the website of the Irish Writers Center, portraits of famous Irish writers. She took Third Prize in the International Salon of Creative Photography, in London, curated by Prince Andrew. She has been in numerous other group shows both internationally and in the U.S, such as "PhotoNational" at the Lancaster Museum of Art. The most recent was the Winner's Circle Exhibition for the City Paper Photography competition, held at the Gallery Siano on Arch and 4th in Philadelphia, for which her photo was used on the exhibition invitation.


Thu, Jul 9, 2015
The Collected Works of W.B. Yeats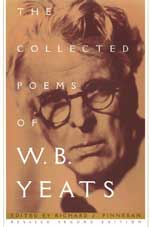 No matter who does the collecting, the works stand on their own but this is an excellent compilation and well worth adding to your library.
1000 Years of Irish Poetry: The Gaelic and Anglo Irish Poets from Pagan Times to the Present
by Kathleen Hoagland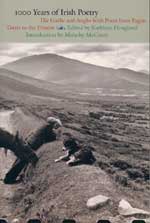 Interested in Irish Poetry?Here's the easy way to collect them all (well, almost all, anyway).
Malachy McCourt says in his introduction, "With the republication of this book, the Irish recover under their roof of stars all the great poets and writers who have been falsely claimed by the saxon crown and its minions - even our reprobates."
Amazon states this is out of stock. They still have used copies for almost nothing (except shipping - chuckle). If you would like a new edition, it was available at Powell's. We can't promise it's still there. Click here for Powell's 1000 Years.
Click here for used at Amazon.