Traditions, folklore, history and more. If it's Irish, it's here. Or will be!
"People will not look forward to posterity who never look backward to their ancestors."
-Edmund Burke
---
Quotes

Library: Books, Movies, Music

Prints & Photos

Poetry

Jokes

---
---
Shops Ireland
---
Bunús na Gaeilge
(Basic Irish)

---
---
Did You Know?
---
Himself/Herself
Write to Us
Readers Write..
Links/Link to Us
---
Advertise with us
---
Awards & Testimonials

Submissions Guide

Help keep us free
Throughout the site you will see many items available for purchase from well-known merchants such as Amazon. Not interested in what we're featuring? It doesn't matter. Click on any link and then shop for whatever you wish - we will still get credit, if you buy something.
Thanks for your help.

---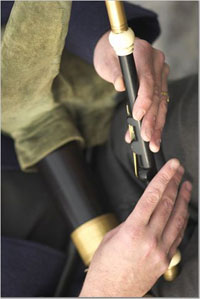 The Humour is on me now
Music for an Irish Wedding Reception
by Bridget Haggerty

As with the music for your ceremony, the possibilities for your reception are endless! While you may not want to play all Irish melodies, there's most certainly enough available to keep everyone singing and dancing for days! There are also so many choices for first dances that, unless you're really set on it, you can substitute clichés such as Daddy's Little Girl with Irish compositions that actually may have more meaning for you and your families. But be aware that some of the most popular tunes associated with the Emerald Isle are products of Tin Pan Alley. When Irish Eyes Are Smiling, for example, was actually written by George Graff, an American of Dutch and German descent. I'm not saying that you shouldn't play the old standards, especially if they are family favorites, but do check into the many recordings available that feature musicians playing traditional Irish airs and dances. You will discover a wealth of tenderness, passion and beauty that is soul-stirring.

While it's not always possible to preview a recording, amazon.com offers free sound bites which may help you avoid making the mistake of purchasing an inappropriate album which I did when I bought A Celtic Wedding by the Chieftains. I didn't look at the playlist. Had I done so, I would have seen immediately that all of the music is from Brittany. Yes, it's Celtic, and yes, as usual, the Chieftains are superb. But it isn't Irish.

What follows is a general chronological order of key events held during most wedding receptions. With each event, I've suggested one or two pieces. Some of the selections reference a specific artist and recording.

To set the mood, have an uilleann piper herald the arrival of the wedding party. An appropriate tune would be the recessional played at the end of your ceremony. If you are having a cocktail hour and/or receiving line prior to the meal, keep the mood going with musicians or a DJ playing traditional airs.

Arrival of the Wedding Party
Simple Gifts from the ballet Appalachian Spring by Aaron Copland. This old Shaker hymn is supposedly rooted in Celtic culture and is the theme that runs throughout Michael Flatley's Lord of The Dance.
Alternatively, consider Morghan Meaghan by Lauri Riley and Bob McNally from Celtic Odyssey.

Background Music
During the cocktail hour, dinner and dessert, there will be numerous opportunities to play a wide variety of Irish music. See Information Section I for ideas. When making your choices, keep in mind that you will want to encourage conversation, so it's best to select unobtrusive instrumentals and save the boisterous jigs and reels for the dancing later. Also, unless you have an excellent master of ceremonies who can time musical introductions perfectly, it's advisable not to have any music at all during the speeches and toasts.

First Dances
Bride and Groom
While many couples choose 'their song' for the first dance, The Irish Wedding Song by Ian Betterridge, already mentioned under Ceremony, has become almost a standard at Irish wedding receptions. It does have a lovely air and the words are beautiful. If you can play this piece during your ceremony, great, but if it's not permitted, it may be appropriate for your first dance together. If you select it, do be sure to have copies of the lyrics available so that all of your guests can sing it to you. An excellent version is The Irish Wedding Song by Andy Cooney from A Collection of Irish Hits.

Father and Daughter
Daughter of Mine by John McDermott from Love is a Voyage
Fairy Tale by Eyna from The Celts
Sure, She's Irish by Sonny Knowles from Sunshine & Shamrocks

Mother and Son
Did Your Mother Come From Ireland by Bing Crosby from Shamrocks & Shillelaghs. It's also on his Top O' The Morning recording.

Parents
Voyage by Christy Moore from The Christy Moore Collection.
This is a splendid tribute to marriage as are The Vows go Unbroken and My Little Claddagh Ring by Andy Cooney from his Collection of Irish Hits.

Bridesmaids and Groomsmen
Mari's Wedding by Van Morrison and The Chieftains from Irish Heartbeat. Actually a Scottish melody, but it's so popular and full of joy, it merits inclusion.

Special Events
Cake Cutting
Air - You're The One by the Chieftain's from Film Cuts.
A Stór Mó Chroí - Jewel of My Heart by Maura O'Connell from Wandering Home.

Bouquet and Garter Toss
The Humour Is On Me Now, a jaunty Irish tune played at the reception in the movie, The Quiet Man. The soundtrack is available.

General Dancing
Before getting into the wild jigs and reels and perhaps a few sets featuring contemporary Irish musicians, consider beginning the general dancing with Happy Are We All Together by Andy Cooney, a lovely ballad in a traditional slow waltz tempo. It's on his Collection of Irish Hits.

Last Dance
Instead of the traditional send-off, complete with old shoes and tin cans tied to the bumper of the getaway car, many couples are staying until the end of their reception because they don't want to miss out on any of the fun. And why not! If you plan to stay until the end, consider leading your guests out of the reception hall to a lively jig such as Up and About from the album James Galway and the The Chieftains in Ireland. It's recorded live and you can clearly hear the hard shoes of Irish dancers, which, by the way, would also be a wonderful addition to your reception. Consider inviting several dancers to do a soft shoe and hard shoe set during the dinner hour. While they are changing shoes, perhaps one of the dancers can explain the significance of their magnificent costumes. For your guests who may never have watched Irish dancing before, it could be a major highlight of the celebration!

Source: The Traditional Irish Wedding by Bridget Haggerty
Ullean piper from Anne Lanier Weddings


Fri, Jul 10, 2015

---
Back in Print!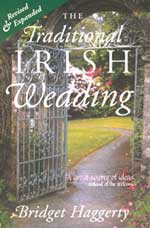 The Traditional Irish Wedding

In this expanded, revised, and updated version, the author has added sections on Getting Married in Ireland and ideas for a vow renewal "with the sound and feel of Ireland." This edition also includes the origins of Irish Coffee; the truth about Aran Isle Sweaters and information about kilts. Available from many Irish and Celtic gifts shops or Amazon.
---
Beautiful CD filled with traditional melodies, including a great version of Haste to the Wedding.
---
Yes, this film has almost become a cliche but if you haven't seen it, it is well worth the investment. As one reviewer puts it: "...it's no surprise The Quiet Man won an Oscar for cinematography. It also won an Oscar for John Ford's direction, his fourth such award. The film was a deeply personal project for Ford (whose birth name was Sean Aloysius O'Fearna), and he lavished all of his affection for the Irish landscape and Irish people on this film." We couldn't agree more.
Click here for The Quiet Man