Traditions, folklore, history and more. If it's Irish, it's here. Or will be!
"People will not look forward to posterity who never look backward to their ancestors."
-Edmund Burke
---
Quotes

Library: Books, Movies, Music

Prints & Photos

Poetry

Jokes

---
---
Shops Ireland
---
Bunús na Gaeilge
(Basic Irish)

---
---
Did You Know?
---
Himself/Herself
Write to Us
Readers Write..
Links/Link to Us
---
Advertise with us
---
Awards & Testimonials

Submissions Guide

Help keep us free
Throughout the site you will see many items available for purchase from well-known merchants such as Amazon. Not interested in what we're featuring? It doesn't matter. Click on any link and then shop for whatever you wish - we will still get credit, if you buy something.
Thanks for your help.

---
Give Me Your Hand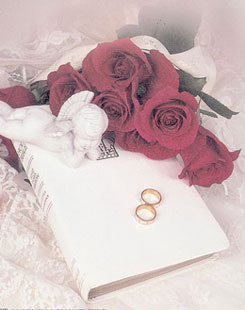 Music for an Irish Wedding Ceremony
by Bridget Haggerty

Recently, the Dublin Diocesan Liturgical Resource Centre compiled a CD to help couples identify appropriate music for a church ceremony. In hopes it will help avoid some of the more embarrassing choices couples have made in the past. As in: Waterloo, Will You Still Love Me Tomorrow or Help Me Make It Through The Night. We are not making these up. Among other choices on the list are: God Give Me Strength, Crazy, and The End of The World As We know It.

If you're still laughing out loud, you might laugh even louder when you learn that a well known Irish wedding consultant recommends The Ride of the Valkyries by Wagner as a recessional. In this writer's opinion, this is totally out of place at an Irish wedding - or any wedding. To her credit , this same consultant recommends, among others, popular pieces such as Beethoven's Ode to Joy and Handel's Music for the Royal Fireworks. However, With so much traditional Irish music available, one has to wonder why she chose not to include any of them in her recommendations, for either the bride's entrance or the newlyweds departure. All of that said, there can be many pitfalls in selecting Irish compositions. For example, you'll often hear She Moved Through the Fair at many Irish wedding celebrations. It's a well-known traditional tune with lyrics by Padraic Colum, but while it's beautiful, the young girl who so poignantly reminds the young man that "It will not be long, love, before our wedding day" is a ghost! And one would think that a recording entitled Celtic Wedding by the Chieftains would be an appropriate choice right? Wrong! We bought this CD at a festival without paying close attention to the playlist. Had we done so, we would have seen that the music was for a wedding in Brittany. In our defence, the cover really didn't make that obvious. The cover has since been updated and it now says Music of Brittany. Oh well.

So, with the words of caution out of the way, on with the fun - but certainly not frivolous - task of choosing music for your ceremony. The first step is to consult with your celebrant, especially if you plan on a church ceremony. To avoid disappointment, find out early whether or not secular music is allowed. In the Catholic church, for example, your diocese may be very strict and only allow sacred music. So, as much as you may like Our Love Will Go On from the film Titanic, you may as well deep six it now. And besides, it does seem a bit morbid to have a song from a sinking ship played at such a joyful occasion - but you'd be surprised how many couples request it! We digress.

What follows is a listing of suggestions appropriate to key parts of a traditional Roman Catholic Nuptial Mass, from the prelude to the recessional. The list can be easily adapted to an ecumenical order of service or secular celebration. Most of these compositions appear on recordings that are readily available and we have hot-linked those that we found on line. Many of them have been recorded by more than one artist; the majority of the ones listed here are from our personal collection. Multiple suggestions for each part of the ceremony are also offered.

Prelude
Haste to the Wedding. Druidstone, The Vow - An Irish Wedding Celebration
Madame Cole. The Chieftains, Celtic Harp. This piece was composed by Carolan in 1719 for Madame Cole's wedding day.
Love Theme from Tristan & Isolde. The Chieftains, Film Cuts
Carolan's Ramble to Cashel. Northern Lights, Celtic Odyssey
Women of Ireland. Sunita, Mist-covered Mountains
Barry Lyndon, Love Theme. The Chieftains, Film Cuts
Neansaí Mhíle Grá. Clannad, A Celtic Tapestry
An Chuilfhionn. DruidStone, The Vow - An Irish Wedding Celebration
Celtic Melody. DruidStone, The Vow - An Irish Wedding Celebration

Mothers' Seating & Candle Lighting
Believe Me If All Those Endearing Young Charms. James Galway/Phil Coulter, Legends
Silver Threads Among The Gold. Phil Coulter, Sea of Tranquility
Sliabh Na mBan Druidstone, The Vow - An Irish Wedding Celebration

Processional
Bridesmaids:
Circle of Friends/Air - You're The One. The Chieftains, Film Cuts
March of the King of Laoise. Sunita, Mist-Covered Mountains

Bride:
Lark In The Clear Air. James Galway, Lark in the Clear Air
The King of Love My Shepherd Is. We have this on a CD called Celtic Hymns. Unfortunately, it doesn't seem to be available anymore. If you would like to listen to the melody and read the words, you can do both here: Cyber Hymnal.

Processional. DruidStone, The Vow - An Irish Wedding Celebration
The Pearl. Silly Wizard, A Celtic Tapestry

Responsorial Psalm:
Sé An Tiarna M'Aoire. An Irish Wedding Ceremony. Claire Roche

Unity Candle
Give Me Your Hand. James Galway & The Chieftains in Ireland
Eleanor Plunkett. Deanta, A Celtic Treasure, The Legacy of Turlough O'Carolan
Sí Bheag, Sí Mhór. Phil Coulter, A Celtic Treasure, The Legacy of Turlough O'Carolan
Mabel Kelly. James Galway & The Chieftains in Ireland
Alleluia. James Galway & The Chieftains in Ireland

Communion
Be Thou My Vision. A wedding text entitled God In The Planning is available from the Gather Hymnal published by Gia Publication, Inc. Chicago. As with the King of Love mentioned earlier, we have a nice version of this on a CD called Celtic Hymns. But we can't find it on line. However, you can hear the tune and read the lyrics that are usually sung here: Cyber Hymnal.

Bí, a Íosa, im Cróise. An Irish Wedding Ceremony. Claire Roche

Sweet Sacrament Divine. Various artists, Faith of Our Fathers II
Céad milé fáilte a iosa. Various Artist s Faith of our Fathers I
O Sacrament Most Holy, Various Artist s Faith of our Fathers I

Flowers To The Blessed Virgin:
Salve Regina. Various Artist s Faith of our Fathers I
Ave Maria. James Galway, Christmas Carol
Holy Mary Full of Grace. Various artists, Faith of Our Fathers II

Meditation
Traditional Irish Hymn Suite. Various artists, Faith of Our Fathers II
St. Patrick's Breastplate. To hear the melody and read the lyrics, please click Cyber Hymnal.

Blessing Prior to Dismissal:
Gaelic Blessing John Rutter Gloria

Recessional:
Morghan Meaghan. Riley & Bob McNally, Celtic Odyssey
Haste to the Wedding. DruidStone, The Vow - An Irish Wedding Celebration
Bridget Cruise. Dominig Bouchaud & Cyrille Colas, Celtic Treasure, the Legacy of Turlough O'Carolan
Tribute To Bunting. The Chieftains, Celtic Harp
Carolan's Concerto. James Galway & The Chieftains In Ireland

CEREMONIAL MASSES
For those of you who will be having a Roman Catholic ceremony, you might consider the following Masses, or parts of them.
St. Patrick's Mass by composer/conductor Philip Green.
Blending Gregorian chants with classical choir music and traditional Irish airs, it's a powerful composition that's best performed if you have access to many musicians, a great choir and a superb Irish tenor. Since that's out of the question for most couples, consider excerpting pieces from:
The Mass of St. Francis of Assisi - Let Me Bring Love.
While Mr. Green wrote this Mass for children to perform, an adult choir could easily evoke the same deep emotional quality of the simple melodies. And if you don't have access to a choir, but you can get a really good soloist who can lead the responses, then definitely consider:
The Celtic Mass composed by Christopher Walker. As far as we know, The Celtic Mass has not been recorded, but the sheet music is available.

When you begin reviewing music selections, we strongly recommend that you make two music lists - one for the ceremony and one for the reception. In addition to the title of the cut and the cassette or CD from which it came, you should include the length of each recording. This will make it a lot easier to calculate how many pieces can be used, and it is absolutely essential if you'll be playing pre-recorded music. For example, the music played before the ceremony begins usually lasts for about a half hour.

If it's within your budget, hire musicians who specialize in traditional Irish music. Or, if the location where your wedding will be held has a decent sound system, you could use pre-recorded tapes or CDs.

If you are engaging the services of church music directors and/or musicians, send a copy of your music to both parties prior to meeting with them so that they will be familiar with the compositions you have selected. In turn, if you decide to use a composition suggested by your music director, he or she should provide your musicians with copies of the sheet music. In any event, allow plenty of rehearsal time

The most difficult part of the task will be limiting your lists. Once you have made your final choices, we suggest that you dub them onto cassette tapes in the order they will be be played - ceremony on one side and reception on the other. Alternatively, if you have access to a CD burner, you could burn one CD for the ceremony and one for the reception. If you will be using a sound system for the ceremony and/or reception, make a tape or CD for each location and, as a precautionary measure, make two more copies as back-ups. You should then give or mail the tapes or CDs to the person who will be responsible for running the sound system. On the big day, be certain to have someone bring the back-ups to both the ceremony and reception . . . just in case.

If all of this sounds incredibly time-consuming, it is! Allow about three months to make your choices and also take into consideration rehearsal time for the musicians. It will be well worth the effort.

Other Music Sources:
Wedding Music from Jack and Vivian Hennesy's Irish Page; here you will find nine pages of music ideas - a page for each part of the celebration from an opening hymn at the ceremony to a selection of festive tunes for the feast. Turn on your speakers and enjoy listening to what's on offer!

The Wedding Album compiled by the Dublin Diocesan Liturgical Resource Centre. The music on this recording represents a variety of styles and resources and is performed by the Dublin Lourdes Choir, the Diocesan Music Group, Cana Musicians and Singers and a wide range of instrumentalists. Most important of all, there can be no doubt about it being appropriate for a Roman Catholic ceremony.
The CD is available from Veritas and Cathedral Books. Shop on line here: Dublin Diocese.

If permitted, you might also like to include The Irish Wedding Song. Written by an Australian, Ian Betteridge (who also composed the music), the piece was initially played on Irish radio programs and it has since become very popular at Irish weddings all over the world. Many brides of Irish descent are incorporating it into their ceremony, and they often include the words in their program so that family and friends can sing it together. If you are not allowed to include secular music during your ceremony, you might want to consider having the guests sing it to the newlyweds at the reception.




Fri, Jul 10, 2015

---
Back in Print!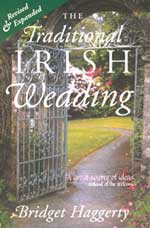 The Traditional Irish Wedding

In this expanded, revised, and updated version, the author has added sections on Getting Married in Ireland and ideas for a vow renewal "with the sound and feel of Ireland." This edition also includes the origins of Irish Coffee; the truth about Aran Isle Sweaters and information about kilts. Available from many Irish and Celtic gifts shops or Amazon.
---
Beautiful CD filled with traditional melodies, including a great version of Haste to the Wedding.
---
Yes, this film has almost become a cliche but if you haven't seen it, it is well worth the investment. As one reviewer puts it: "...it's no surprise The Quiet Man won an Oscar for cinematography. It also won an Oscar for John Ford's direction, his fourth such award. The film was a deeply personal project for Ford (whose birth name was Sean Aloysius O'Fearna), and he lavished all of his affection for the Irish landscape and Irish people on this film." We couldn't agree more.
Click here for The Quiet Man

---