Traditions, folklore, history and more. If it's Irish, it's here. Or will be!
"People will not look forward to posterity who never look backward to their ancestors."
-Edmund Burke
---
Quotes

Library: Books, Movies, Music

Prints & Photos

Poetry

Jokes

---
---
Shops Ireland
---
Bunús na Gaeilge
(Basic Irish)

---
---
---
Himself/Herself
Write to Us
Readers Write..
Links/Link to Us
---
Advertise with us

---

Help keep us free
Throughout the site you will see many items available for purchase from well-known merchants such as Amazon. Not interested in what we're featuring? It doesn't matter. Click on any link and then shop for whatever you wish - we will still get credit, if you buy something.
Thanks for your help.

---
Joseph Mary Plunkett (b. Nov. 21, 1887 - d. May 4, 1916)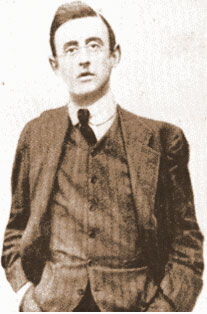 ...was born in Dublin and educated at Catholic University School, Belvedere College and Stonyhurst College.
For a while he was editor of the Irish Review.
He was a close friend of Thomas MacDonagh and Padraic Pearse, noted Irish poets. Along with MacDonagh and Edward Martyn, he co-founded the Irish Theatre.

During the 1916 Rising he was one of the signers of the Proclamation of the Irish Republic. He was imprisoned by the English army in the Richmond Barracks. Shortly before his execution in the courtyard of Kilmainham jail, on the morning of May 4th, he married his fiance, Grace Gifford, in the jail's chapel. He died at the age of 28. One of the best known romantic tragedies, his marriage to Grace has become both song and fable.

His friend, Thomas MacDonagh was executed the day before.
The interrelationships between the poets of Dublin emerge many times. Francis Ledwidge, another of the poets of the day, wrote a Lament to Thomas MacDonagh.
Joseph's father and brother John, who were also involved in the 1916 uprising, served ten years penal servitude. Joseph's wife, Grace, was also later imprisoned in the Kilmainham jail.

Plunkett's poetry was published in two volumes: "The Circle and the Sword", in 1911 and the "Occulta", published posthumously. His sister, Geraldine Plunkett acted as editor and contributed a foreword.

The Splendour of God
by Joseph Mary Plunkett

The drunken stars stagger across the sky,
The moon wavers and sways like a wind-blown bud,
Beneath my feet the earth like drifting scud
Lapses and slides, wallows and shoots on high;
Immovable things start suddenly flying by,
The city shakes and quavers, a city of mud
And ooze—a brawling cataract is my blood
Of molten metal and fire—like God am I.

When God crushes his passion-fruit for our thirst
And the universe totters—I have burst the grape
Of the world, and let its powerful blood escape
Untasted—crying whether my vision durst
See God's high glory in a girl's soft shape—
God! Is my worship blessed or accurst?


I see His Blood Upon the Rose
by Joseph Mary Plunkett

I see his blood upon the rose
And in the stars the glory of his eyes,
His body gleams amid eternal snows,
His tears fall from the skies.

I see his face in every flower;
The thunder and the singing of the birds
Are but his voice—and carven by his power
Rocks are his written words.

All pathways by his feet are worn,
His strong heart stirs the ever-beating sea,
His crown of thorns is twined with every thorn,
His cross is every tree.


For more Poetry Click the Poetry Index.


Thu, Jul 9, 2015
No matter who does the collecting, the works stand on their own but this is an excellent compilation and well worth adding to your library.
Click here for Yeats.
---
1000 Years of Irish Poetry: The Gaelic and Anglo Irish Poets from Pagan Times to the Present
by Kathleen Hoagland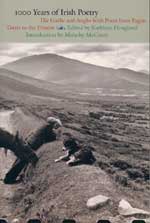 Interested in Irish Poetry?Here's the easy way to collect them all (well, almost all, anyway).
Malachy McCourt says in his introduction, "With the republication of this book, the Irish recover under their roof of stars all the great poets and writers who have been falsely claimed by the saxon crown and its minions - even our reprobates."
Amazon states this is out of stock. They still have used copies for almost nothing (except shipping - chuckle). If you would like a new edition, it was available at Powell's. We can't promise it's still there. Click here for Powell's 1000 Years.
Click here for used at Amazon.