Traditions, folklore, history and more. If it's Irish, it's here. Or will be!
"People will not look forward to posterity who never look backward to their ancestors."
-Edmund Burke
---
Quotes

Library: Books, Movies, Music

Prints & Photos

Poetry

Jokes

---
---
Shops Ireland
---
Bunús na Gaeilge
(Basic Irish)

---
---
Did You Know?
---
Himself/Herself
Write to Us
Readers Write..
Links/Link to Us
---
Advertise with us
---
Awards & Testimonials

Submissions Guide
---
Book Review: Everything Irish
by Bridget Haggerty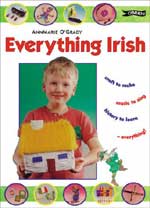 A few weeks back, one of our subscribers mentioned that the grandchildren were coming for the summer and wouldn't it be nice to have some different activities on offer for their entertainment. We went looking...
Everything Irish is a delightful book created for the 4 to 8 year old age group - although siblings could be of great help here with their younger brothers and sisters!
In the span of about 80 pages, the author does a great job of introducing young readers to Ireland's culture and customs. It begins with the very basics - learning about Ireland's geography and climate. Then, chapter by chapter, we are taken on a wonderful exploration of our country's history and heritage. We learn about thatched cottages and how they are made. From there, it's on to that unique Irish fishing vessel, the Currach. And then, to keep the young reader going, the author introduces the first of a famous Irish legend - The Children of Lir.
There's enough in this book to entertain the kids all summer long - an interesting variety of crafts including how to write their names "in the Celtic way" and making their own little replica of St. Brendan's boat. The author also gives the reader the story of St. Brendan, the Navigator.
Add to this emblems of Ireland, including the harp, the shamrock, the flag and then songs to sing and even a quiz to test their knowledge at the end, it's our opinion that Everything Irish is a must have this summer for every mum, da, nana and whatever the Irish call grandpa!
If you'd like to have this book on hand, just click here: Everything Irish
Thu, Apr 20, 2017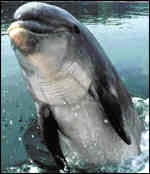 Fungie, the Dolphin of Dingle Bay
The dolphin is one of Ireland's most fascinating mammals and Fungie is the most famous. He is a fully- grown bottlenose who is 13 feet (4 meteres) long and weighs about 500 lbs or around one-quarter tonne.
Fungie was first noticed in 1984 when Paddy Ferriter, the Dingle Harbour lighthouse keeper, began watching a lone wild dolphin escort the town's fishing boats to and from port.
Later that year, it became officially recorded that Fungie was a permanent resident of the entrance channel to Dingle and the self-appointed "pilot" of the fleet.
Over the years Fungie has developed from a timid but inquisitive observer of the human visitors into a playful, though mischievous, companion. From observation of marks on his body, it seems that he does 'interact' with other whales, dolphins or porpoises, proving perhaps he is neither hermit nor outcast from his own kind, but rather that he is simply content to spend most of his time in and around Dingle Bay.


Click for More Culture Corner.
Visit 30 of Ireland's most beautiful gardens. Includes a stunning collection of 200 full-color photos.
Click here for Gardens
---
All contents copyright © 2001 through 2011 inclusive - all rights reserved.
March 4, 2011

Rollover button Images:
Wedding LaRose, Kids Reading & Kitchen Apples and Tea from All Posters prints.
The information provided on this site is offered as-is, without warranty. This site's owners, operators, authors and partners disclaim any and all liability from the information provided herein.
Any trademarks or registered trademarks on this site are the property of their respective owners.

This Web Site Bashed, Kicked & Glued together by Russ Haggerty.