Traditions, folklore, history and more. If it's Irish, it's here. Or will be!
"People will not look forward to posterity who never look backward to their ancestors."
-Edmund Burke
---
Quotes

Library: Books, Movies, Music

Prints & Photos

Poetry

Jokes

---
---
Shops Ireland
---
Bunús na Gaeilge
(Basic Irish)

---
---
Did You Know?
---
Himself/Herself
Write to Us
Readers Write..
Links/Link to Us
---
Advertise with us
---
Awards & Testimonials

Submissions Guide
---
The Book Library

Click here for: Music | Videos | Prints & Photos

Click here for Books by category:
Fiction | Classics | Heritage | History | The Troubles | Sports | Scenic | Humour | Folklore/Superstitions | Blessings & Prayers | Quotes & Trivia | Animals | Literature | Kitchen & Food | Kids Stories | Travel | Poetry | Weddings | Genealogy | Biographical | Crafts | Christmas | Irish Dancing | Miscellaneous | Irish Language | Supernatural | Irish America | Music

History Page: 2 • Previous Next


Irish Voices from The Great War
by Myles Dungan


This unconventional perspective helps to shed light on an aspect of Irish nationalism many writers have shamefully and unforgiveably neglected. Writing with passion, the author manifests the exploits of Irishmen and women during the euphemistically renowned "Great War", via the employment of official war sources and contemporary letters from those at the front line. The book sets the scene and the building miasma around some of the war's major conflicts that were to result in serious loss of life borne out of the ineptitude of senior command. In short, it is a lugubrious reflection of the horrors and realities of war, and of the previously "unknown" heroes Ireland can now rightly call its own.
Click here for Irish Voices.




A Long, Long Way
by Sebastian Barry

I have read many books on the tragedy of war and this exceptional book reminds me of Remarque's "All Quiet on the Western Front". Truly brilliant and I find it particularly moving as my great grandfather was a private in the Royal Dublin Fusileers, was gassed and invalided back to an Ireland which had turned its back on all those who had left to fight in Flanders. Edited from a review by James McCann - Dublin, Ireland.
Click here for A Long Long Way.



Newgrange and the Bend of the Boyne
by Geraldine Stout


On the banks of the Boyne in 1690, one of the most important battles in Irish history was fought. The first offshoot of the internationally successful "Atlas of the Irish Rural Landscape," "Newgrange and the Bend of the Boyne" is the exploration of an outstanding archaeological landscape centered on Newgrange Passage Tomb and its greater environs. In ancient times it was called the Brugh na Boinne. Today, this area is designated as a World Heritage site and is Ireland's first protected Archaeological Park.
Click here for Newgrange.


They Shall Not Grow Old
Irish Soldiers Remember the Great War
by Myles Dungan


More than a quarter of a million Irishmen fought in the Great War. The publication in 1996 of Dungan's Irish Voices from the Great War contributed to the awareness of the injustice done to the Irishmen of the 1914-18 War. This companion volume uses the same type of material (letters, diaries, memoirs, personal interviews) to advance that process.
A companion volume to Irish Voices from the Great War, this book complements that anthology of tragedy with further stories of unromanticised life in the trenches, the experience of POWs, and an illuminating and critical look at the role of chaplains.
Danny Morrison, Sunday Tribune.
Click here for They Shall Not Grow Old.




Faces of Irish Civil War Soldiers:
Rare Photographs of Irish Soldiers
Who Fought for the North and South
Edited by Joanna M. McDonald


Thousands of Irishmen lined up at the recruiting stations and served in both the Confederate and Union armies - great names such as O'Rourke, Corcoran, Meagher, McIntosh, McGavock, and Tilghman. Unlike their English neighbors, who, for the most part, assimilated into the Union and Confederate ranks, many Irishmen organized their own, unique units made up of their fellows and included the adjective "Irish" within their regimental names. As their memories disappeared into history, they left their names, their songs and poems, their letters and battle accounts - and their photographs - to remind them of their passing and allow us to walk part of the way with them.
Publisher's Review
Click here for Faces of the Civil War.




Ireland Since The Famine
by Lyons


A full-scale study of the political and social history of Ireland since 1850. The political evolution of the Irish Nation forms the basis of the book. "Will remain for many years an essential standby for every student of the subject" Robert Blake, The Sunday Times.
Click here for Since the Famine.


De Valera
by Tim Pat Coogan


Eamon De Valera is still a major influence on Ireland - a towering presence whose shadow yet falls over Irish life. He played a major part in the 1916 Rising, the troubled Treaty negotiations and the Civil War; some of today's problems are his legacy. But De Valera, or "Dev", was a political mastermind who also achieved some incredible feats which ensured his place in history, including the Irish Constitution, formation of Ireland's largest political party - Fianna Fáil, and the formation of the Irish Press Group.
Click here for DeValera



A History of Ireland
by Tony Penston

Not just for learners of English! This book is a joy to read for anyone interested in Irish history and culture and who prefers an easier style of English. Its treatment of human interest elements such as O'Neill's meeting with the Pope in Rome, the meeting of the 'Pirate Queen' with Queen Elizabeth I, and the prison wedding of Joseph Plunkett and Grace Gifford (all illustrated) makes this book truly unique, not to mention word games and a map for filling in as you read. To purchase, please click History of Ireland for Learners of English..
Or for bulk orders, please click TP Publications.



Making Sense of the Molly Maguires
by Kevin Kenny


Twenty Irish immigrants, suspected of comprising a secret terrorist organization called the Molly Maguires, were executed in Pennsylvania in the 1870s for the murder of sixteen men. Ever since, there has been enormous disagreement over who the Molly Maguires were, what they did, and why they did it.
See our Article Gathering the Threads
Click here for the Molly Maguires.

A collection of over seventy biographies detailing the lives and achievements of extraordinary women - from patriots to pirates, warriors to writers, and mistresses to male impersonators. Their Irish hearts have long ceased to beat, but their legacy lives on.
Click here for Wild Irish Women




Yesterday's Ireland
Paddy Linehan

Paddy Linehan is a much- travelled man, but in choosing to write in detail about his own country and his own lifetimes he has returned to his roots and recorded a way of life that has all but disappeared. Whether describing the interior of a typical farmhouse or chronicling the year's tasks from ploughing to harvest, the author has a sure eye for detail and a facility for relating personal experience that melds perfectly with the general narrative. From a review by Pauline Ferrie of the Irish Emigrant
Click here for Yesterday's Ireland.


The Irish Story
by R.F. Foster


In this extremely funny book, the author demolishes the clichés that surround Ireland's past, examining how key moments from its history have been turned into myths - and, more recently, airbrushed and repackaged for Hollywood and popular culture. Whether discussing the 'misery tourism' of Famine theme parks, ideas of mystical Celticism, the contested 'Irishness' of Yeats or the sentimental childhoods of 'Angela's Ashes' and Gerry Adams' memoirs, this book brilliantly separates the tall tales from the truth.
Click here for The Irish Story.


---
Click here for Books by category:
Fiction | Classics | Heritage | History | The Troubles | Sports | Scenic | Humour | Folklore/Superstitions | Blessings & Prayers | Quotes & Trivia | Animals | Literature | Kitchen & Food | Kids Stories | Travel | Poetry | Weddings | Genealogy | Biographical | Crafts | Christmas | Irish Dancing | Miscellaneous | Irish Language | Supernatural | Irish America | Music

History Page: 2 • Previous Next


Fri, Feb 2, 2018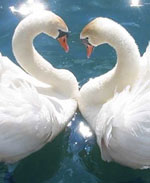 Irish God and Goddess of love
Oengus is the Irish God of love, beauty and youth. According to the old folklore, his kisses became birds. It is also said that he dreamed of a beautiful maiden, named Caer, for whom he searched all over Ireland. Eventually, he found her chained to 150 other maidens, destined to become swans at the time of Samhain. Legend has it that Oengus transformed himself into a swan and was united with his love.
Aine of Knockaine is the Irish Goddess of love. She is also known as the Fairy Queen of Munster and as a goddess of fertility beause she has control and command over crops and animals, especially cattle. Another name by which she is known is Aillen. To learn more about Irish mythology, please click Irish Myths & Legends.
Photo Credit: Wikipedia

Click for More Culture Corner.

Can't Find it?!

Our Library is compiled from what we know and like. If you can't find what you're looking for read on.
• First: go to Amazon -
There's no escaping the fact that they are the largest catalog.
Note: There are multiple Amazons and they do not carry exactly the same items. Any one of the U.S., U.K. and Canada sites may not have the item but another Amazon will. Each site will ship anywhere in the world. Try them all before you give up.
Click here for Amazon.US.
Click here for Amazon.UK.
Click here for Amazon.Canada.
• Second: Amazon doesn't have it? Try Powells. They are the largest book source in New York and they have a good selection of 'out of print' books. Click here for Powells.
This link brings you to a list of 600 Irish titles; if you're looking for something else, just Search.
• Third: Still can't find It? Alright, try ALibris they are the place for 'books you never thought you'd find'. We've found everything we were after. Click here for ALibris.

• Last: Nothing Worked?
E-Mail us, we'll give it a go. Click for Russ & Bridget.
---
Elegant bookmark is made of silver over pewter. It measures 3" x 1". When in use, the pretty Celtic design sticks out of your book. Or choose Trinity Knot or Celtic Heart.

Click for Celtic Book mark.

---