Traditions, folklore, history and more. If it's Irish, it's here. Or will be!
"People will not look forward to posterity who never look backward to their ancestors."
-Edmund Burke
---
Quotes

Library: Books, Movies, Music

Prints & Photos

Poetry

Jokes

---
---
Shops Ireland
---
Bunús na Gaeilge
(Basic Irish)

---
---
Did You Know?
---
Himself/Herself
Write to Us
Readers Write..
Links/Link to Us
---
Advertise with us

---
Awards & Testimonials

Submissions Guide

Help keep us free
Throughout the site you will see many items available for purchase from well-known merchants such as Amazon. Not interested in what we're featuring? It doesn't matter. Click on any link and then shop for whatever you wish - we will still get credit, if you buy something.
Thanks for your help.

---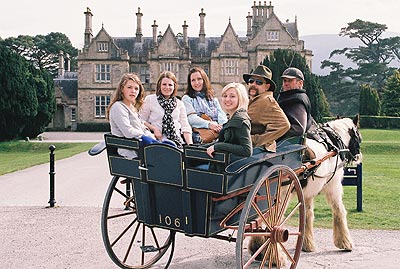 A beautiful land with beautiful people and a hundred thousand welcomes
by Eileen Deckert

This past March, nearly to the day ten years ago, my husband and I returned to Ireland. As we find ourselves approaching the empty nest phase of our lives, we decided to make this a family adventure with all three of our daughters in tow. With the luck of the Irish, a prime Sceptre Tours package and some brilliant planning by my husband, Will, we left Chicago-O'Hare and landed in Dublin, safely, thanks to the wonderful folks at Aer Lingus!

After a quick stop at Dan Dooley to pick up our rental car, we headed from Dublin town to Adare Manor, Adare, Co. Limerick. Our girls were absolutely awe-struck by the beauty of the landscapes along our way and as for me and Will, we could not get over the progressive highways and byways that afforded us a timely arrival. Ten years ago, Ireland had little in the way of interstate travel--thank you Celtic Tiger!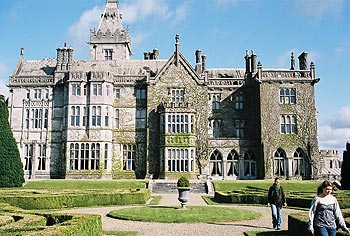 Once we arrived at Adare Manor, we received a warm welcome and were absolutely stunned by not only the Manor, but Adare Castle and Abbey on the estate grounds. For those of you who love to golf, Adare Manor is custom made for a golfer's holiday. The village of Adare has been praised as one of Ireland's tidiest villages, and rightfully so. Pretty little thatched cottages with brightly coloured doors and flowery window boxes all in neat rows. A stop at Pat Collin's pub for a pint and plate, a stroll through the village park then back to the Manor and so, our first day ends.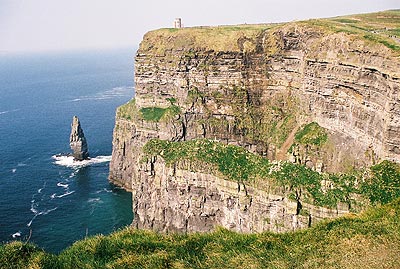 Early the next morning we set out for Bunratty Castle, Co. Clare, known as the "Jewel of West Ireland". Bunratty is replete with all the trappings of an old world Irish village: a blacksmith's forge, family cottages with turf fires smouldering, gardens and an assortment of farm animals. Inside the Castle our imaginations ran wild conjuring visions of lords and ladies feasting in the great hall as captive foes lamented in the adjacent dungeon! From Bunratty, on to the Cliffs of Moher, just a short distance away. The view from O'Brien's Tower was clear as a bell on this sunny day and as we walked along the cliff path we could see breathtaking views of Atlantic waves crashing at the shore. My girls were certain that mermaids were singing siren songs on the jagged rocks beneath Hag's Head!! From the Cliffs, our last stop was the Burren. A rugged landscape that might be best described as a walk on the moon. From the cratered surface, small scrubby wildflowers emerge from fissures in the volcanic rock. As your eyes are fixed upon this remarkable happening, suddenly you find yourself looking up, stunned by massive green mountains jutting up from what seems desolation. So, with all senses filled but one, we went down the road a bit to the small town of Kilfenora for a bite at Vaughan's Pub. Wonderful home cooking--thank you Mrs. Vaughan!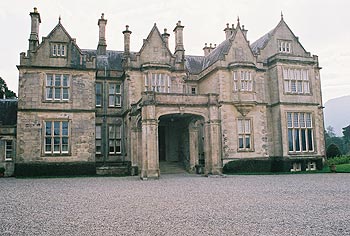 Killarney set the stage for the following day. A very nice man by the name of Hugh, gave us a horse drawn trolley ride and tour of the grounds at Muckross House at Killarney National Park. This grand home boasts 52 chimneys-that's one fireplace for every week of the year, and no two are alike! Loch Leane and Torc Mountain border the grounds and about a mile down from the estate by car, we visited Torc Waterfall and saw shades of green we had never seen-t'was a grand sight!

Bright and early next morning it was off to Cork's English Market and shopping district. The Market is an epicurean delight-artisan breads, cheeses, warm savoury meats roasting, and oh, the pastries! We gathered our tasty morsels and then traveled a short way onto Cahir and Cashel. Cahir Castle embodies fairytale idyllic charm. As the river lazily rolls past the castle surrounded by a moat, the drawbridge yawns regally across. Cashel is but 15 minutes away and the home of the Rock of Cashel. The "Rock" is currently scaffolded in part, but no less the impact. Imagining those who suffered at the hands of Cromwell and his men left all of us silent and still.*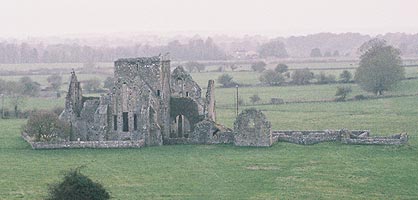 Just over the hill lies Hore Abbey, a quiet and pastured beauty, which, provided us a moment of grace-filled reflection. To end on a lighter note, we made the last stop at Blarney Castle. As we climbed those narrow, steep, stone steps to the battlement it became obvious that those of us a bit longer in the tooth were not the only ones who needed to take care--our youngest clung to the rail and came back down on her posterior! Alas, 'tis the only way to reach the stone if one is to receive the gift of eloquence upon kissing the stone. After acrobatic feats, kissing aside and armed with the gift of gab, we ambled through the Castle's Poisonous Garden and Badger's cave and back to Adare, all intact.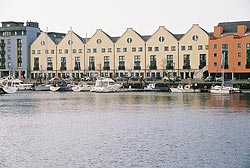 Touring Galway City and an afternoon on Shop Street filled the fourth day with loads of shopping and views of ships at the bay. A nod to Griffin's Bakery for the outstanding scones and pastries! This is the area from which my ancestor's likely came and nearby Connemara.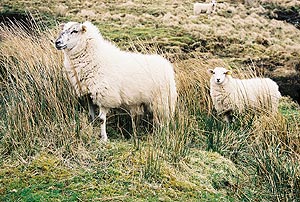 Our last day we spent on Dingle Peninsula. Walking along Inch Strand breathing in the salty air, driving down the winding road to Dingle and gazing upon field after green field speckled with wooly little lambs. The stone fences dividing that same landscape appeared as though Mother Nature herself had crafted a beautful patchwork quilt. A fish and chips feast at Harrington's and then back to Adare.

As we arrived at Dublin airport we all got a bit misty. We made a pact to return very soon. Whenever I speak of Ireland to friends and acquaintances I always tell them what a great and wonderful beauty she is-beautiful land, beautiful people with a hundred thousand welcomes! Cead Mille Failte!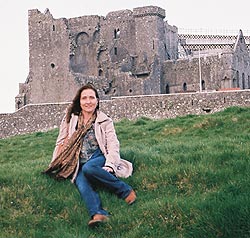 *In 1647 the Earl Inchquin (under Cromwell's influence) plundered the city. The townspeople fled to the Rock for safety and barricaded themselves in the Cathedral. Inchquin's army piled turf around the cathedral and set it afire. All inside were burned to death. Over 800 people perished under that attack. The Rock was later abandoned, left to fall further into ruin. Finally, in 1874 it was declared a national monument and since then has been lovingly restored.

ED. NOTE: We asked Eileen to write this travelogue after she told us what a wonderful time she and her family had on their trip. She was very prompt in sending us her article; we, on the other hand, are very tardy in publishing it. We apologize for that because it's fun to read and we should have shared it with our readers much sooner than we did.
*Source: Writing the Vision/Mindie Burgoyne



Fri, Jul 10, 2015
The Galway Hooker
This unique vessel, with its distinctive curved lines and bright red sails, originated in the village of Claddagh. During the 19th century, hookers supported a significant fishing industry and also carried goods, livestock and fuel. Seán Rainey is remembered for building the last of the original boats, the Truelight, for Martin Oliver who was to become the last king of the Claddagh; as king, he was entitled to white sails on his boat. Since the mid seventies, many of the old sailing craft which were on the verge of extinction have been lovingly restored and new ones have been built. During the summer months they can be seen at festivals such a Cruinniú na mBád - the Gathering of the Boats - in Kinvara.

More Culture Corner