Traditions, folklore, history and more. If it's Irish, it's here. Or will be!
"People will not look forward to posterity who never look backward to their ancestors."
-Edmund Burke
---
Quotes

Library: Books, Movies, Music

Prints & Photos

Poetry

Jokes

---
---
Shops Ireland
---
Bunús na Gaeilge
(Basic Irish)

---
---
Did You Know?
---
Himself/Herself
Write to Us
Readers Write..
Links/Link to Us
---
Advertise with us
---
Awards & Testimonials

Submissions Guide
---
The Music
by William Ramoutar


Some days are worse than others. There aren't many days that I don't think of home. It's funny, too, that no matter how many years you are away, it's always called home. I have done amazing things since I have been here, and seen some wonderful things, too. The most wonderful thing, of course - the colossal onslaught of the "Celtic Tiger." We have come through some awful times in Ireland, and most people over forty have some recollection of more recent ones. The one thing that kept a lot of us going through all this stuff, though, has been "the music."
In Irish circles that is what traditional Irish music is called, and what an upsurge in "the music" there has been since Riverdance! The more traditional of the followers of "the music" seem to thumb their noses at this finding of "the music." The only thing about this phenomena is that it gave all these others aspects of "the music" a chance to be observed and heard. There are lots of new groups out there because of this interest, and the fine thing also is that there are many offshoots of these groups also.
The group Lunasa have one lad from Capercaillie, one from Moving Cloud, one from …. do you get my drift? So even if you are not too fond of one, there is always a chance that something out there will pique your interest; in fact, I would almost guarantee it. I have had one radio show on the air for eight years and find that most people don't even want to request a tune; they are happy with what I pick for them, as there is so much "new music" every week. With over 1,000 titles to choose from, you can find something, too.
There is always the traditional, but with the new bands coming out almost monthly, the musicians are also pushing the envelope of what they can do with "the music." There are jazz interpretations, baroque, rock, you name it, it's out there, and yet most of the bands keep on trying to make it just that much different that you will buy their CD. Some of the bands like Craobh Rua, Reeltime, Altan, Solas, and the above mentioned, to name just a few, have some of the most incredible musicians on the circuit and there are new ones waiting to be discovered. It is such an exciting time for "the music" because the musicians also drift from one recording to another. When Solas had Karen Casey and John Doyle leave, it was almost the end of the world for me. But what happened? Along came two new musicians to Solas, Deirdre Scanlon and Donal Clancy, and they released a new CD almost immediately. Then before you know it, Karen Casey had two new albums out and then John Doyle brought out his own album. Life couldn't be better.
But then there are the "airs." Tunes that would bring blood from a stone. Tunes that if you close your eyes and you have never been to the Celtic countries and listen to these airs, will transport you as fast as you can think to glens in Aherlow, peaks in the Highlands, lakes in Ponchartrain … Oh Dear God, that's here!! No, take my word for it, this world is all the more wonderful for "the music." Listen to it and find out for yourself.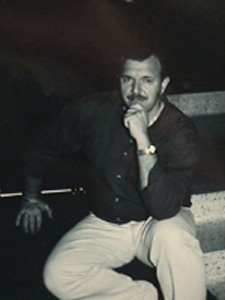 William Ramoutar is the Presenter of the Irish Ways Programme on WFCF, Flagler College Radio, on 88.5 FM in St. Augustine, Florida.
Image: Bord Fáilte Ireland 2001 Calendar.


Thu, Apr 20, 2017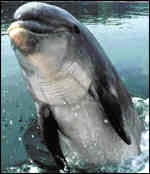 Fungie, the Dolphin of Dingle Bay
The dolphin is one of Ireland's most fascinating mammals and Fungie is the most famous. He is a fully- grown bottlenose who is 13 feet (4 meteres) long and weighs about 500 lbs or around one-quarter tonne.
Fungie was first noticed in 1984 when Paddy Ferriter, the Dingle Harbour lighthouse keeper, began watching a lone wild dolphin escort the town's fishing boats to and from port.
Later that year, it became officially recorded that Fungie was a permanent resident of the entrance channel to Dingle and the self-appointed "pilot" of the fleet.
Over the years Fungie has developed from a timid but inquisitive observer of the human visitors into a playful, though mischievous, companion. From observation of marks on his body, it seems that he does 'interact' with other whales, dolphins or porpoises, proving perhaps he is neither hermit nor outcast from his own kind, but rather that he is simply content to spend most of his time in and around Dingle Bay.


Click for More Culture Corner.
We never tire of listening to this Narada compilation. It's been out a while, but we can still remember the thrill of listening to it for the first time. From Carolan's Ramble to Cashel by Northern Lights to Strathgarry by Simon Wynberg, every cut has become a favorite. Amazon gives you the opportunity to judge for yourself; click Celtic Odyssey.

Altan is a beautiful example of TRUE Celtic folk music! From the fast, up-beat reels, to Mairead's beautifully sung lullabies, The Best of Altan is sure to keep your spirit soaring, and your feet dancing!
Click for Best of Altan
---