Traditions, folklore, history and more. If it's Irish, it's here. Or will be!
"People will not look forward to posterity who never look backward to their ancestors."
-Edmund Burke
---
Quotes

Library: Books, Movies, Music

Prints & Photos

Poetry

Jokes

---
---
Shops Ireland
---
Bunús na Gaeilge
(Basic Irish)

---
---
Did You Know?
---
Himself/Herself
Write to Us
Readers Write..
Links/Link to Us
---
Advertise with us
---
Awards & Testimonials

Submissions Guide
---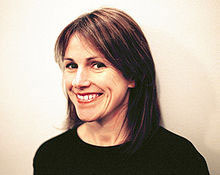 "The Smile Says It All" - Sharon Shannon
by William Ramoutar


Sharon Shannon could be called a "Renaissance" woman, if she took some time off to do it, but she never seems to stop doing something! She does so many things, it is hard to keep up. Everyone seems to know her as the pretty cherub-faced smiling button accordion player they see belting out white hot rhythms and solos on the box, but she is so much more than that.

She is also an entrepreneur with her own record label. In fact, she has two - Daisy Discs and Hummingbird - and there has been some of the best of Irish music on both. She has brought to the public eye many fine artists, who probably would have made the limelight at one time or other, but she saw them and brought them along with her band, or labels and made stars out of them.

Being born in Co. Clare, was no deterrent to learning from the best in traditional Irish musicians, because she grew up surrounded by them. She joined a local band called Disirt Tola at the ripe old age of eight; toured America when she was fourteen years old and it seems found the bug for touring.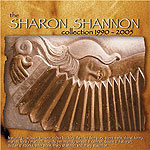 She brought sheer mastery to the little music box, and also made it hip. To see her command an audience of thousands is something to behold. Sitting on a small chair or stool, and smiling from ear to ear as the notes tumble from her fingers like a million snowflakes. All the time you're wondering (if you are a thinking person) what is going through her mind. Whatever it is, it is blazing through there at the speed of light. Actually, is there anything faster than that? If so, that would be it. She is miraculous in the weaving of so many twists and turns in her playing. Through jigs, reels, polkas, even contemporary tunes, she makes them rock and roll through powerful cross rhythms, triplets, brilliant ornamentation, lightning flashes of genius and above all else, the sheer fun and enjoyment you get from listening and seeing her.

Her band includes her hugely talented sister Mary as well. When the sisters let loose on a tune, watch out! Mary plays banjo, fiddle and whistle. Sharon plays fiddle and whistle too, and some of her renditions of traditional tunes must make some masters of the music really sit up and pay attention.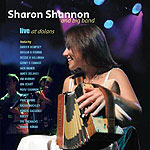 Sharon must also be a huge influence to children or anyone thinking of taking up the gauntlet of Irish music. Her enthusiasm is second to none. It shows through whether on stage or on cd - so much so that if you ever fancied yourself as a box player, one glimpse of Sharon's flashing fingers on the buttons, well, sure you might as well give it a miss. I mean, what's the point, when you can just watch her, because I doubt there is anyone better. Although to be fair, she is so gracious to people who perform with her, she seems to almost avoid being the center of attention. She lets them strut out to stage center and show what they can do, albeit the subtle riffs and ornamentation she imbues in the tunes is the making of the music.

Learning the tradition at such an early age can give many a leg up on their counterparts, but Sharon is so far ahead of the field she seems like she was born with it, a part of her body. There are live recordings and studio recordings, but I dare you to pick a favourite. She has delved into a Reggae sound, a Country sound, Cajun, French Canadian, Portuguese, and even Rock and Roll. But her gift, is how she fits so well into any kind of music.

Starting out she was even part of the legendary Waterboys, with Mike Scott and I say legendary, because they gave the Irish Traditional music a shot in the arm, bringing in lots of new converts, both young and old listeners.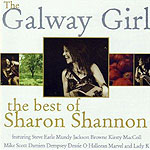 She went for a while with a small supporting band of traditional players, giving a new face to the old music, and then along came the likes of Steve Earle, the unequalled and incomparable discovery, Dessie O'Halloran, and the rest of the "Big Band," and off she went. Hitting heights unattained with live gigs, that were pure party and never ending fun, or so it seemed. Tragically her best friend and long time partner, Leo Healy, was taken from her, and her fans around the world could only wish and hope she could come back from such a terrible loss. But come back she did, and the "Big Band" and power of her presence is here again for all to see. A serious force to be reckoned with, even in a festival setting, I would guarantee. I have pictured her taking countries by storm, even in Football Stadiums and I am sure I am right, because it is such enthusiasm that she brings to the shiny faces that turn up to be entertained and she definitely delivers.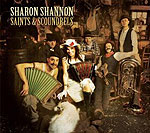 Her prodigious musical teamings have brought together so many unlikely pairings and the most joyful sounds. Her 1991 solo album is still the best selling Irish music album in Ireland. Her collaborations with Donal Lunny brought forth several hits, and her work on the "Woman's Heart" tour and consequent cds brought her more to the public's attention than any artist before or since. She is an icon to so many, who discover her infectious sound, and may she go from success to success bringing such happy music and sights to behold.

But as I said, "the smile says it all".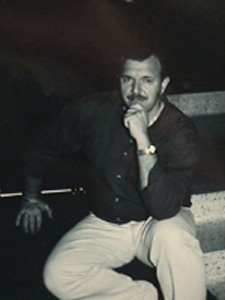 BIO William Ramoutar
IRISH WAYS RADIO PROGRAMME
WFCF Radio 88.5 FM
Every Sunday 11:00 am to Noon eastern standard time on the radio WFCF 88.5fm
We are now an iheart Station on your smartphone or computer
streaming live on iheart.

Review written by William Ramoutar Presenter of Irish Ways Radio Programme, St Augustine Florida


Amazon stocks a great collection of Sharon Shannon CDs. To see what's on offer, please click Amazon.


Here Some Cds with Sharon and by her
Specific CD's to check out:

Libertango

The Sharon Shannon Collection

Live at Dolans

The Galway Girl

Saints and Scoundrels

Main Photo Credit: Daithi Turner

Sharon Shannon merchandise from T-shirts to hoodies and more


Thu, Apr 20, 2017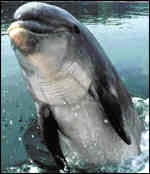 Fungie, the Dolphin of Dingle Bay
The dolphin is one of Ireland's most fascinating mammals and Fungie is the most famous. He is a fully- grown bottlenose who is 13 feet (4 meteres) long and weighs about 500 lbs or around one-quarter tonne.
Fungie was first noticed in 1984 when Paddy Ferriter, the Dingle Harbour lighthouse keeper, began watching a lone wild dolphin escort the town's fishing boats to and from port.
Later that year, it became officially recorded that Fungie was a permanent resident of the entrance channel to Dingle and the self-appointed "pilot" of the fleet.
Over the years Fungie has developed from a timid but inquisitive observer of the human visitors into a playful, though mischievous, companion. From observation of marks on his body, it seems that he does 'interact' with other whales, dolphins or porpoises, proving perhaps he is neither hermit nor outcast from his own kind, but rather that he is simply content to spend most of his time in and around Dingle Bay.


Click for More Culture Corner.