Traditions, folklore, history and more. If it's Irish, it's here. Or will be!
"People will not look forward to posterity who never look backward to their ancestors."
-Edmund Burke
---
Quotes

Library: Books, Movies, Music

Prints & Photos

Poetry

Jokes

---
---
Shops Ireland
---
Bunús na Gaeilge
(Basic Irish)

---
---
Did You Know?
---
Himself/Herself
Write to Us
Readers Write..
Links/Link to Us
---
Advertise with us
---
Awards & Testimonials

Submissions Guide
---
RUNA - a tradition in the making
by William Ramoutar

The mandolin has never been my thing. There – I've said it. I know I'll probably get chastised for this. But Dave Curley has changed my mind about it somewhat.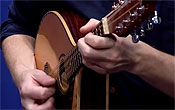 He is one of the members of the Philadelphia-based band, Runa. He plays mandolin, banjo, and sings, and until recently I was quite unaware of his superb talents. In fact, Runa were a bit of an unknown entity to me. I had received their latest cd, ironically called "Current Affairs," from the marvelous Patrick Garrett of Real Good Music, a promoter who works hard to get the word out about many new and upcoming bands and artists and who thankfully sees fit to inform me of his latest stable of artists. A chance meeting on Facebook with their effervescent percussionist Cheryl Prashker, born and raised in Montreal Canada, led me to the one decent listening room in Jacksonville – the Mudville, hosted by the ever faithful to the music, Ray Lewis. What a discovery this band are!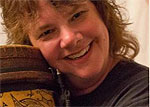 Besides Cheryl being the backbeat of Runa and Dave Curley being a multi-instrumentalist and vocalist, the band includes Shannon Lambert-Ryan, who is their featured vocalist who also plays bodhran, guitar and the aforementioned mandolin.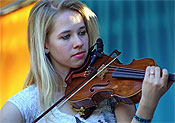 Maggie Estes White, their demure but dangerous fiddle player, who also plays mandolin, hails from Hopkinsville, KY, and also sings backing vocals. Fionán de Barra, from the hugely talented Cork-raised but Dublin-based de Barra family and partner in life with Shannon, completely rounds out the sound playing both guitar and bodhrán. (Cormac, Fionán's brother, is the harpist who travels and records with Moya Brennan, and Eamonn, another brother, is a talented flute player.) Together, Runa have taken a new approach to presenting the music by incorporating the percussive sounds of the dumbek, djembe, various shakers, chimes, and several cymbals and sticks. Pulsing through traditional Irish, Scottish and contemporary songs, they also write some of their songs and cover standards, both songs and instrumentals.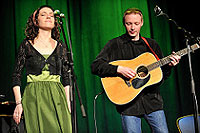 The joint string work of Maggie, Dave and Fionán, sometimes at breathtaking speed, but also tastefully delicate, is stunning, to say the least. When Cheryl and Fionán let loose on a drum-driven tune with Fionán on bodhran and Cheryl on her eclectic kit, as Cheryl put it, "it's all about the drums."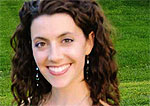 Shannon sings in Irish, English, and Scots-Gaelic, and so does Fionán. Galway-born Dave Curley's voice is a breath of fresh air. In this world of new artists where everybody is singing everybody else's songs, Dave is singing songs you may never have heard before, but makes them his own and welcomes you into some unique new stories of life. By the way, he also has his own cd with his friend Mick Broderick and let me tell you it is a keeper. Seriously well done and definitely an eye opener from a new set of musicians who will go on to do even better work and that is saying something.

Runa do some American tunes some real justice, and while they give credit to the songwriters of these tunes, you can't help but wonder if the actual authors do as good a version as you've just heard!

Live, the banter onstage is only interrupted by this perfect music. Cheryl is without a doubt great fun to have driving the band, and while the rest poke at her with humorous jibes, she takes no prisoners, and gives back everything and more than they can dish out. They admitted, and it is apparent to the audience, that not only are they hugely competitive with each other in games like bowling, but to our benefit, they are competitive mostly in the music, where they push each other to higher and higher levels of excellence. They have also had an excellent 2016 so far, touring to many Irish festivals and concerts throughout many states (and if the internet is anything to go by, winning many new fans). They have two musicians who guest with them, an extra fiddler, who devotes most of his time to the Cathie Ryan band and an uilleann piper who is a former member of Runa and I feel they would add another dimension to the band but they need no help to attract your attention. Obviously the stage show is something to perceive with the added talents of Shannon Lambert-Ryan their singer, Irish step dancing with Dave Curley and percussion battles between Fionan on bodhrán and Cheryl on her sparse drum kit, but their cds are so well done, you don't miss these extra facets until you see them in person. The cds are all excellently produced and full of interesting versions of songs you may know or will come to love. Truly, there is so much to find and wonder at, the promise this band will show, is plain to see from each successive offering.

There are now four CD's of their music with minor changes in the personnel as I said, since their inception, but I would hazard a guess that this is the best lineup they have had, so far. Runa is a band to be reckoned with and one to treasure and pass to your friends too. Long may they run! Runa!

To learn more about the band, please click Runa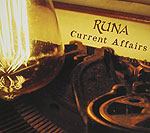 To buy the CD mentioned, please click Current Affairs

To hear the Current Affairs official trailer, please click Trailer

Photo Credits:
Main Photo- Runa web site

Dave Curley on Mandolin: The False Knight on the the Road

Percussionist Cheryl Pashker: her web site

Fionán de Barra: Flicker


William Ramoutar bio:

William presents a weekly radio show on Heart Radio from the studios of WFCF 88.5fm Flagler College Radio 11 a.m. every Sunday morning eastern standard time. Please click Radio Show



Thu, Apr 20, 2017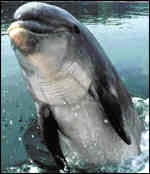 Fungie, the Dolphin of Dingle Bay
The dolphin is one of Ireland's most fascinating mammals and Fungie is the most famous. He is a fully- grown bottlenose who is 13 feet (4 meteres) long and weighs about 500 lbs or around one-quarter tonne.
Fungie was first noticed in 1984 when Paddy Ferriter, the Dingle Harbour lighthouse keeper, began watching a lone wild dolphin escort the town's fishing boats to and from port.
Later that year, it became officially recorded that Fungie was a permanent resident of the entrance channel to Dingle and the self-appointed "pilot" of the fleet.
Over the years Fungie has developed from a timid but inquisitive observer of the human visitors into a playful, though mischievous, companion. From observation of marks on his body, it seems that he does 'interact' with other whales, dolphins or porpoises, proving perhaps he is neither hermit nor outcast from his own kind, but rather that he is simply content to spend most of his time in and around Dingle Bay.


Click for More Culture Corner.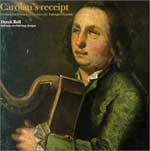 Carolan's Receipt
by Derek Bell

Derek Bell recorded Carolan's Receipt in 1975, the same year he joined the Chieftains. The selections include "Sídh Beag agus Sídh Mór," the first melody O'Carolan composed, as well "Carolan's Farewell to Music," which was his last. There have been dozens of settings of O'Carolan's compositions released since these, but none have surpassed the beauty of Bell's.
Michael Simmons
See our Article on O'Carolan
Click here for Carolan's Receipt.
---