Traditions, folklore, history and more. If it's Irish, it's here. Or will be!
"People will not look forward to posterity who never look backward to their ancestors."
-Edmund Burke
---
Quotes

Library: Books, Movies, Music

Prints & Photos

Poetry

Jokes

---
---
Shops Ireland
---
Bunús na Gaeilge
(Basic Irish)

---
---
Did You Know?
---
Himself/Herself
Write to Us
Readers Write..
Links/Link to Us
---
Advertise with us
---
Awards & Testimonials

Submissions Guide
---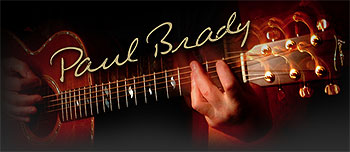 Paul Brady: From Hard Station to Dancer in the Fire
by William Ramoutar

From the titles of his albums you would never think you were going to listen to such great music, but guess what - Brady, one of the finest artists of our tradition, is also one of the favorite songwriters of the most famous of artists - Bob Dylan, Bonnie Raitt, Tina Turner, Santana, Maura O'Connell, just to name some; but that is not where he started. No - he joined a group of Irish musicians which included two sisters and Mick Moloney, now credited as the one who put together one of the most famous of Irish supergroups, if there was such a thing. They were Cherish the Ladies. It was Mick who even named the band. But, as I said, along came Paul Brady and The Johnstons. They were the favorites of radio listeners in Ireland and then England for a period from 1967 and into the early seventies. Then Brady came back to Ireland from the U.S. to join Planxty, the now famous traditional Irish group with Andy Irvine. He would not record with Planxty, but went on to release some traditional albums with the icon of Irish fiddlers, Tommy Peoples, and then top American fiddler, Andy McGann.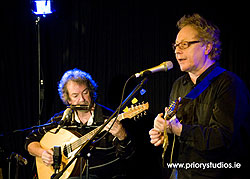 In 1978, he embarked on his solo work with the release of his first album, "Welcome Here Kind Stranger," produced by Donal Lunny whom he had known from his Planxty days. It contained a most evocative recording of "The Lakes of Ponchartrain." With Paul's plaintive vocals and accompanying guitar, it became an instant classic and threw him headlong into the spotlight as a force to be reckoned with. His second release three years later in 1981, "Hard Station," contained self-penned tunes that are to this day covered by many artists, and are audience favourites whenever he performs. For several years after that, he tried to break into the pop market. He forged ahead with albums "True for You," "Back to the Center," and "Full Moon."

On "Back to the Center," however, a gentler Paul Brady was found among the rock tunes. While containing beautiful romantic songs about walking along the seashore and tender love songs, the standout tracks are the traditional sounding "The Homes of Donegal," a marvelous anthem to the north west of Ireland, and "The Island," a song elevated from the norm, by being a plea for peace in Northern Ireland. Still to this day, although recorded by many artists looking for their own fame and fortune these are definitive versions by Brady.

With "Full Moon" came the song "Steel Claw," which was recorded by Tina Turner at the height of her solo career and then real fame found Paul Brady as its songwriter. Actually now as a songwriter to the stars (because right after Carlos Santana recorded another of Brady's tunes , "Night Hunting Time"), the flood gates opened. Phil Collins recorded "Helpless Heart," Maura O'Connell recorded "Stories," and on it went. His songs are from the heart and sincere, giving the listener a picture of what is being sung about. A true storyteller through his music, switching between genres now seems effortless to him. Even to the point of re-recording some of his classic tunes and making them every bit as great as the original, but just a little different. Many times that does not work - even for the author of the song - but his consummate mastery of songwriting is unsurpassed.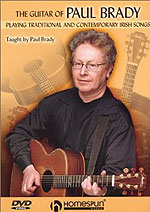 He has a dvd of his songs which has been a huge seller, just him and guitar, which in many ways is just the way it should be. His warm singing and personal deep affection for the music is to the fore, as it is his soul stripped bare. The version of his traditional anthem going back to his early days "Arthur McBride," present on this dvd, is as fresh and amusing as it was all those years ago. Coming in at over seven minutes long, it rivets you with its storyline to what a story the song is about. Old days of repression, but the Irish win out!

There are duets with music friends of his too, and collaborative projects with some very famous names indeed. He sings with Bonnie Raitt on his cd and then she records several of his songs on hers. He sings with Mary Black on one of her cds. His musicianship is in demand too. He has played tin whistle with Eric Clapton and Mark Knopfler of Dire Straits fame. He has also appeared in the fine "Transatlantic Sessions" series, both on dvds and cds, crafted by Aly Bain, a marvelous fiddle player from Scotland and legendary dobro and slide resonator guitar player, Jerry Douglas.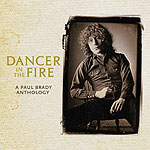 Paul Brady is still writing excellent music, and I believe he has many a great song in him still and his performances are to be experienced. Also on the dvd on how to play guitar like him, it might help some, but to experience Mr. Brady for yourself is the real treat, either in person or on a great presentation as this, sincerely a really first class tribute to his talents. A songsmith of the highest order, drenched in Irish life and worth every penny of your hard earned money. Born in Strabane county Tyrone in Northern Ireland, he is a long way from those early days, but his Irishness is as unmistakable as his voice. Once heard he is never forgotten and with many albums to choose from, probably the best place to start is "Nobody Knows - The Best of Paul Brady". Reinventing himself many times over the years, the songs stand the test of time. Listen to "The Homes Of Donegal." If it doesn't bring a tear to your eye maybe you should be a "Belieber"!

Images:
Paul Brady 1: Paul Brady web site

Brady & Irvine: Andy Irvine web site

The CDs mentioned in this article are available on Amazon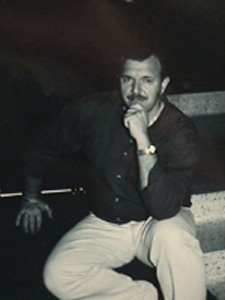 BIO William Ramoutar
IRISH WAYS RADIO PROGRAMME
WFCF Radio 88.5 FM
Every Sunday 11:00 am to Noon eastern standard time on the radio WFCF 88.5fm
We are now an iheart Station on your smartphone or computer
streaming live on iheart.

Review written by William Ramoutar Presenter of Irish Ways Radio Programme, St Augustine Florida


Fri, Feb 2, 2018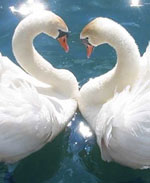 Irish God and Goddess of love
Oengus is the Irish God of love, beauty and youth. According to the old folklore, his kisses became birds. It is also said that he dreamed of a beautiful maiden, named Caer, for whom he searched all over Ireland. Eventually, he found her chained to 150 other maidens, destined to become swans at the time of Samhain. Legend has it that Oengus transformed himself into a swan and was united with his love.
Aine of Knockaine is the Irish Goddess of love. She is also known as the Fairy Queen of Munster and as a goddess of fertility beause she has control and command over crops and animals, especially cattle. Another name by which she is known is Aillen. To learn more about Irish mythology, please click Irish Myths & Legends.
Photo Credit: Wikipedia

Click for More Culture Corner.
Mystic Harp
Derek Bell



Derek Bell was the harpist for The Chieftains. His recent sudden death has left a void that will be impossible to fill. He joined the group in 1972, after a distinguished career as a harpist with the Northern Ireland BBC Orchestra, and as a professor of harp and Irish harps at the Belfast Academy of Music. In addition to this CD which has won rave reviews, he has several other solo albums to his credit.
Click for Derek Bell's Mystic Harp.
---
The Wide World Over: A 40-Year Celebration
The Chieftains

This unique CD gathers into a single collection some of the Chieftains most memorable moments from the past four decades, including predictable alliances with artists such as Van Morrison. Because it features more collaborations than it does traditional and traditionally arranged tunes and songs, it may not appeal to the Irish music purist. So, while many fans will prefer their Chieftains served straight up and not sharing the limelight with pop stars, the CD is thoroughly enjoyable. As one reviewer put it so well - "good music is good music, no matter where it comes from or who plays it."
Click for Wide World Over.
---