Traditions, folklore, history and more. If it's Irish, it's here. Or will be!
"People will not look forward to posterity who never look backward to their ancestors."
-Edmund Burke
---
Quotes

Library: Books, Movies, Music

Prints & Photos

Poetry

Jokes

---
---
Shops Ireland
---
Bunús na Gaeilge
(Basic Irish)

---
---
Did You Know?
---
Himself/Herself
Write to Us
Readers Write..
Links/Link to Us
---
Advertise with us
---
Awards & Testimonials

Submissions Guide
---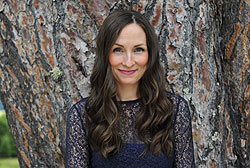 Julie Fowlis -- From Uist to West and Beyond!
by William Ramoutar

It is very hard for me to understand the older I get, how time seems to fly, either in days, weeks or years, but it does. And how some voices I have come to think of as being around for a long time are really very recent on the scene. One such is the incredibly glorious Gaelic voice of Julie Fowlis. She guested on an album by a group of wonderful Scottish artists called Brolum in the year 2000, and from then on she has gone from strength to strength, and will do so for many moons to come.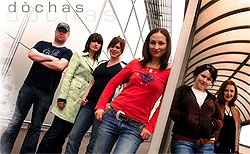 I suppose I found out about her first when she released a cd with her band of female performers called Dóchas, which in Scots Gaelic means "tradition." Mind you, they do have one male band member - the brilliant Martin O'Neill, all Ireland bodhran champion. He is Scottish born, and of Irish parentage. A true driving force in the music. The sound is pure genius, though. In America, there's the brilliant all female band Cherish the Ladies, so in my opinion, Dóchas are the wonderful Scots counterpart.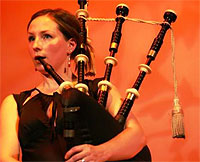 On her solo cds and with Dóchas, Julie Fowlis plays a selection of instruments such as highland bagpipes, small pipes, tin whistle, oboe, and cor anglais, and then sings like you won't believe. Some years ago she guested with the Irish group Danú and met her future husband, band member Eamonn Doorley. Since then she has recorded many Irish tunes and has used Irish singer Muireann Nic Amhlaoibh, also from the group, to round out some of her solo recordings. Julie and Muireann also collaborated with the aforementioned and Scots guitarist Ross Martin, calling this venture "Dual," which is a collection of Irish and Scottish songs and tunes, which I think should not be the end of this wonderful project. The two ladies are supremely talented and duel, if you pardon the pun, on "Tin Whistles," and in singing in the Irish and Scots Gaelic languages. The word "dual" in Irish and Scots means "to braid or intertwine," and if you find the cd and buy it you will understand it is the perfect name for them. It also has another meaning, which is "inheritance," and that makes perfect sense to me, too. This is truly a heritage cd - in other words, it is a find that, once sampled, will be a staple at the table of traditional music for years to come.

Julie sings almost exclusively in Gaelic and in fact in 2008, Mojo Magazine invited Julie to contribute to a tribute album to The Beatles for the 40th anniversary of their White Album. She recorded Paul McCartney's "Blackbird" in the language, calling it "Lon Dubh." Yes, it means "blackbird" in Gaelic. That really brought her to the notice of many a new listener, she successfully crossed over to a new audience, and six years later she is at the top of her profession, performing in open air festivals as well as concert halls. She tours with her husband Eamonn, who produces and mixes the music for her and accompanies her on bouzouki, which is no longer the Russian instrument of old, but a reconfiguration of it to suit the traditional sound of this amalgam of Scots and Irish music.

I am wishing for a few more songs in English on her future cds, as I feel she will make even more friends of the plethora of new listeners to this music.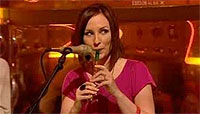 Although I have to tell you as much as I don't like to, there are less and less cds being manufactured, as record companies are charging the groups all the fees for doing it, making it almost impossible for the musicians to make any money. And then there's also streaming music, which is a horse of a different color! What that means is they get a miniscule amount for all their talent and hard work. But that is not what we are here for… I am here to tell you this woman, Julie Fowlis, is hugely talented and well worth finding. Even if Scots Gaelic is not your thing, her sweet voice and versatility on her instruments are second to none.

She is right up there with musical masters, her abilities will win you over. Well let's hope so, because if not I should have saved my breath for my porridge. She has made some very worthwhile offerings, but mark my words, her best is not far off either. By the way, if you have watched the Pixar movie "Brave" with your kids or grandkids, you have heard her voice, as she is the singer in the animated blockbuster.

It is written somewhere, I know, because I have read it, she used to be afraid to sing in public. No more. Disarmingly confident, unassuming on stage and music to the ears, she will win you over. She will make a fan of you.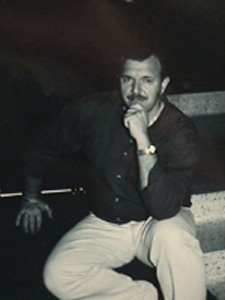 BIO William Ramoutar
IRISH WAYS RADIO PROGRAMME
WFCF Radio 88.5 FM
Every Sunday 11:00 am to Noon eastern standard time on the radio WFCF 88.5fm
We are now an iheart Station on your smartphone or computer
streaming live on iheart.

Review written by William Ramoutar Presenter of Irish Ways Radio Programme, St Augustine Florida

Photo Credits:

Main Photo: Scotsman/Robert Perry

Dóchas - from their web site

Julie playing the bagpipes: Forex Trend

Julie playing tin whistle
You Tube - Muireann Nic Amhlaoibh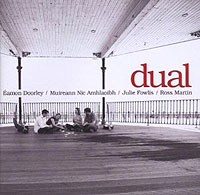 Recordings: We found a collection of 25 recordings featuring Julie Fowlis on amazon, including Dual

To view the list, please click Julie Fowlis



Thu, Apr 20, 2017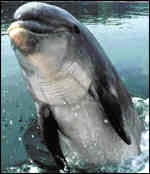 Fungie, the Dolphin of Dingle Bay
The dolphin is one of Ireland's most fascinating mammals and Fungie is the most famous. He is a fully- grown bottlenose who is 13 feet (4 meteres) long and weighs about 500 lbs or around one-quarter tonne.
Fungie was first noticed in 1984 when Paddy Ferriter, the Dingle Harbour lighthouse keeper, began watching a lone wild dolphin escort the town's fishing boats to and from port.
Later that year, it became officially recorded that Fungie was a permanent resident of the entrance channel to Dingle and the self-appointed "pilot" of the fleet.
Over the years Fungie has developed from a timid but inquisitive observer of the human visitors into a playful, though mischievous, companion. From observation of marks on his body, it seems that he does 'interact' with other whales, dolphins or porpoises, proving perhaps he is neither hermit nor outcast from his own kind, but rather that he is simply content to spend most of his time in and around Dingle Bay.


Click for More Culture Corner.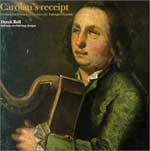 Carolan's Receipt
by Derek Bell

Derek Bell recorded Carolan's Receipt in 1975, the same year he joined the Chieftains. The selections include "Sídh Beag agus Sídh Mór," the first melody O'Carolan composed, as well "Carolan's Farewell to Music," which was his last. There have been dozens of settings of O'Carolan's compositions released since these, but none have surpassed the beauty of Bell's.
Michael Simmons
See our Article on O'Carolan
Click here for Carolan's Receipt.
---