Traditions, folklore, history and more. If it's Irish, it's here. Or will be!
"People will not look forward to posterity who never look backward to their ancestors."
-Edmund Burke
---
Quotes

Library: Books, Movies, Music

Prints & Photos

Poetry

Jokes

---
---
Shops Ireland
---
Bunús na Gaeilge
(Basic Irish)

---
---
Did You Know?
---
Himself/Herself
Write to Us
Readers Write..
Links/Link to Us
---
Advertise with us
---
Awards & Testimonials

Submissions Guide
---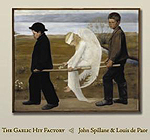 The Gaelic Hit Factory featuring John Spillane and Louis de Paor
by William Ramoutar

As the word got out about them, the band Nomos, formed in 1990, quickly became known as a little powerhouse of a band, driven along by the almost telepathic connection between its members - Gerry McKee on that fine Irish instrument, the bouzouki, Niall Vallely on button accordion, Vince Milne on fiddle, Frank Torpey on bodhrán, and Cork man John Spillane on guitar and vocals. After the band's demise, the respect was greater, but John Spillane's star reached higher and higher. Through his songwriting, he has almost reached the stature of deity, and it is little wonder. His songs have been recorded by all and sundry, most importantly Christy Moore, Pauline Scanlon, Karen Casey, Cathie Ryan……should I go on? Well, I hope you are getting the picture.



John is simply a writer of exceptionally beautiful songs. He is also a fluent Irish speaker, a gift he shares with his friend from childhood, poet Louis de Paor. Their many forays into the limelight have culminated in the release of their superb new cd . This cd is chock full of songs from the pen of Louis and John as Gaeilge ("in Irish"), but the booklet / insert is a great asset to us exiles, who have forgotten most of the language that was beaten into us as schoolchildren in Ireland. The lyrics are in Irish, and translated to English. There are poems spoken alternately in both languages which give you, if you have the courage and patience for this glorious offering, to image the tunes for yourself as living stories from present day to days long gone.

Don't get me wrong, many of these songs will hit you straightaway, but what Spillane and de Paor are trying to get across to you, is to listen, and learn that the language is living. An Teanga Beo, "the living tongue," we call it. If you travel across the water you will hear it, but you have to listen. Same here, to appreciate it, but the trouble is well worth it. There are no jigs and reels here - the richness of the language and the almost Séan Nós (old style of singing) interpretations of some of the tunes are what you get to understand, and you will! It's a very safe journey! Have the nerve, and before you know it you will have a few more words to your vocabulary that are very usable and no one will know what you are saying. Éist do Bhéal comes to mind. It's pronounced "AESHT duh VEIL," and it means "shut your mouth"! See? Easy, ain't it?

Honestly, though, this is just a terrific introduction to not only the language, but two very wonderful artists that have been brave enough to do something few have had the conviction to bring to fruition, and they deserve to be rewarded. And I know you will feel you have been, too, if you search this one out. The instrumentation is so well thought out, that while the Irish and English words capture your imagination, the beauty of the accompaniment is equally mesmerizing. The Gaelic Hit Factory is a grand title for this cd, and not a word of exaggeration. I think every song should be a hit.

For more details about John Spillane, please click John Spillane.

To purchase the CD on line, please click Townsend Records.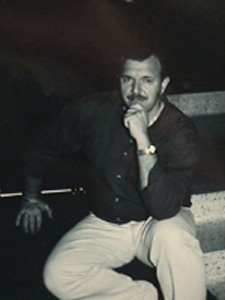 BIO William Ramoutar
IRISH WAYS RADIO PROGRAMME
WFCF Radio 88.5 FM
Every Sunday 11:00 am to Noon eastern standard time on the radio WFCF 88.5fm
We are now an iheart Station on your smartphone or computer
streaming live on iheart.

Review written by William Ramoutar Presenter of Irish Ways Radio Programme, St Augustine Florida


Thu, Dec 7, 2017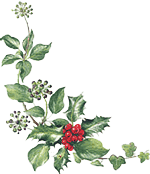 Holly and Ivy hanging up and
something wet in every cup*
Not so long ago, Irish Christmas decorations were much simpler than they are now. The children gathered holly and ivy for adorning, windows, doorways, mantles and pictures, and the father would carve out a turnip in which would be placed a large red candle. This would go in the window to light the way for the Holy Family on Christmas Eve. Only in relatively recent times did an Irish family have a Nativity scene and a decorated tree in the house. As for Mistletoe, it's quite rare in ireland and is generally associated with ancient Celtic and Druidic fertility celebrations; this is most likely where the custom of kissing under the mistletoe comes from.
*Old Irish Christmas toast
Image: Pashley Manor Gardens.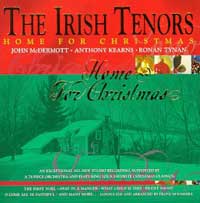 According to the 30 or more reviews we've read, if you own just one Irish Christmas recording, this should be it. Featuring Anthony Kearns, Ronan Tynan and John McDermott, we are treated to both solo and trio performances of a dozen or more best loved holiday airs, sung in their trade-mark Irish tenor style. As one reviewer cleverly observed, if these three sang the phone book, she'd buy it!
See Review
Click here for Home for Xmas
---