Traditions, folklore, history and more. If it's Irish, it's here. Or will be!
"People will not look forward to posterity who never look backward to their ancestors."
-Edmund Burke
---
Quotes

Library: Books, Movies, Music

Prints & Photos

Poetry

Jokes

---
---
Shops Ireland
---
Bunús na Gaeilge
(Basic Irish)

---
---
Did You Know?
---
Himself/Herself
Write to Us
Readers Write..
Links/Link to Us
---
Advertise with us
---
Awards & Testimonials

Submissions Guide
---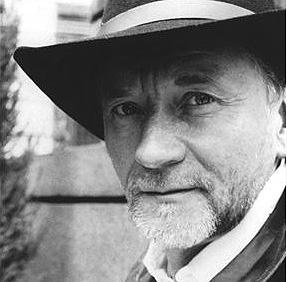 Phil Coulter - A Master Class in Musical Landscapes
by William Ramoutar

He was born in 1942, in Derry, Northern Ireland to a Catholic policeman in the Royal Ulster Constabulary - a predominantly Protestant organization; that was probably hard enough in those days in the North. But to give up the piano because he hated both the instrument and the teacher was almost a losing stroke. Fortunately for the world, he came back to it and formed a musical partnership with Bill Martin, which lasted ten years and brought about a string of hit records with bands from many disparate genres.

The first one I remember was a sensation not only for the quirky sound but the sheer peppiness of it even before pop was a word. The other thing that certainly burst it onto the music charts was the remarkable English singer Sandie Shaw. One of the things she did, was to sing in her bare feet. Scandalous for the day because no one was doing it, and she became a huge star through her sensuous performances but also because of the Coulter tune. The song was "Puppet on a String," the English entry that won the 1967 Eurovision Song Contest, a competition to bring European countries together through friendly competition. The tune, which still sounds great to this day, was a huge international hit and in fact has had dozens and dozens of cover versions. Strangely enough, two years previously in 1965, Phil had written the Republic of Ireland's entry "Walking the Streets in the Rain," sung by a wonderfully rich voiced Butch Moore, who came from the Irish showband scene, which came sixth! Then the incomparable Ms. Shaw burst onto the international stage and Phil was all over the papers as a hitmaker. After Sandie Shaw's success, Phil almost pulled off a really spectacular coup by giving Cliff Richard the song "Congratulations," which came second the next year in the competition and actually was just as big a hit in the pop charts.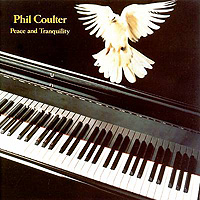 He has collaborated with all and sundry since. Whether playing on stage and in the studio with the likes of Van Morrison, Christy Moore, The Rolling Stones, Sinead O'Connor and the flute maestro James Galway or on the dozens of his own CD's, his brilliant orchestral landscapes and re-workings of traditional Irish songs attest to his exceptional talents. Well known works, which in themselves are melodic or melancholic tunes, take on a new breath of life with the Coulter treatment and are turned into epic masterpieces of sound.

The piano of course is a grand instrument, pardon the pun, but with Mr. Coulter arranging and producing as well as performing, he can surpass even the best written piece and you end up remembering what he did to it, and not the original. I know people who use his music to relax and contemplate the finer things in life. By the same token I know there are an equal amount, who use the music to inspire themselves and I know I have used it for much more. The piano is always to the forefront of his sound and yet he is unafraid to have his guesting musicians shine on these recordings too.

He has worked with some first class musicians and singers over his many years at the top of his profession. Just to name a few, The Dubliners, The Fureys and Davey Arthur, popsters Sandie Shaw, Cliff Richards, The Bay City Rollers, actors Roma Downey and Liam Neeson, and most recently with the worldwide phenomenon, Celtic Thunder. In yet another year's Eurovision song contest, Phil's composition "All Kinds of Everything" began the amazing career of a young singer known as Dana, who became a massive star in her own right. To show you how popular she became with this tune, in more recent years, she ran for Irish government. Phil Coulter and his songwriting partner, Bill Martin, also wrote a song for the actor Richard Harris (who had a phenomenal hit with a song called "MacArthur Park") entitled "My Boy," which Elvis Presley turned into a worldwide hit.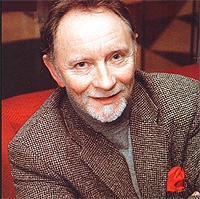 His catalogue is monumental and so many people listen to his music and pass it on to their friends. So there are always listeners being converted! What better way to pass on the music? The CD's are really works of art, as he has a knack for using a theme and constructing a series of tunes that flow seamlessly into each other. In other words, if it is a night of reading, relaxation or love you are interested in, then one of Phil's efforts could help you with your own plans! He has won award after award for his works, and rightly so. I think also being born in Derry in Northern Ireland didn't hurt him one bit. I have come to believe there must be something in the water up there as for one instance, the female singers from there are extraordinary, sisters Mary and Cara Dillon, just two that come to mind. So for a pianist/composer to attain the popularity Phil Coulter has achieved is very easy to understand.

If you don't already know of him, nowadays you can get on iTunes or amazon and listen to snippets and know there is no risk with picking up a new habit. His music can be quite intoxicating and if you don't like it, maybe you need to listen again. Energetic, sometimes peaceful, but without a doubt, always entertaining. That is what Coulter is all about. A true showman and one to be savored year after year… and don't forget to pass him on to your friends.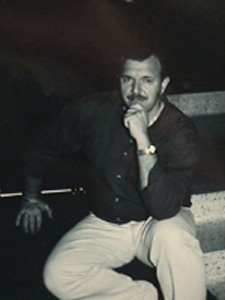 BIO William Ramoutar
IRISH WAYS RADIO PROGRAMME
WFCF Radio 88.5 FM
Every Sunday 11:00 am to Noon eastern standard time on the radio WFCF 88.5fm
We are now an iheart Station on your smartphone or computer
streaming live on iheart.

Review written by William Ramoutar Presenter of Irish Ways Radio Programme, St Augustine Florida



Wed, Jan 3, 2018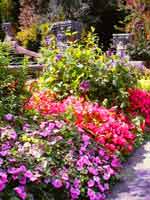 Ilnacullen, Co. Cork - an Island Garden
Located in the sheltered harbour of Glengarriff in Bantry Bay. Ilnacullin, which means island of holly, is a small island known to horticulturists and lovers of trees and shrubs all around the world as an island garden of rare beauty.
The vivid colours of Rhododendrons and Azaleas reach their peak during May and June, whilst the hundreds of cultivars of climbing plants, herbaceous perennials and choice shrubs dominate the midsummer period from June to August.
Because of its sheltered situation and the warming oceanic influence of the Gulf Stream, the climate is favourable to the growth of ornamental plants from many parts of the world.
Even for those who aren't particularly interested in gardens, there are many other scenic views, especially in the surrounding waters where seals frequent the rocks on the southern shore.
The cover photo on Bridget's book The Traditional Irish Wedding shows a wrought iron garden gate on Ilnaculen. I took that photo. To see it, go to the home page. It's part of the opening paragraph Failte.
—Russ
Resource: Copy and Image - Cork Guide

Click for More Culture Corner.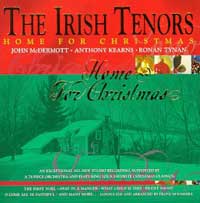 According to the 30 or more reviews we've read, if you own just one Irish Christmas recording, this should be it. Featuring Anthony Kearns, Ronan Tynan and John McDermott, we are treated to both solo and trio performances of a dozen or more best loved holiday airs, sung in their trade-mark Irish tenor style. As one reviewer cleverly observed, if these three sang the phone book, she'd buy it!
See Review
Click here for Home for Xmas
---