Traditions, folklore, history and more. If it's Irish, it's here. Or will be!
"People will not look forward to posterity who never look backward to their ancestors."
-Edmund Burke
---
Quotes

Library: Books, Movies, Music

Prints & Photos

Poetry

Jokes

---
---
Shops Ireland
---
Bunús na Gaeilge
(Basic Irish)

---
---
Did You Know?
---
Himself/Herself
Write to Us
Readers Write..
Links/Link to Us
---
Advertise with us
---
Awards & Testimonials

Submissions Guide
---
Sure and begone and begorrah to Oirish Greeting Cards
by Bridget Haggerty

Dancing leprechauns, rainbows & pots of gold, pints of foaming green beer; whether it's Christmas, St. Patrick's Day or some other special occasion, it's always the same old 'top o' the morning' crop of trite shite in the card department - with the possible exception of religious greetings. If you're as weary or wary of all the sham-mockery as we are, then you might be interested in these alternatives: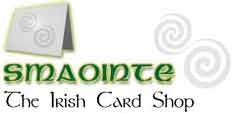 Smaointe - The Irish Card Shop
Valerie Mhic Giolla Fhinnéin owns and runs Smaointe, an Irish Language business, which specialises in design and production of Irish Language greeting cards and with English translation. The cards are suitable for the Irish speaker, the learner or those interested in 'things Irish'.

Valerie has always had a special interest for promotion of Irish culture and is involved in community adult education, where she teaches Irish Language and culture, including céilí dancing. Special interests include traditional music, dance, historical and cultural background of Ireland. Born and reared in Lurgan, Co. Armagh, Valerie now lives in the little seaside resort of Portstewart, Co. Derry with her husband, Liam, and 6 children. Valerie learned her Irish in the local University and in the Donegal Gaeltacht, where she is presently in negotiations to open a unit in the beautiful Dún Lúiche area, at the bottom of Mt Errigal.

Smaointe cards are available in retail outlets in most areas in Ireland with the numbers increasing all the time. If you prefer to shop in your own locality, contact Smaointe for nearest store.

For more details about Smaointe, please click http://www.smaointe.com/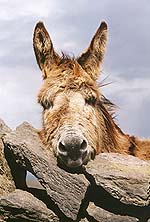 Handmade Greetings
Marcus Gunther took up photography when he moved to Co. Kerry in 1993. Inspired by the warmth of the people and the wild beauty of the Irish countryside, he has since turned his hobby into a profession. Greeting cards are just one aspect of his business.

He makes these cards himself from heavy card stock. Each is 4 x 6 inches and comes with an envelope in a clear plastic bag. Cards are left blank for your own message, and you can also frame them. Choose from 20 unique prints of Ireland. To see the step by step process of creating each card and to view all 20 scenes, please click; Marcus Gunther.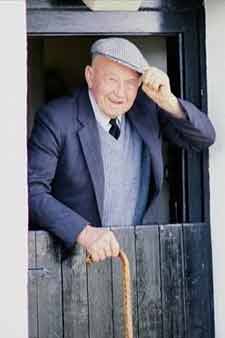 Free Irish Corner e-cards
Select from over 900 images to send as free ecards to family and friends around the world. The photos and art work are magnificent and you can include a saying or quote in Irish . You can also choose a traditional Irish tune to accompany your card. We have used this service for several years. Our recipients always seem to be delighted and we have never been disappointed. http://www.irishcorner.com.
So there you have it - just a sampling of what's available if you'd like to send a greeting that won't make Irish traditionalists cringe in dismay on St. Patrick's Day or any other festive occasion.
ED. NOTE: If you hear of other people producing and/or promoting traditional Irish cards, please let us know and we'll add them to the list. Go raibh maith agat!
Fri, Feb 2, 2018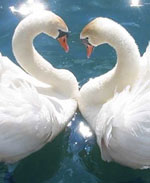 Irish God and Goddess of love
Oengus is the Irish God of love, beauty and youth. According to the old folklore, his kisses became birds. It is also said that he dreamed of a beautiful maiden, named Caer, for whom he searched all over Ireland. Eventually, he found her chained to 150 other maidens, destined to become swans at the time of Samhain. Legend has it that Oengus transformed himself into a swan and was united with his love.
Aine of Knockaine is the Irish Goddess of love. She is also known as the Fairy Queen of Munster and as a goddess of fertility beause she has control and command over crops and animals, especially cattle. Another name by which she is known is Aillen. To learn more about Irish mythology, please click Irish Myths & Legends.
Photo Credit: Wikipedia

Click for More Culture Corner.
Set of six cards. The front is a watercolor of 'Slemish' (St Patrick's Mountain). The back features an extract from St Patrick's Breastplate.
Click here for St. Patrick's Day Cards.
All contents copyright © 2001 through 2011 inclusive - all rights reserved.
March 4, 2011

Rollover button Images:
Wedding LaRose, Kids Reading & Kitchen Apples and Tea from All Posters prints.
The information provided on this site is offered as-is, without warranty. This site's owners, operators, authors and partners disclaim any and all liability from the information provided herein.
Any trademarks or registered trademarks on this site are the property of their respective owners.

This Web Site Bashed, Kicked & Glued together by Russ Haggerty.