Traditions, folklore, history and more. If it's Irish, it's here. Or will be!
"People will not look forward to posterity who never look backward to their ancestors."
-Edmund Burke
---
Quotes

Library: Books, Movies, Music

Prints & Photos

Poetry

Jokes

---
---
Shops Ireland
---
Bunús na Gaeilge
(Basic Irish)

---
---
Did You Know?
---
Himself/Herself
Write to Us
Readers Write..
Links/Link to Us
---
Advertise with us
---
Awards & Testimonials

Submissions Guide
---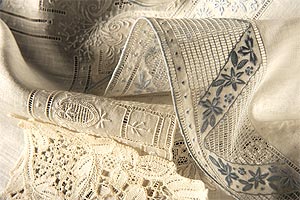 Irish People, Irish Linen
by Kathleen Curtis Wilson

For beauty and desirability, the finest Irish linen once had little competition, but even coarser linen also had a great number of utilitarian uses long forgotten in today's world of plastic and synthetics. Linen's distinction as an important fabric emerged from the efforts of a vast number of Irish people across the island who grew the plant, harvested the fiber, spun the yarn, wove the cloth, and found buyers willing to purchase the final product.

Between 1870 and 1914, Ireland was the undisputed center of linen production worldwide, a position held unchallenged not only in terms of sheer scale and output, but also because of the prestige and quantity of linen fabric produced. Belfast became known by the descriptive term Linenopolis. In 1892, enough linen was woven in Ireland to wrap a nine-foot wide belt of cloth around the earth at the equator. Over twelve million miles of linen yarn was spun every week and the total amount of cloth woven in one year would have covered an area totaling 32,000 acres.


On board the Titanic, when she sailed on her fateful maiden voyage in 1912, there were 40,000 white damask Irish linen dinner napkins on board, along with thousands of linen tablecloths, sheets, pillowcases, and towels providing quality and lavishness for her passengers.

The Sopwith Camel, an airplane known to millions of Peanuts cartoon readers was, in reality, the most successful fighter aircraft in the history of the British Royal Air Force during World War I. The outer skin of the Camel was covered in lightweight, unbleached Irish linen with a thread count of approximately 152 threads per inch, making it exceptionally strong. The cloth was glued over the airplane's frame and ribs, laced together at the seams with linen cord. Water was applied to the linen and when it dried, the fabric shrink to drum tautness against the frame. After several coats of clear nitrate dope were applied to the entire surface, the fabric had been transformed from a limp shell to a glossy tight surface, ready for painting and stenciling.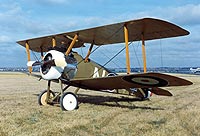 It was soon discovered that enemy cannon shells could easily penetrate the Camel's linen-covered wings and fuselage but did not detonate. This meant that Camels could be, and were, shot many times while the planes were in the air without affecting their ability to fly. Once a damaged plane landed, each hole was covered with a small square of frayed linen and brushed with a single coat of dope, and the plane was back in the air within an hour.

During World War II, the growing aircraft industry continued to utilize unbleached Irish linen to cover the control surfaces (rudders and ailerons) of many famous airplanes, including Hurricanes, Spitfires, Lancaster Bombers, and Wellingtons. On the ground in the desert, sentries guarded the planes day and night, not against the Germans but to prevent local camels from licking the dope off the linen fabric. When Prime Minister Winston Churchill flew to the famed Yalta Conference in Moscow in 1943, the interior walls of his luxuriously outfitted Avro York were covered in Irish linen.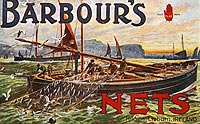 In 2007, unlined linen fire hose tubing was still approved for fire fighting in New York City because linen threads swell shortly after getting wet and close the minuscule spaces in the weave to make the hose watertight. Fishermen used Irish linen nets for their strength and durability. Artists paint on Irish linen, architects draw on it, and linoleum is made from the oil of the flax seed. Linen absorbs the sweat from hands and is the preferred fabric for pool/billiard cue handles. Irish linen has been used in hospitals for bedding, bandages, and gowns. At one time, Irish linen thread was used for hand sewing the hugely popular loafers worn by men and women for decades. The Beatles made the pointy-toed black leather boots with a Cuban heel, stitched with Irish linen, a style icon of the 1960s.


Irish linen once permeated societies across the globe with enough force for the word linen to reside in human consciousness long after spindles were quieted and looms fell silent. The words Irish linen have become a country-of-origin label like Swiss cheese and French perfume. Because the island of Ireland is a small landmass, the population's ability to produce a single product with a name that will resonate far into the future is quite extraordinary.

ED. NOTE: We are very grateful to Kathleen for taking the time to write this brief article at our request. What she gave us was a tempting compilation of anecdotes from her amazingly comprehensive book which is as beautiful as it is informative. As she herself points out, it is nearly impossible to tell any story, let alone the history of Irish linen, without using textile terms in the descriptive narrative; words used in everyday speech with little regard to the original textile relevance. Throughout the book, Wilson adds sidebars with intriguing descriptions of shuttle, diaper, hackle, heckle, towhead, lint and phrases, such as, table linens, on tenterhooks, air your dirty laundry, white-collar crime, and out of the loop. With over 175 color images, 'Irish People, Irish Linen' is both an entertaining coffee table book and a powerful story for anyone who enjoys history, social culture, 'women's work', language, art, or architecture, regardless of whether they have an interest in textiles or not. Also, every person who claims an Irish heritage should appreciate the worldwide impact of Ireland's most significant industry – linen manufacturing. Kathleen's latest book - 'Irish People, Irish Linen' was written to celebrate the industry and the people who made it synonymous with elegance, purity, and desirability. For the layman, the book tells the story of how a simple blue flower could be made into a handkerchief of incredible beauty or strong enough to be used for the cords on the parachute that brought Neil Armstrong safely back to earth in 1969. Engagingly written, individual back-stories throughout the book tell of success and failure, the community spirit of factory life, kinship, and how it was to live so close to the land.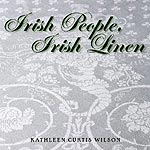 The book is available on Amazon

Pics:
Linen and lace handkerchiefs from the firm Robert McBride and Company, Ltd., Belfast, c. 1910-1920

Grand salon for first class dining on The Majestic, White Star Line, c. 1922

Model of a World War I Sopwith Camel airplane

Postcard advertising Barbours' linen fish netting, c. 1925

Workers leaving Herdmans Ltd flax spinning at the end of a shift, c. 1940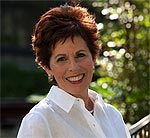 Bio: Born and raised in Michigan, Kathleen Curtis Wilson studied weaving at the Cranbrook Schools and learned the art of sharing a good story from her grandmother, Ethel Alcorn Motherwell. She established Old Abingdon Weavers, a small textile mill in southwest Virginia where she gained insight and a great appreciation for the handcrafts of the region's early settlers.
In 1993, she changed her career from entrepreneur to author, researcher, and exhibitions curator. Kathleen has become a nationally known writer, lecturer, and exhibitions curator in the field of cultural heritage, especially women' s culture and craft traditions. For nearly 20 years her articles have been published in academic journals and popular magazines such as Country Living and Early American Life. Kathleen is married to architect David Leonard. They have three children and six grandchildren. Currently living outside San Francisco, she travels back to southwest Virginia frequently. For more about Kathleen and her work, please visit her web site Kathleen Curtis Wilson



Wed, Jan 3, 2018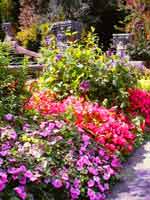 Ilnacullen, Co. Cork - an Island Garden
Located in the sheltered harbour of Glengarriff in Bantry Bay. Ilnacullin, which means island of holly, is a small island known to horticulturists and lovers of trees and shrubs all around the world as an island garden of rare beauty.
The vivid colours of Rhododendrons and Azaleas reach their peak during May and June, whilst the hundreds of cultivars of climbing plants, herbaceous perennials and choice shrubs dominate the midsummer period from June to August.
Because of its sheltered situation and the warming oceanic influence of the Gulf Stream, the climate is favourable to the growth of ornamental plants from many parts of the world.
Even for those who aren't particularly interested in gardens, there are many other scenic views, especially in the surrounding waters where seals frequent the rocks on the southern shore.
The cover photo on Bridget's book The Traditional Irish Wedding shows a wrought iron garden gate on Ilnaculen. I took that photo. To see it, go to the home page. It's part of the opening paragraph Failte.
—Russ
Resource: Copy and Image - Cork Guide

Click for More Culture Corner.
Traditional Damask brings you a world of grace and charm evolved over the centuries. This exqusite Fingal cloth with inherent lustre, smooth hand and long life, is the product of skills and methods unchanged through generations. Matching napkins also available.
Click here for Linen Tablecloths and napkins.