Traditions, folklore, history and more. If it's Irish, it's here. Or will be!
"People will not look forward to posterity who never look backward to their ancestors."
-Edmund Burke
---
Quotes

Library: Books, Movies, Music

Prints & Photos

Poetry

Jokes

---
---
Shops Ireland
---
Bunús na Gaeilge
(Basic Irish)

---
---
Did You Know?
---
Himself/Herself
Write to Us
Readers Write..
Links/Link to Us
---
Advertise with us
---
Awards & Testimonials

Submissions Guide
---

Ireland's Most Wanted List - For Christmas 2002
by Bridget Haggerty


We thought it might be fun for our international readers to learn what gifts shoppers in New Ross, Co. Wexford were looking for in the run up to Christmas. Internationally known as the ancestral home of U.S. President John F. Kennedy, New Ross may not represent the more cosmopolitan areas of Cork, Dublin and Galway - but, we think it probably more closely mirrors Ireland's smaller towns and villages.

Gold pendants, gold earrings and silver jewellery were the order of the day at Brook's Jewellers. Meanwhile over at Nolan's Bookstore, Roy Keane's book was the biggest seller. Maeve Binchy's 'Quentins' and Cathy Kelly's 'Just Between Us' also proved to be very good sellers in the shop's popular fiction section, while magician, David Blaine's 'Mysterious Strangers' was one of the overall best movers.

In Bailey's Picture Gallery, the top five list of best sellers included items such as candles, lamps, Christmas decor, pottery, and prints/paintings. "Mirrors have also been very good sellers, especially the slate variety," said the shop's owner, Brian Bailey.

And what about the toy shops? Campbell's Supertoys, which is located in the heart of the town, reported that their best sellers were playstations, karaoke machines, dance mats, dolls, action men and wrestlers.

Obviously, winter brings with it colds and flu, so medicinal items have also been popular in pharmacies throughout New Ross. "Calpol and various cough bottles have been selling well," said a representative of French's Pharmacy - along with gift sets, perfume and men's aftershave.

As for music, it appears to be a popular stocking filler in New Ross, just as it is in most places. But, no doubt, the choices are a bit different. According to a staff member at Bridge Records, the top albums of this year's Christmas shopping season are Robbie Williams 'Escapology', Coldplay's 'Rush of Blood to the Head', Shania Twain's 'Up', and U2's 'The Best of - 1990 to 2000." She went on to say the video version of 'Give Up Yer Aul' Sins' had also proved extremely popular and "Sugababes' - 'Angels With Dirty Faces' was also another great seller.

Over at Lawler's Drapery Store, the traditional item of stockings (hosiery) appeared down the pecking order on his list of top sellers for 2002. "Wrangler jeans - stonewashed black - would be number one," he said. And that would be followed by check fashion shirts, knitwear and sweatshirts. Hosiery and underwear finished a poor five on his shop's list of best movers for Christmas 2002.

In general, what Christmas shoppers in New Ross were looking for doesn't sound that different from folks in New York, New South Wales, and everywhere in-between. But, there was a run on something odd, which we can't print here because this is a family website. If you'd really like to know what it was, send us an email. In the meantime, the accounting firm of Deloitte & Touche predicted that the Irish household would spend €1,395 on Christmas 2002. €567 of that amount (compared to a European average of €446 and a US average of €561) would be spent on buying 14 gifts, €280 on food and drink, €263 on clothes and €285 on "socializing" or other. This week, €1 = $1.02. Final figures have yet to be published - but, from all accounts, the survey appears to be right on target.

This concludes our articles for the Christmas season. But, with a new year, we begin a whole new cycle of festivals and feastdays. Please check our Article Index.


Image: Santa's Portrait from Barewalls. As with all images from Barewalls featured on this site, this one is also available for purchase. If you'd like to buy a print of this image or any others from Barewalls, we will earn a small commission when you click through this link: Barewalls.

Thanks for your support - every little bit helps to keep the site and our newsletter free.

For more of our Holiday Stories click on the following links.
Advent/Christmas Holidays
Time at this Point in the Year
An Advent Memory
Yes, Kelsey and Maddie, there is a Santa Claus
Waiting for St. Nicholas
Christmas - Preparing the Puddings
Christmas - Food for the Feast
An Irish Christmas - Then & Now
An Irish Christmas - The Day Before
Memories of Christmas Eve Past
An Irish Christmas - Ding Dong Merrily On High
Seasons Greetings in Irish
St. Stephen's Day to New Year's Eve
New Year's Day to Epiphany
Many Years Ago by John B. Keane
Rowing to Christmas Mass
Burying the Baby Jesus
White Washed Walls
An East Cork Christmas


Thu, Dec 7, 2017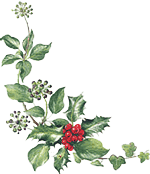 Holly and Ivy hanging up and
something wet in every cup*
Not so long ago, Irish Christmas decorations were much simpler than they are now. The children gathered holly and ivy for adorning, windows, doorways, mantles and pictures, and the father would carve out a turnip in which would be placed a large red candle. This would go in the window to light the way for the Holy Family on Christmas Eve. Only in relatively recent times did an Irish family have a Nativity scene and a decorated tree in the house. As for Mistletoe, it's quite rare in ireland and is generally associated with ancient Celtic and Druidic fertility celebrations; this is most likely where the custom of kissing under the mistletoe comes from.
*Old Irish Christmas toast
Image: Pashley Manor Gardens.