Traditions, folklore, history and more. If it's Irish, it's here. Or will be!
"People will not look forward to posterity who never look backward to their ancestors."
-Edmund Burke
---
Quotes

Library: Books, Movies, Music

Prints & Photos

Poetry

Jokes

---
---
Shops Ireland
---
Bunús na Gaeilge
(Basic Irish)

---
---
Did You Know?
---
Himself/Herself
Write to Us
Readers Write..
Links/Link to Us
---
Advertise with us
---
Awards & Testimonials

Submissions Guide
---
An Irish Christmas - Waiting for St. Nicholas
by Bridget Haggerty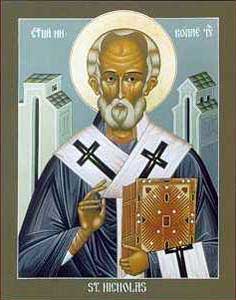 On December 5th, we put our shoes on the hearth, hoping St. Nicholas would come.

According to my mother, it was what she always did as a little girl and, while I have found no references to any special celebrations surrounding this feast day in Ireland, curiously, I did find the following toast: "May yours be the first house in the parish to welcome St. Nicholas."

While the first Sunday in Advent always initiated the spiritual season of Christmas, i.e. my mother insisted on extra Our Father's and Hail Mary's at bedtime prayers, December 5th marked the beginning of the fun and festivities.

Right after supper, we polished our shoes. Then we wrote letters to Father Christmas. There was always a little confusion with the name; my dad, who was from Galway, called him, Santy, as did my mother, who was from Dublin. In England, where we were living, the jolly old elf was known as Father Christmas. I remember worrying my heart out that if I addressed my letter to Santy or Father Christmas, he wouldn't get it. My parents promised me that I could address it anyway I wanted to and it would be alright. Reassured, my letter would be finished, carefully sealed in an envelope, addressed to Santy (I decided I like that name best) and then....it would be tossed into the fireplace! As children, we never mailed our letters; my dad said Santy could read our wish-lists in the smoke that came out of the chimney.

Then came one of my favorite parts of the evening, when my mother told us all that she knew about St. Nicholas. She would always begin it the same way: "Did you know that St. Nicholas is the patron saint of children, and also the patron saint of Galway City, where your daddy was born?" In the few precious years of childhood granted to each of us, we never tired of hearing her tell us the story:

"Even When Nicholas was a little boy, he followed in the footsteps of his parents who loved the church. They were very holy and even though they were very well off, they fasted most of the time, and ate just one meal on Wednesdays and Fridays.

Sadly, his parents died when he was still a very young man. With all of the money they left him, he decided to use it to help anyone in need. One day, he heard about a man who had lost his fortune. The man had three daughters, but they couldn't marry because they did not have a dowry. One night, Nicholas secretly threw a bag of gold in the man's window. This became the dowry for the eldest daughter and she was soon married.

Nicholas performed the same act of kindness for the second and third daughters, but on the third night, their father stood watch and was able to discover who was giving them the gold. Nicholas became very well known for his generosity and soon the people made him their bishop. Until he died, he remained a very good and holy man and accounts of his love for God and mankind spread throughout the world. Hundreds of churches have been named for him, and in the one where his relics are kept, it is said that, to this very day, you can still smell the sweet scent of myrrh which was used to anoint his body when he died.

We were captivated by her account - especially the part about the myrrh. We knew the story of The Three Kings and the gifts they brought to the baby Jesus, and myrrh was one of them. Somehow, in the telling of that story every December 5th, St. Nicholas, Christmas and the Epiphany all became magically connected. But, perhaps more importantly for my parents, hearing about the goodness of the saint, plus sending our letters to Santy, combined to make us especially well-behaved for as long as the season lasted.

On the morning of December 6th, we dashed from our beds to the fireplace. There, we found our shoes filled with candy and nuts. St. Nicholas had come! What's more, his benevolence extended to our mother, who allowed us to eat chocolate before breakfast.

On his way out the door, dad would then say the magic words - "Mam, I'm off to work - after school, ye and the childer better start in on the paper chains."

For more of our Holiday Stories click on the following links.
Advent/Christmas Holidays
Time at this Point in the Year
An Advent Memory
Yes, Kelsey and Maddie, there is a Santa Claus
Waiting for St. Nicholas
Christmas - Preparing the Puddings
Christmas - Food for the Feast
An Irish Christmas - Then & Now
An Irish Christmas - The Day Before
Memories of Christmas Eve Past
An Irish Christmas - Ding Dong Merrily On High
Seasons Greetings in Irish
St. Stephen's Day to New Year's Eve
New Year's Day to Epiphany
Many Years Ago by John B. Keane
Rowing to Christmas Mass
Burying the Baby Jesus
White Washed Walls
An East Cork Christmas


Fri, Feb 2, 2018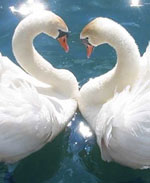 Irish God and Goddess of love
Oengus is the Irish God of love, beauty and youth. According to the old folklore, his kisses became birds. It is also said that he dreamed of a beautiful maiden, named Caer, for whom he searched all over Ireland. Eventually, he found her chained to 150 other maidens, destined to become swans at the time of Samhain. Legend has it that Oengus transformed himself into a swan and was united with his love.
Aine of Knockaine is the Irish Goddess of love. She is also known as the Fairy Queen of Munster and as a goddess of fertility beause she has control and command over crops and animals, especially cattle. Another name by which she is known is Aillen. To learn more about Irish mythology, please click Irish Myths & Legends.
Photo Credit: Wikipedia

Click for More Culture Corner.