Traditions, folklore, history and more. If it's Irish, it's here. Or will be!
"People will not look forward to posterity who never look backward to their ancestors."
-Edmund Burke
---
Quotes

Library: Books, Movies, Music

Prints & Photos

Poetry

Jokes

---
---
Shops Ireland
---
Bunús na Gaeilge
(Basic Irish)

---
---
Did You Know?
---
Himself/Herself
Write to Us
Readers Write..
Links/Link to Us
---
Advertise with us
---
Awards & Testimonials

Submissions Guide
---
The Irish In Love - part two
by Bridget Haggerty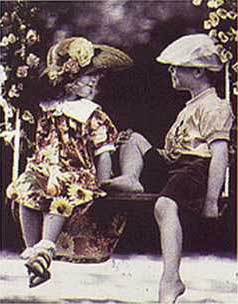 There's still time to put some Irish flair into your St. Valentine's Day celebrations!

What follows is a brief compilation of proverbs, sayings, a poem and then a few ideas for Irish books to buy or borrow, music to play, and then a romantic menu that's sure to quicken the pulse. An alternate menu with recipes is also featured in the Irish Kitchen.

While there are many gods who are said to preside over affairs of the heart, in Celtic folklore, there's only one that is equivalent to our modern day Cupid. Aengus Og was born of a secret union between Daghdagh, the mightiest of Irish gods and Boann, the river goddess. Depicted as an eternally youthful purveyor of romance, the Celts believed the magic kisses of Aengus Og became tiny birds and whoever heard their sweet singing would suddenly be overcome with passionate ideas. His kisses obviously were a lot more enchanting than the ones bestowed on the author of the following poem:

The Kiss
by Thomas Moore

Give me my love that billing kiss
I taught you one delicious night,
When turning epicures in bliss
We tried inventions of delight.

Come gently steal my lips along,
And let your lips in murmurs move,
Ah, no! - again - that kiss was wrong,
How can you be so dull, my love!

"Cease, cease!" the blushing girl replied
and in her milky arms she caught me
How can you thus your pupil chide:
'You know t'was in the dark you taught me!'



Still not sure what words to write on your card? How about one of these lovely sayings:

I'd wed you without herds, without money, or rich array,
And I'd wed you on a dewy morning or day-dawn gray.
Sir Samuel Ferguson.

The older the fiddle, the sweeter the tune.

Love is like stirabout (porridge) - it must be made fresh every day.

A little fire that warms the heart is better than a big fire that burns.

Old coals are easiest kindled.

Don't walk behind me, I might not lead
Don't walk in front of me, I might not follow
Just walk beside me and be my friend.



As for that romantic dinner, may we suggest the following menu:

Oak-smoked salmon with Irish brown bread

Oysters on the half-shell. According to tradition, Irish oysters are an aphrodisiac and are particularly potent when accompanied by a pint of stout - even more risky, so they say in Ireland, than standing under the mistletoe!

Grilled steaks with Bushmills sauce from Margaret Johnson's Cooking with Irish Spirits.

Duchesse Potatoes and cabbage lightly cooked so it's still crisp and green. Serve with lots of butter!

Irish Mist Cheesecake from Margaret Johnson's Cooking with Irish Spirits.

Irish Love Potions:
Black Velvet - equal amounts of champagne and Guinness
Irish cream liqueurs
Irish coffee. For the original recipe, please click The Story of Irish Coffee.




Then, to round off an evening of Irish romance, read from one or more of the following while you're playing a traditional air on the stereo:
Irish Love Poems, edited by A. Norman Jeffares
Love Songs of the Irish, selected and edited by James N. Healy
Ireland in Love by Anthony Bluett

Music - we recommend the "slow and aisy" cuts from the following:
Celtic Lovers by Maire Breatnach
Celtic Love Songs - Celtophile
Irish Isle
The Celts by Eyna
The Vow - An Irish Wedding Celebration by Druidstone

To conclude, we'll end with this delightful Irish toast to you and yours this Valentine's Day: May all your joys be pure joy and all your pain champagne. Sláinte!

In the next day or so, there will be many of us who will be searching for the perfect Valentine. When you've found it, perhaps you'd like to add one or more Irish phrases from our Basic Irish Language.

In the meantime, La Naomh Vailintin Shona Dhuit - Happy Valentine's Day!

Images: Young Love Swing by Kim Anderson

To continue reading about the Irish in Love, please click Irish in Love - Part three

For those who are planning a wedding or know someone who is, click Weddings for more.


Thu, Apr 20, 2017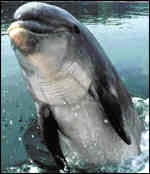 Fungie, the Dolphin of Dingle Bay
The dolphin is one of Ireland's most fascinating mammals and Fungie is the most famous. He is a fully- grown bottlenose who is 13 feet (4 meteres) long and weighs about 500 lbs or around one-quarter tonne.
Fungie was first noticed in 1984 when Paddy Ferriter, the Dingle Harbour lighthouse keeper, began watching a lone wild dolphin escort the town's fishing boats to and from port.
Later that year, it became officially recorded that Fungie was a permanent resident of the entrance channel to Dingle and the self-appointed "pilot" of the fleet.
Over the years Fungie has developed from a timid but inquisitive observer of the human visitors into a playful, though mischievous, companion. From observation of marks on his body, it seems that he does 'interact' with other whales, dolphins or porpoises, proving perhaps he is neither hermit nor outcast from his own kind, but rather that he is simply content to spend most of his time in and around Dingle Bay.


Click for More Culture Corner.
This is a very fine introduction to the life and love poetry of W.B. Yeats. The 48 short poems published here are lovely, touching, and often sad, but have beautifully sculpted lines.
Amazon reviewer.
Click here for The Secret Rose
*The cover of this book is from a painting by Frederic William Burton called The Meeting on the Turret Stairs. The original is in the National Gallery of Ireland, Dublin. A quality print is available from All posters and Prints. Click here for ...Meeting on the Stairs
---