Traditions, folklore, history and more. If it's Irish, it's here. Or will be!
"People will not look forward to posterity who never look backward to their ancestors."
-Edmund Burke
---
Quotes

Library: Books, Movies, Music

Prints & Photos

Poetry

Jokes

---
---
Shops Ireland
---
Bunús na Gaeilge
(Basic Irish)

---
---
Did You Know?
---
Himself/Herself
Write to Us
Readers Write..
Links/Link to Us
---
Advertise with us
---
Awards & Testimonials

Submissions Guide
---
The Irish In Love
by Bridget Haggerty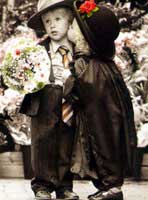 'The Realm of Romance' is bigger than West Virginia and smaller than Ohio. But for such a tiny place, Ireland is a magnificent, multi-faceted gem, blessed with an abundance of details and differences. Majestic mountains sweep down to the sea. Miles of stone walls line fields filled with black-faced sheep. Tall, flowering hedges shade narrow, winding roads. Ancient castles and mystical abbeys dominate pastoral vistas. And, pastel-hued cottages dot river valleys strewn with wild flowers. What a magical place to begin a romance or married life together!

The opening paragraph of this article is adapted from the chapter on honeymoons in my book, The Traditional Irish Wedding. It seemed to be an appropriate place to introduce an article about the Irish in love. For, not only is Ireland a tiny country blessed with scenery that would stir the stoniest of hearts, it is also the land of more poets and romantics per square mile that any other nation on earth. With Valentine's Day looming fast, I thought it might put all of us in a more amorous mood if I share with you some charming Irish wedding proposals, a few favorite excerpts from Irish love poems, a couple of divination charms, and then a link to a list of romantic phrases in Irish.

Imagine you're a young girl and he says to you "Live in my heart, and pay no rent." Could you ever resist and say no? You might if he had said instead, "Would you like to be buried with my people!" Of course, there's also "Would you like to hang your washing next to mine?" And then there's her poignant reply - "Tis a lonely wash with no man's shirt in it." If it was late in the year, the response to this might have been, "November is the time to wed, the harvest's in and it's cold in bed." Ah, the Irish - can't they just tweak at the heartstrings. And these are just the sayings from the ordinary folk of long ago. Consider these romantic lines that sprang from the likes of Sheridan, Yeats, and Moore, among others:

"Won't you come into the garden? My roses should like to meet you."
Sheridan

"Love hath a language of his own - A voice, that goes
From heart to heart - whose mystic tone
Love only knows."
Thomas Moore

My love is like a cabbage
That's easy to cut in two.
The leaves I'll give to others,
But the heart I'll give to you.
Anonymous

Had I the heaven's embroidered cloths,
Enwrought with golden and silver light,
The blue and the dim and the dark cloths,
Of night and light and the half-light,
I would spread the cloths under your feet;
But I, being poor, have only my dreams;
I have spread my dreams under your feet;
Tread softly because you tread on my dreams.
William Butler Yeats

This next one is very special. Years ago, my husband sent a minuet rose to my office every Monday morning. Cynics used to think he had a guilty conscience. The truth? It was me who needed the wake-up call. I don't receive that weekly rose anymore; there's no need to send it. After nearly 40 years, we're still together and very much in love. But, I will never forget the first minuet he sent, and the poem that accompanied it:

The red rose whispers of passion,
And the white rose breathes of love;
O, the red rose is a falcon,
And the white rose is a dove.
But I send you a cream-white- rosebud
With a flush on its petal tips;
For the love that is purest and sweetest
Has a kiss of desire on the lips.
John Boyle O'Reilly

I was as seduced by that poem, as on the very first night we spent together. He read from another Irish poet, Edward FitzGerald. You may know him better as Omar Khayyam who wrote The Rubaiyat (FitzGerald actually translated Khayyam's 11th century work):

Ah Love! Could thou and I with Fate conspire
To grasp this sorry Scheme of Things entire,
Would not we shatter it to bits --- And then
Re-mould it nearer to the Heart's desire!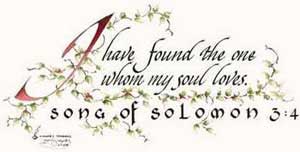 Suffice to say, I was smitten. And have been ever since. But, what if the object of your heart's desire is less than persuaded by poetry or prose? Take heed of an old Irish saying that if he or she doesn't hear poetry, they won't hear anything at all. However, if you're still intent on winning that cold, unheeding heart, you might try one of these charms to make certain that he or she is the right one for you:

To predict a prospective groom's fidelity, a maiden would boil an egg hard, remove the yolk, fill the cavity with salt, then eat it. She then had to go to bed without drinking anything or speaking. If her man appeared in a dream, and offered water to quench her thirst, he would be unfaithful.

Very old nutshell charm: Take two chestnuts and silently name them for yourself and your prospective love. Place them on the bars of the fire and watch. If they burn quietly and steadily, you will gain a faithful love. If his or her chestnut should jump away from yours, you will be disappointed, and if your own chestnut should move, your romantic feelings will fade.


Images: Song of Solomon excerpt by Thomas Simmons

To continue reading about the Irish in Love, please click Irish in Love - Part two

For those who are planning a wedding or know someone who is, click Weddings for more.


Wed, Jan 3, 2018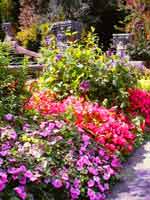 Ilnacullen, Co. Cork - an Island Garden
Located in the sheltered harbour of Glengarriff in Bantry Bay. Ilnacullin, which means island of holly, is a small island known to horticulturists and lovers of trees and shrubs all around the world as an island garden of rare beauty.
The vivid colours of Rhododendrons and Azaleas reach their peak during May and June, whilst the hundreds of cultivars of climbing plants, herbaceous perennials and choice shrubs dominate the midsummer period from June to August.
Because of its sheltered situation and the warming oceanic influence of the Gulf Stream, the climate is favourable to the growth of ornamental plants from many parts of the world.
Even for those who aren't particularly interested in gardens, there are many other scenic views, especially in the surrounding waters where seals frequent the rocks on the southern shore.
The cover photo on Bridget's book The Traditional Irish Wedding shows a wrought iron garden gate on Ilnaculen. I took that photo. To see it, go to the home page. It's part of the opening paragraph Failte.
—Russ
Resource: Copy and Image - Cork Guide

Click for More Culture Corner.
Love the aroma of a turf fire? Experience the next best thing with Irish Incense, the peaceful, nostalgic scent that will transport you back in time and place. The perfect gift for Christmas or any other occasion, order now. A special offer for Irish Culture and Customs visitors: 10% discount on all products! Just enter the Coupon Code ICC200 in the Check out section of the web site.
Click here for Irish Incense.
---
The Secret Rose: Love Poems of W. B Yeats
Edited by A. Norman Jeffares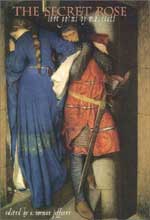 This is a very fine introduction to the life and love poetry of W.B. Yeats. The 48 short poems published here are lovely, touching, and often sad, but have beautifully sculpted lines.
Amazon reviewer.
Click here for The Secret Rose
*The cover of this book is from a painting by Frederic William Burton called The Meeting on the Turret Stairs. The original is in the National Gallery of Ireland, Dublin. A quality print is available from All posters and Prints. Click here for ...Meeting on the Stairs