Traditions, folklore, history and more. If it's Irish, it's here. Or will be!
"People will not look forward to posterity who never look backward to their ancestors."
-Edmund Burke
---
Quotes

Library: Books, Movies, Music

Prints & Photos

Poetry

Jokes

---
---
Shops Ireland
---
Bunús na Gaeilge
(Basic Irish)

---
---
Did You Know?
---
Himself/Herself
Write to Us
Readers Write..
Links/Link to Us
---
Advertise with us
---
Awards & Testimonials

Submissions Guide
---
An Advent Memory
by Bridget Haggerty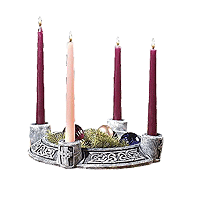 Right after supper, on the first Sunday of Advent, everyone at St. Vincent's Boarding School for Girls, waited in eager anticipation for the lighting of the first candle.

A huge wreath was somehow magically suspended below the main chandelier in the center of the dining hall. Tables and chairs were quickly pushed back so there was enough space for all of us to gather in a circle, three or four tiers deep, with the youngest in front. As excited as we were, all of us were very careful to remain silent - that was the rule.

While we took our places, two of the sisters helped each other carry a step-ladder into the circle. One of them also carried a long, lit taper. Then, while one sister stood by to offer assistance if needed, the other one began to climb the steps. We all watched in awe as she made her ascent, one hand steadying her progress, and the other gripping the taper. As soon as she was close enough, she held the taper to the candle. At first, the wick flickered, but then flared into a bright illumination and that was when all of the other lights in the hall were extinguished.

In the glow of that single candle, a group of sisters began to sing "Oh Come, Oh Come, Emmanuel." Then, we all joined in. I was just six years old the first time I took part in the Advent Ceremony at St. Vincent's, but I can remember it as if it were yesterday.

The ritual would be repeated every Sunday until Christmas, except that by the third or fourth Sunday, our numbers would have dwindled dramatically as girls left to go home for the holidays. One year, my family was experiencing some difficulties and I was among the few who were left on that last Sunday. I did my best to sing the carol, thankful that, even though the four candles of Advent shone brightly, it was still dark enough to hide tears of disappointment.

Imagine my joy when I was called to the Mother Superior's office late on Christmas Eve, and there stood my dad, waiting to take me home. I snuggled up to him all the way back on the train, as happy as I've ever been, before or since.

On arrival at the flats, I took the stairs as only a ten year old is capable of. At the top, our front door was thrown wide open, and there stood my mum and two brothers with their arms outstretched in welcome. As we hugged and laughed, I was guided over to our front window where mum had placed a tall candle to light the path for the Holy Family.

Generally, it is customary for the youngest child in the family to have the honor of lighting this candle because, as the Irish point out, they will live the longest and send the custom furthest. But, on this most special of Christmas Eve's, my parents bestowed the honor on me. I've long forgotten what gifts Father Christmas brought me that year - whatever they were, they are totally overshadowed in the light of the gifts I had already been given.



Image: Advent Wreath from Amazon.


Sun, Oct 1, 2017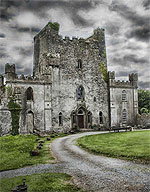 Ireland's Most Haunted Castle
South-east of Birr between Kinnity and Roscrea, in Co. Offaly are the remains of Leap Castle. Originally an O'Carroll fortress, it guarded the pass from the Slieve Bloom into Munster. Said to have more than 50 ghosts, its dark and mysterious past includes the murder of a priest by his brother in the "Bloody Chapel" and the slaughter by their Irish employers of more than 50 Scots mercenaries in order to avoid payment. It has always had a reputation of being haunted and locals have described seeing the windows at the top of the castle "light up for a few seconds as if many candles were brought into the room" late at night. For more details read our article Creepy Irish Castles & Houses.
Photo Credit & More Details: H. J. Moncrieff


Click for More Culture Corner.