Traditions, folklore, history and more. If it's Irish, it's here. Or will be!
"People will not look forward to posterity who never look backward to their ancestors."
-Edmund Burke
---
Quotes

Library: Books, Movies, Music

Prints & Photos

Poetry

Jokes

---
---
Shops Ireland
---
Bunús na Gaeilge
(Basic Irish)

---
---
Did You Know?
---
Himself/Herself
Write to Us
Readers Write..
Links/Link to Us
---
Advertise with us

---

Help keep us free
Throughout the site you will see many items available for purchase from well-known merchants such as Amazon. Not interested in what we're featuring? It doesn't matter. Click on any link and then shop for whatever you wish - we will still get credit, if you buy something.
Thanks for your help.

---
---
Soups, Stews & Broth - page one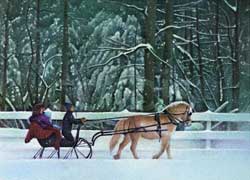 St. Stephen's Day Stew
Adapted from The Festive Food of Ireland by Darina Allen

On St. Stephen's Day (Boxing Day) when Darina Allen was a little girl, her family went on a traditional picnic which was tied into the local fox hunt. While we don't approve of the "sport", we like what Darina's family did with the leftovers from the holiday feast!

After a late breakfast we'd pack up a picnic and head for the local `hunt meet'. The picnic needed to be quite substantial because the weather was cold, and it was quite likely to be shared with many hungry friends. After the red-coated master blew his bugle to start his day's hunting he was followed not only by horses and hounds but by a stream of spectators who followed the action from the nearest road.

The picnic at its most basic might include turkey and ham, spiced beef or smoked salmon sandwiches, a few wedges of Christmas cake and flasks of tea. But the real favourite was a bubbling stew transported in a haybox.* This would be ladled into deep bowls and it tasted pretty terrific on a cold December day. Buttery sponge cakes, clementines, mince pies and flasks of hot mulled wine made this one of the most memorable picnics of the year.

Ingredients:
2 lb cold turkey meat
1 lb cold ham or bacon
1/4 stick butter
12 oz chopped onions
8 oz flat mushrooms (or button)
4 cups well-flavored turkey stock or 2 3/4 cups stock and 1/2 pint turkey gravy
3/4 cup cream.

Method:
1. Cut the turkey and ham into 1 inch pieces.
2. Melt the butter in a wide heavy saucepan, add the chopped onions, cover and sweat for about 10 minutes until they are soft but not coloured. Remove to a large plate.
3. Meanwhile wash and slice the mushrooms. Cook over a brisk heat, a few at a time. Season with salt and pepper and add to the onions.
4. Toss the turkey and ham in the hot saucepan, using a little extra butter if necessary; add to the mushrooms and onion.
5. Deglaze the saucepan with the turkey stock, add the cream and chopped herbs. Bring to the boil, thicken with roux, add the meat, mushrooms and onions and simmer for 5 minutes. Taste and correct the seasoning.
6. Peel the freshly boiled potatoes and put on top of the stew.
7. Put the lid on the casserole, set into the haybox and cover with more hay. Serve steaming hot several hours later.

*We asked our native Irish speaker Aideen what a haybox is all about. It's a special container that holds feed for the horse or pony during a journey; it's also very handy for carrying a covered casserole; the hay is then tucked in around the casserole and also on top of it. This will keep the food piping hot.

Image Source: Sleigh Ride by Kirsten Soderlind from All Posters

Making a Meal of an Irish Farmhouse Soup
Contributed by Hartson Dowd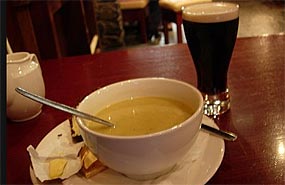 In winter months, a soup buffet is one of the easiest, most versatile, and least expensive ways to entertain groups of friends - from four to forty! Soups are warm and welcoming, and usually appeal to everyone.

Irish Potato Soup
The best-known and most widely used vegetable in Ireland is, of course, the humble potato. When put into a lovely soup such as this, however, the spud loses its humility.
Photo Credit: Brewgal

Ingredients:
1 stick (1/2 cup) unsalted butter
1 cup thinly sliced onions
1 cup thinly sliced leeks
4 cups peeled, sliced potatoes
6 cups homemade chicken stock (See recipe below)
1 teaspoon salt
20 turns freshly ground black pepper
One half cup freshly grated Cheddar cheese
4 slices crisp-cooked bacon, drained and crumbled bacon
one half cup chopped fresh chives

Method:
Melt the butter in a large heavy pot over low heat. Add the onions and leeks and stir to cover them with butter. Cover the pot and cook slowly to allow the vegetables to "sweat" - about 20 minutes. Add the potatoes, stir them into the butter, cover the pot, and cook over low heat another 15 minutes. Stir in the stock, salt, and pepper. Increase the heat to medium-high and bring the soup to a bubble. Reduce the heat and simmer until the potatoes are tender, 20 to 30 minutes.
In a food processor or blender, puree the soup in batches and return it to the pot. Heat thoroughly.
Serve garnished with Cheddar cheese, bacon and chives.
Serves 8 for a first course.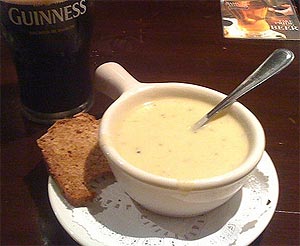 Potato & Leek Soup
This traditional soup has been served in Ireland for generations. Most cooks now prefer to combine leeks with potatoes, however, to make this perennial favorite. This recipe is also called Brotchan Roy meaning "A broth fit for a king". The word "roy" is derived from Ri - the Irish word for King.
Photo Credit: Miranda Jones/Flickr

Ingredients:
4 tablespoons butter
2 pounds boiling potatoes
1 pound leeks (white and pale green parts only), washed and sliced
1 onion chopped
1 celery stalk, sliced
5 cups homemade chicken stock
2-1/2 cups milk
1 bay leaf
2 tablespoons minced fresh parsley
Salt and ground white pepper to taste
One half cup half-and-half
One quarter cup chopped fresh chives

Method:
In a large saucepan, melt the butter over medium heat. Add the vegetables, cover and cook for 5 to 7 minutes, stirring frequently. Add the stock or broth, one-half cup of the milk, the bay leaf, parsley, salt and pepper. Reduce heat to low, cover, and cook until the vegetables are tender, 25 to 30 minutes. Discard the bay leaf, and let the soup cool for 10 to 15 minutes. Transfer to a blender or food processor in batches and process until smooth.

To make ahead, cover and refrigerate for up to 12 hours. To serve immediately, heat the puree in the saucepan over medium heat and stir in the remaining 2 cups milk. Heat through, ladle the soup into bowls, and swirl in a tablespoon of half-and-half into each serving. Sprinkle with the chives. To serve later, return to heat and repeat as above.
Savory hot biscuits are a fine accompaniment for soup. Add the herb seasoning of your choice to biscuit mix before adding the liquid.



Vegetable Soup
Traditionally, this dish was "filler" during a working day. It's really a stew, with whole potatoes and onions added for an hour along with whatever vegetables you had on hand - carrots, turnips, peas, cabbage, celery, and, occasionally, barley for those extra cold days. It was served at Irish tables with lots of bread and butter, and is very tasty and filling.
As my grandfather used to say..."there's eating and drinking in this soup!"

Ingredients:
4 large potatoes
2 carrots
2 large cabbage leaves
2 celery sticks
2 medium onions
One half medium sized turnip
8 oz. garden peas
4 oz. pearl barley
2 and one half pints of water
Salt and pepper
2 sprigs parsley; 1 sprig thyme; 6 sage leaves.

Method:
Peel and wash the vegetables as appropriate. Place the barley in a pot and cover with cold water; bring to a boil, reduce the heat and simmer for 10 minutes. Chop the vegetables into large pieces (the potatoes and onions in half), and place in the pot. Add salt and pepper and the herbs, bring back to the boil, reduce the heat and simmer until the potatoes are cooked, about 20-30 minutes. Spoon into wide-rimmed bowls, and serve with home made soda or buttermilk bread.

Home-made Chicken Stock
Ingredients:
5 pounds chicken wings, backs, necks, and bones with some meat clinging to them
3 quarts water
2 medium onions, cut into chunks
2 large carrots, cut into chunks
2 celery stalks, including leaves, cut into chunks
6 whole peppercorns
4 sprigs fresh parsley; 4 sprigs fresh thyme
2 tablespoons salt
1 bay leaf

Method:
Combine the chicken pieces and bones with the water in a stockpot over high heat. When the stock comes to a boil, skim off the foam that rises to the top. Stir in the onions, carrots, celery, peppercorns, thyme, salt, and bay leaf. Reduce the heat to low, cover, and simmer until the meat is falling off the bones, 2 to 3 hours. Remove from the heat and allow to cool to room temperature. Strain the stock, discarding the solids. Skim the fat from the stock and use immediately or freeze for future use. The stock will keep frozen for up to one year.

DARK CARAMEL for COLORING SOUPS and STEWS
Melt 1 cup of sugar until very dark syrup in a heavy skillet or saucepan, stirring constantly as it melts. Then stir in slowly 1 cup of boiling water and stir until smooth. Keep in a glass jar in the refrigerator.

Images: Soup art work print from Barewalls.


B'fhearr an súgh go mór ná an fheoil
Soup is the Essence of Meat
Contributed by Hartson Dowd

The geography we learn at school tells us that Ireland has a moderate climate, warmed by the Gulf Stream, without any great variations of temperature either in summer or winter. This is a flagrant bit of old blarney. Ireland has a mild summer that is often far too mild for comfort, and it can often get perishing cold winters, especially when the east wind sweeps across from Siberia and gives out its last gasps as it crosses the Irish plains. When the east wind isn't blowing, Ireland may be assailed by a deep depression from the west (that would be America). That's when rain-laden winds blow in from the Atlantic and damp the very marrow of the bones. It's at times like these, that a steaming cup or bowl of soup becomes the most welcome of comfort foods.

Soup is an essential part of Irish daily fare. Like whiskey, it's their internal central heating, raising the temperature of the body and thawing out the gastric juices so that they will be receptive to the delights that are to follow.

Most people like soup; thick and flavorsome, and full of 'bits' if a light meal is to follow; or clear and appetizing, to give zest to a rich second course. Cream soups are warming and filling and also make a good winter supper dish with crispy fried bread cubes, or a handful of grated cheese or rashers fried till crisp and then broken into small pieces. As they say in Ireland "There's both eating and drinking in it!"

What follows is several ways to customize an ordinary soup and make it a bit more fancy or filling. Then, we end with a recipe for a Broccoli Soup that's a lovely emerald-green - just the thing to lift the spirits when, outdoors, the winter landscape is drab and dreary.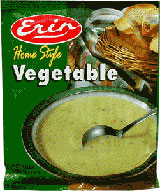 Allow one-third pint of soup for each person. Soup stays hotter if served in soup cups. There are many good packet and tinned soups on the market now, which are not expensive and very labor saving. Most can be given a homemade flavor by adding individual touches.

Mushroom soup - add fresh mushrooms, or even mushroom stalks if you have them, chopped or softened in butter over a low heat, cream and a dusting of chopped chives.

Tomato soup - skin and chop two tomatoes, soften in butter with a small chopped onion and half a teaspoon of sugar. Add at the last moment with a little cream. A crushed clove of garlic is also a delicious addition.

Packet Scotch Broth - or any brown soup can be boosted by adding left-over stew, home-made stock or cooked vegetables, or chop a small onion very fine, fry till golden brown and add to the broth.

Packet Chicken - or Spring Vegetable soups are improved if you use stock made from chicken bones simmered in water for two hours. If you have any chicken meat left, chop it finely and add with parsley, or pour a little cream in just before serving.

Tomato, mushroom and clear soups - will have more flavor if you add 1 tablespoon of sherry to each one and one half pints just before serving.

Oxtail soup - will get a lift from a squeeze of lemon and a tablespoon of port added at the last moment, or some fried onion.

Cream Soups - never serve before a creamy second course; but good before grilled or fried fish or meat. Bread cubes - about one-half inch square, fried till crisp and golden brown in oil or fat, are a pleasant accompaniment. Rashers fried till crisp, then crumbled on to the soup are even better. Or cut some Cheddar or Gruyere cheese into small cubes and drop a few into each serving to give an unusual texture and flavor. This makes an excellent supper dish for children.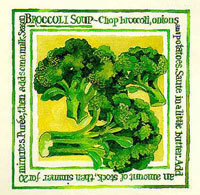 Cream of Broccoli Soup Irish-Style
Serves 6

Ah, creamed soup! That standby of childhood... a friend at the sickbed...and the final resting place of many a leftover. Creamed soup can be as simple as cooked, pureed vegetables with a little broth added, or as fancy as a highly spiced mixture of pumpkin, curry and heavy cream. This all-purpose cream of broccoli soup falls somewhere in the middle of all of the above. Other vegetables (or chicken, or turkey) can be substituted for the broccoli in equal amounts, with only slight variations in seasoning.

Ingredients:
3 cups chicken broth
2 medium onions - chopped
4 cups broccoli flowerets - fresh ground (or two 10oz bags frozen)
1 teaspoon thyme
1 each bay leaf
2 small garlic cloves
4 tablespoons butter
2 tablespoons all-purpose flour
1/2 teaspoon salt
1 dash black pepper
2 cups half and half

Method:
1. Combine chicken broth, onions, broccoli, thyme, bay leaf and garlic cloves
2. Bring to a boil. Simmer, partially covered, for 10 minutes
3. In a small saucepan, melt butter. Stir in flour, salt and pepper. Add milk gradually, stirring constantly until all milk is added; mixture will be lumpy at first, but will smooth out as you keep stirring. Cook, stirring occasionally, till mixture bubbles and thickens
4. Remove and discard bay leaf from broccoli/broth mixture. Puree the soup, in batches, in blender or food processor for 30 seconds, or until very smooth
5. Transfer to large bowl. Add milk mixture, stirring until well combined. Adjust seasoning
6. Serve hot.

Images:
Feature Image - Killarney Morning by Bettman. Art Print from All Posters.
Package Soups from Food Ireland

Broccoli Soup by Jennifer Abbott - Art Print from All Posters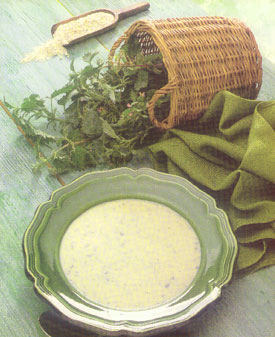 Traditional Irish Nettle Soup
Edited & adapted by Bridget Haggerty

"Eat Nettle Soup three times in May,
And For a year keep rheumatics away."

According to the old folklore, just three bowls of Nettle Soup eaten within the month of May would prevent the aches and pains of rheumatism for an entire year. This would have been of great interest to Irish monks as this nourishing dish was a part of their diet as far back as the 6th century. Did they know that it would help ease the stiffness in the knees when bent in prayer? Or soothe a back made to ache by hours in the garden wielding the rake?

If you decide to try this recipe, be sure to wear gloves when gathering the nettles - and choose only the young bright green leaves. Remove any stalks and chop up the leaves. Use a food-processor if you have one as it will do the job in a fraction of the time.
If you forget the gloves and get 'stung' by the nettles, find some dock leaves and rub the spot with the leaf. The pain will disappear. The secret to avoiding the sting is to grasp the nettle quickly and firmly (thus the ancient phrase "grasp the nettle" meaning "be swift and bold"). A light touch will produce the sting. Still, gloves are much easier.


Ingredients:
2 1/2 cups nettles
1/4 cup butter
1/3 cup fine oatmeal
3 3/4 cups stock
1 1/4 cups milk

Method:

1. Melt the butter in a large saucepan
2. Add the oatmeal and cook until the mixture is golden brown
3. Remove the pan from the heat and add the stock
4. Bring to the boil and add the milk
5. Bring back to the boil and add the chopped nettles
6. Cook for a few minutes and taste for seasoning. Add salt and pepper if desired.

Serves 6 to 8

Resources: Original recipe and image edited and adapted from Irish Cooking, published by Crescent Books, NY


Soups Page Two

For more soups and Starters please click Soups & Starters.


Thu, Jul 9, 2015
---
"...the freshest of food and
the oldest of drink"
- Irish Proverb
The New Irish Table
by Margaret Johnson



Margaret Johnson's love of Ireland permeates page after glorious page of mouthwatering Irish dishes, from Smoked Salmon Chowder to Raspberry Buttermilk Tarts. Lavish color photographs of the food, the landscapes, and the people are woven through the text, making The New Irish Table the next best thing to sitting down to dinner in Ireland itself.
Click here for New Irish Table.