Traditions, folklore, history and more. If it's Irish, it's here. Or will be!
"People will not look forward to posterity who never look backward to their ancestors."
-Edmund Burke
---
Quotes

Library: Books, Movies, Music

Prints & Photos

Poetry

Jokes

---
---
Shops Ireland
---
Bunús na Gaeilge
(Basic Irish)

---
---
Did You Know?
---
Himself/Herself
Write to Us
Readers Write..
Links/Link to Us
---
Advertise with us

---

Help keep us free
Throughout the site you will see many items available for purchase from well-known merchants such as Amazon. Not interested in what we're featuring? It doesn't matter. Click on any link and then shop for whatever you wish - we will still get credit, if you buy something.
Thanks for your help.

---
---
"Kernels of Wisdom" - in celebration of the hazelnut harvest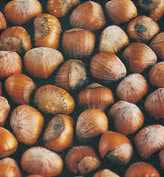 contributed by Hartson Dowd

The beginning of harvest in Ireland was marked by the festival of Lughnasa on August 1, a Druidic festival, held in honor of the god Lugh, to ensure that the corn was safely gathered in. When the corn was gathered, it was time for the harvest of the hedges and orchards. Blackberries, whortleberries, blueberries (bilberries), wild raspberries and strawberries were collected, along with the sacred apples. Finally, nuts were gathered and stored, particularly the hazelnut, which, when grown by a stream, was believed to represent kernels of wisdom. Christianity adapted the feast of Lugnasa and named it Lammas (Feast of the First Fruits).

Today, I'm seeing hazelnuts crop up in everything from crumb coatings on fish to ingredients in ice cream. Sweet and flavorful hazelnuts have a thin, slightly bitter brown skin that should be removed before use. I keep a bag of prepared hazelnuts in the freezer, ready to plop into a dish whenever I get so inspired. They're not cheap, but you need only a small amount to set a recipe on its wheels, so to speak.

If you are not familiar with hazelnuts, you're in for a real treat! These crunchy little goodies work wonders in salads. If you can't find hazelnuts, ask for filberts - another name for the same thing (but I have to admit that "Hazelnut-Apple Salad" sounds much more appealing than "Apples and Filberts"). The name "filbert" derives from "full beard" - referring to those hazelnut varieties in which the husk covers the entire nut. I hope you enjoy this sampling of recipes I edited and adapted from the Hazelnuts & More Cookbook by Lucy Gerspacher. You'll find these and many others at Willamette Farms.
Willamette Farms in Oregon is a fine purveyor of hazelnuts as well as other specialty items, including hazelnut coffee.


Salad of Fresh Pear, Greens & Honeyed Hazelnuts
Ingredients:
6 cups mesclun* salad greens
2 ripe pears, cored and sliced
Fresh lemon juice
1/2 cup crumbled bleu cheese (Try heavenly Cashel Blue - click here to purchase Cashel Blue
)
1 cup Honeyed Hazelnuts

Method:
Rub the cut edges of the pear with lemon juice. Divide the greens among six serving plates. Top with pear slices and bleu cheese.
Drizzle with Pear Vinaigrette and sprinkle with Honeyed Hazelnuts.

*Mesclun, originally from Southern France (and closely related to its Italian cousin known as misticanza), is a mixture of very young salad greens. In Europe, they take their mesclun seriously, making it with exact proportions of chervil, arugula, lettuce and endive. The idea is to make a salad that touches upon every taste and texture sensation: bitter, sweet, tangy, crunchy and silky. In the USA, Americans have put their stamp on mesclun by including a variety of other salad greens: mustard, purslane, chicory, cress, parsley, fennel and escarole.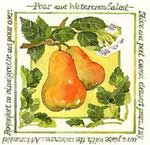 Pear Vinaigrette
Ingredients
2 ripe pear halves
1 tablespoon lemon juice
2 tablespoons white vinegar
2 tablespoons hazelnut oil or light vegetable oil
1 tablespoon honey
1 teaspoon lemon zest

Method:
In food processor fitted with metal blade, chop pears with lemon juice. Add remaining ingredients and process until smooth, 30 to 60 seconds.

Honeyed Hazelnuts
Ingredients:
2 tablespoons butter
1/4 cup honey
1 cup whole toasted hazelnuts

Method: In a small sauce pan, melt butter over medium heat. Add honey and cook until mixture turns a deep caramel color. Add nuts, stir to coat, and pour out onto parchment paper. Separate nuts with a fork and cool. Store in an air-tight container.

Note: For the dressing, the pear halves should be soft enough to easily pierce with a fork. If they are not, poach in a light syrup (1 cup water and 1/2 cup sugar) until they are softened. Canned pears may also be used.

Fresh Bean and Hazelnut Salad
Ingredients:

6 cups mixed greens
1 pound fresh green beans
1/3 cup hazelnuts, chopped
8 oz. Feta cheese, crumbled
1/4 cup olive oil
1/4 cup red wine vinegar
1/2 tsp. dry mustard
1 tsp. dried oregano
1 clove garlic, minced
Salt and pepper to taste

Method:
Bring a saucepan of water to a boil and place green beans in the boiling water; blanch for several minutes. Remove and place in cold water to prevent further cooking. Place mixed greens in a bowl. Drain cold water from green beans and add them to the mixed greens along with hazelnuts and Feta cheese. Combine olive oil, red wine vinegar, dry mustard, oregano, garlic and salt and pepper in a cruet and shake. Just before serving pour over salad and toss. You are going to love this salad. The beans go very well with the greens (and rhyme as well); just don't overcook the beans. They should still be very crunchy. The dressing is very tasty and the oregano adds a nice touch to the traditional vinaigrette base.
Finally, the Feta cheese adds some wonderful flavor and texture that really tops off this fine salad.

Toasted Hazelnuts
Hazelnuts are delicious eaten right out of the shell. They have a sweet taste and a creamy texture. But they really shine when they are toasted (roasted). The flavor then turns smoky and robust and the texture is crisp and crunchy.

Method:
To toast hazelnuts, I prefer slow roasting in a pre-heated 275-degree oven. Spread shelled nuts in a shallow baking pan and roast for 20 to 30 minutes, until the skin cracks and the meat turns light golden. Hazelnuts may also be roasted at higher temperatures. At 350 degrees, they will toast in only eight to ten minutes, but watch them closely, as they can go from toasted to scorched in a very short time. If using a microwave, roast nuts at full power for three to four minutes.

To remove the skins, pour hot nuts in the center of a rough kitchen terry towel. Pull the towel up around the nuts and twist tightly, making a hobo pack. Let stand to steam for about five minutes. Vigorously rub the warm nuts in the towel until most of the skins are removed. Remove the nuts and shake the towel outside in the garden. Don't be concerned if some of the skins tenaciously cling to the nut. This is their nature, and the light-dark colors give hazelnuts a distinctive look.

Savory Roasted Hazelnuts
This is the basic recipe for seasoned, roasted hazelnuts. Different flavors can be created by adding ingredients such as Worcestershire sauce, hot pepper sauce, garlic powder, onion powder, chili seasoning, dill weed, herbs, curry, or any other desired flavors.

Ingredients:
2 tablespoons butter
2 tablespoons vegetable oil
4 cups shelled, raw hazelnuts
Salt to taste

Method:
Heat oven to 275 degrees
Combine butter and oil in a 10 x 15 x 1 inch baking sheet. Place in a warm oven for several minutes until butter in melted. Add hazelnuts and stir so that all the nuts are coated with the butter and oil mixture.
Roast in a 275 degree oven until nuts are golden, about 20 minutes. Remove from oven and sprinkle with salt or any other desired flavoring. Toss to evenly distribute seasoning. Cool and serve.
Note: Store the nuts in a tightly covered container for up to two weeks. Store in freezer for up to two months.

Orange Hazelnut Cookies (Biscuits)

The following is a recipe edited and adapted from one by Sharon Bamford.

Ingredients:
1 1/2 cups all purpose white flour
1/2 teaspoon baking soda
1/2 teaspoon salt
1/2 cup butter, room temperature
1/2 cup solid shortening
3/4 cup granulated sugar
3/4 cup brown sugar, packed
2 large eggs
2 teaspoons vanilla
2 tablespoons orange zest
1/4 cup orange juice
2 1/2 cups oatmeal
1 cup coarsely chopped toasted hazelnuts

Method:
Position a baking rack in the center of the oven and heat oven to 375 degrees. In a bowl, whisk together flour, baking soda, and salt. In another large bowl, beat butter, shortening, and sugars together until smooth, about two minutes. Add eggs and vanilla, and continue beating until light and fluffy, and two more minutes. Mix in orange zest. Add dry ingredients and orange juice alternately in three additions. Fold in oatmeal and hazelnuts. Chill the dough for about one hour.
Drop 1 tablespoons of dough, two inches apart on a lightly greased cookie sheet. Flatten slightly with the palm of the hand and bake in the center of a 375-degree oven until golden, about 12 minutes. Let cool in the pan for several minutes; remove with metal spatula and cool on racks.
Yield: 48 2 1/2 inch cookies.



EDITORIAL NOTE: Since these recipes spotlight hazelnuts, we couldn't resist mentioning one of our all-time favorite liqueurs, Frangelico. While we prefer ours "neat", you'll find more than ninety drink recipes, including one called "Nutty Irishman!" at Drinks Mixer.

We also couldn't resist exploring further the hazelnut in Irish cuisine. We found RavensGard where we learned that hazelnuts were collected and used in cakes as a ground meal or eaten raw.

We also learned that Irish hazel has many other uses. The following was gleaned from one of our favorite Irish merchants - Lollysmith

The Hazel Tree is common in Ireland. The Gaelic word for hazel is Coll. Many superstitions are associated with hazel which equate hazelnuts with concentrated wisdom and poetic inspiration.
Uses for Hazel: it has long been a favourite wood from which to make staffs, whether for ritual Druidic use or for medieval self defence. Other uses in the past included cask hoops, basketry, walking sticks, hurdles, thatching, spars, divining rods and shepherds crooks.
Medicinal qualities of the hazel: The milk drawn from the kernel's added with mead or honeyed water was used to help with an old cough that wont go away.

Images:
Pear and Watercress Salad by Jennifer Abbott
Salad Days by Jennifer Abbott
Autumn Fruits - artist unknown

Hazelnuts from Direct Gardening.

Any purchase made helps to support our site (and Bridget's fondness for tea towels). Thank you.


Thu, Jul 9, 2015
---
"...the freshest of food and
the oldest of drink"
- Irish Proverb
Set of 3, each featuring a different blessing and each with its ownsilvertone metal stand for display on the sideboard.
Dishwasher and microwave safe.
Click here for Dessert Plates.
The New Irish Table
by Margaret Johnson



Margaret Johnson's love of Ireland permeates page after glorious page of mouthwatering Irish dishes, from Smoked Salmon Chowder to Raspberry Buttermilk Tarts. Lavish color photographs of the food, the landscapes, and the people are woven through the text, making The New Irish Table the next best thing to sitting down to dinner in Ireland itself.
Click here for New Irish Table.


Hazelnuts and More Cookbook
by Lucy Gerspacher
Organized for easy reference, the recipes are arranged from Appetizers to Desserts. Each contains preparation time and serving size, and many have sidebars that highlight unique features of the dish. Readers will be alerted to unusual ingredients, special techniques, low-fat tips, and helpful shortcuts. Cooks of all skill levels will enjoy the concise, thorough instructions. Adapted from an Ingram Review
Click here for Hazelnuts

---