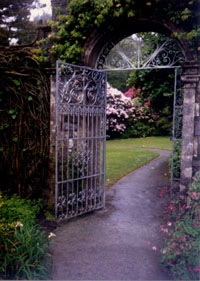 Fáilte
Welcome to Irish Culture and Customs, a labor of love we began several years ago. What started as a surprise milestone birthday trip to Ireland became the beginning of a journey through time. A 2,000-year voyage on a quest to learn as much as we can about everything Irish. So here's where we are so far - more than 700 pages that range from Irish poetry, superstitions , Kids Stories and recipes to specific Irish calendar celebrations such as St. Patrick's Day , Beltane, Samhain and the Feast of St. Brigid. Whether it's an Irish symbol such as the shillelagh, the Shamrock and the Book of Kells or an Irish craft like Aran Isle knitting, you'll discover a wide range of topics in our index. We hope you find the little bit of Ireland you may be looking for and we encourage you to share what you discover with your loved ones on your family website, blog, or social network.



---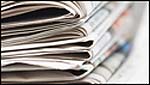 Today's Irish headlines
We comb the newspapers and web sites to find news to start your day with a positive spin. In this section you will also find links to stories from the past two weeks as well as links to the major Irish newspapers, the current time in Ireland and a link to the weather forecast.
The Dullahan - Ireland's Headless Horseman
by Bridget Haggerty
It is said that after sunset, on certain festivals and feast days, one of the most terrifying creatures in the spirit world, the Dullahan, can be seen riding a magnificent black stallion across the country side.
Wherever he stops, a mortal dies.
Clad in flowing black robes, the Dullahan has no head on his shoulders. He carries it with him in his hand, and because he is endowed with supernatural sight, he will hold the head up high. This allows him to see great distances, even on the darkest night.
[Continue]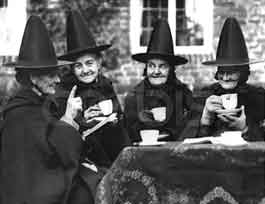 A Triple Treat for Halloween
by Bridget Haggerty
"One often hears of a horse that shivers with terror, or of a dog that howls at something a man's eyes cannot see, and men who live primitive lives where instinct does the work of reason are fully conscious of many things that we cannot perceive at all. As life becomes more orderly, more deliberate, the supernatural world sinks farther away."
William Butler Yeats.
Three Irish ghost stories that are so well documented, they'll make a believer out of you!
[Continue]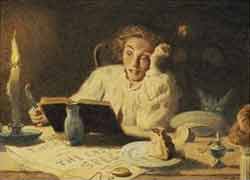 Something wicked this way comes...
Compiled by Bridget Haggerty


Ireland abounds with tales of the supernatural. And it would seem that every county has a story. Even our literature is strewn with ghosts. James Joyce recalls the black dog, with eyes like carriage lamps, that patrolled the stairs of the Jesuit College in Kildare which Joyce attended. Oscar Wilde wrote with understanding about the problems of being paranormal in the Canteville Ghost. Joseph Sheridan Le Fanu terrorized his readers with such frightful stories as The House by The Churchyard. Is there any truth to all these stories, or are they merely the products of over-active imaginations? We leave that up to our readers to decide...
[Continue]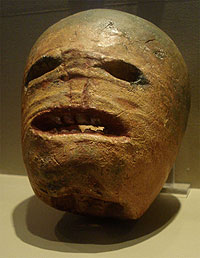 An Irish Hallowe'en - Part 2
by Bridget Haggerty
As in many other parts of the world, commercialism has crept into an Irish Hallowe'en, so that nowadays, you're just as likely to hear kids yelling "Trick or Treat" as you will "Help The Hallowe'en Party", and most of them now receive candy instead of the traditional apples and nuts. It's also fairly certain that many of them will be disguised as their favorite TV or video heroes and heroines and that they'll pester their moms and dads to outdo the neighbors when it comes to decorations. Still, many of the old customs are still observed, especially in the more rural areas.
[Continue]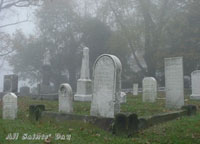 Samhain - The Irish New Year.
by Bridget Haggerty
Following the revels of Hallowe'en, the ancient Irish celebrated the festival of the dead - Samhain, which is pronounced sow-en, and is usually translated as "summer's end."
In Celtic lore, the year is divided into two halves associated with the dark and the light. The dark half begins at sunset on November 1st with Samhain and the cycle ends when the light half begins at sunset on May 1st, which is the festival of Bealtaine. Both festivals are closely linked, but in general, Samhain is considered to be the most important.
[Continue]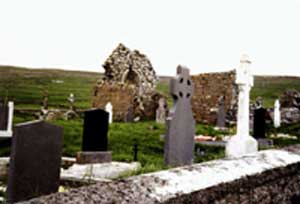 The Day After Samhain - All Soul's Day
by Bridget Haggerty
In Ireland, it was once widely believed that the souls of the faithful departed would return to their family home on All Soul's Night. Great care was taken to make them feel welcome.
Rituals included sweeping the floor clean, lighting a good fire, and placing the poker and tongs in the shape of a cross on the hearth. A bowl of spring water was put on the table, along with a place setting for each deceased relative. In some areas, children would go "soul-caking" - they'd visit neighbors and beg for cakes in exchange for prayers to be said for the dead.
[Continue]
The Irish Kitchen: Colcannon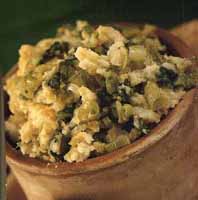 Traditionally eaten on Hallowe'en, this dish is so popular that poems have been written and songs sung in its honor. The Black Family has a really great version of the famous Colcannon song; in fact the entire CD is outstanding (See our
Music Library
- The Black Family). Here are the main verses:
Did you ever eat Colcannon
When t'was made with yellow cream,
And the kale and the praties blended
Like the picture in a dream?
Did you ever take a forkful
And dip it in the lake
Of heather-flavoured butter
That your mother used to make?

[Continue]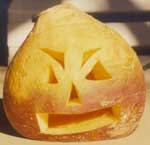 Basic Irish: Halloween and Samhain
It's Trick or Treat in the USA and Help The Hallowe'en Party in Ireland, but wherever you are, this week's lesson focuses on words and phrases associated with the day before the Celtic New Year - Samhain (sow-en).
[Continue]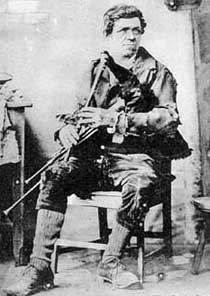 Kids' Ireland: The Piper's Tale
by Grainne Rowland
"Collin, how did you ever learn to play the pipes* like that? For years, you've only known one tune. Now you've played for more than an hour, and every tune is different. What happened?"
"Well," said Collin, "do you remember the party on All Hallow's Eve? They asked me to play my one tune, 'The Black Piper', and to tell some jokes."
"I started home just before midnight. I hadn't gone far. There was no moon. Suddenly, I heard the sound of galloping behind me. The hoofbeats were coming closer and closer. They were getting louder and louder. I whipped around and saw bursts of fire coming from a huge, black horse's nostrils. His hooves were kicking up fiery sparks from the stones on the road."
[Continue]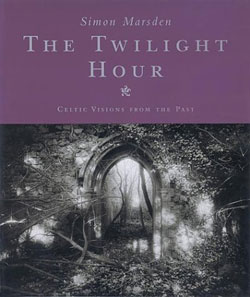 Book Review: The Twilight Hour - Simon Marsden
Review by Bridget Haggerty
The Ancient Celts believed that the period that separates night from day - The Twilight Hour - is a dangerous time, when the human soul might cross from our earthly world into the world of the supernatural. Such beliefs have fired the imagination of some of our greatest literary luminaries, among them, Irish writers such as Joseph Sheridan Le Fanu, Bram Stoker, and W. B. Yeats.
In this beautifully produced work, internationally acclaimed photographer, Simon Marsden offers haunting black and white photographs to illustrate the fictional texts borrowed from famous writers of the gothic and the macabre. Real ghost stories are also included, and while many of us dismiss our links with nature and have closed our minds to what our ancestors believed, Mr. Marsden suggests that when the conditions are right, we can see into and become part of that supernatural domain.
[Continue]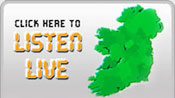 Live Music from Mayo
A link to the internet service from Midwest Radio out of Mayo. Broadcasting from their state of the art studios; Midwest Irish Radio plays nothing but the best Irish music. No matter where you are in the world, you are never too far from Ireland when you listen in.
Click here for:
Irish Midwest radio
.
Shop for the best of Irish products from the comfort of your home
We combed the internet to find reliable resources for the most popular Irish products: Aran Isle sweaters, Guinness glasses, Waterford Crystal, genuine blackthorn walking sticks, the flag of the Republic and more. Some of these shops have become friends; others we trust from their reputations and some offer products that are completely unique. We hope you enjoy browsing through what's on offer and we are confident you will find gifts for any occasion or person, all with an Irish flair.
Notices

Did you get your Newsletter?
We try to send one out once or twice a month. If you aren't receiving it, something is wrong. Let us know and we'll try to solve the problem. Note: subscribers are automatically deleted from the data base if the newsletter bounces back multiple times. Full or disabled mailboxes will also cause a subscription to be cancelled. If you have any questions, please contact
Bridget
.
---
Authentic Irish clothing from Aran Sweaters Direct

---
Graduate students use Dissertation Geek - the best thesis writing company.
Math homework problems? Visit mathprepa.com for free help.
---