Announcement
I want thank all of you who sent me their messages of sympathy. You may wonder why I didn't send out another newsletter. The answer is: I'm only allowed to send one newsletter per month. Otherwise my cost goes up and, as you may know, I'm squeezing my nickels right now.
If I scew up anything on this site or in my next newsletter please let me know. I need feedback to point me in the right direction. Thank you all
—Russ
It is with great sadness that I have to announce: Bridget Nancy Margaret O'FlahertyHaggerty, founder, and controller of Irish Culture and Customs (and me), passed away on Sunday June 4th. She was 70 years of age but that was just chronology; in her thoughts and everything she did she was still a teenager. Russ (that's me) will continue to maintain this site and perhaps even put out an occasional newsletter. Please be patient, right now I can't think at all.
In more boring issues - any E-Mails should be sent to rhaggerty@irishcultureandcustoms.com and those of you who make donations should make any checks out to Russell Haggerty - bless you and thank you

Russ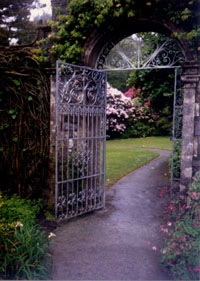 Fáilte
Welcome to Irish Culture and Customs, a labor of love we began several years ago. What started as a surprise milestone birthday trip to Ireland became the beginning of a journey through time. A 2,000-year voyage on a quest to learn as much as we can about everything Irish. So here's where we are so far - more than 700 pages that range from Irish poetry, superstitions , Kids Stories and recipes to specific Irish calendar celebrations such as St. Patrick's Day , Beltane, Samhain and the Feast of St. Brigid. Whether it's an Irish symbol such as the shillelagh, the Shamrock and the Book of Kells or an Irish craft like Aran Isle knitting, you'll discover a wide range of topics in our index. We hope you find the little bit of Ireland you may be looking for and we encourage you to share what you discover with your loved ones on your family website, blog, or social network.



---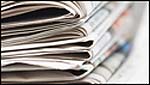 Today's Irish headlines
We comb the newspapers and web sites to find news to start your day with a positive spin. In this section you will also find links to stories from the past two weeks as well as links to the major Irish newspapers, the current time in Ireland and a link to the weather forecast.
I know, I'm late with this. I'm posting it anyway so you will know what you missed and, perhaps, you won't miss it next year. Joy be to you all.
—Russ

Puck Fair - one of Ireland's oldest festivals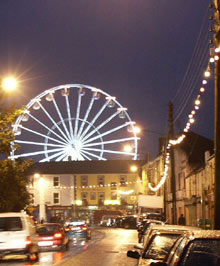 by Bridget Haggerty
While at one time it was notorious for drinking, with the pubs open round-the-clock for three days and nights, nowadays, Puck Fair is famous for meeting up with old friends, forging new friendships and putting the cares of everyday living on hold. But how did it all get started? Nobody knows the exact origins, but it 's said to date to medieval times - or perhaps even before then.
King Puck
The most widely mentioned story relating to the origin of King Puck, associates him with the English Ironside Leader Oliver Cromwell. It is said that while the Roundheads were pillaging the countryside at the foot of the McGillycuddy Reeks, they routed a herd of goats grazing on the upland. The animals took flight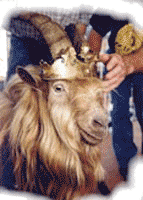 before the raiders, and the he-goat or "Puck" broke away on his own and lost contact with the herd. While the others headed for the mountains he went towards Cill Orglain (Killorglin) on the banks of the Laune. His arrival there in a state of semi exhaustion alerted the inhabitants of the approaching danger and they immediately set about protecting themselves and their stock. It is said that in recognition of the service rendered by the goat, the people decided to institute a special festival in his honour and this festival has been held ever since.
[Continue]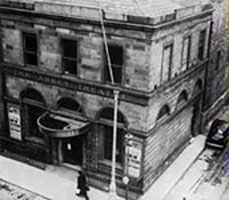 Irish Landmarks:The Abbey Theatre
by Bridget Haggerty
Led by W.B. Yeats, a group of prominent figures in Irish literature came together with the intention of championing, promoting and preserving the works of Irish-born playwrights. It's thanks to Yeats, Lady Augusta Gregory, J.M. Synge and George Russell that many of the most memorable plays of all time are still being enjoyed by theater-goers all over the world.
The group met in 1903 and founded the Irish National Theatre Society. Then, in 1904, with the assistance of a subsidy from Miss Annie Horniman and free use of a theater on Old Abbey Street, the Abbey Theater opened its doors for the first time on December 27th.
[Continue]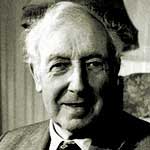 A Tribute to Jimmy Kennedy
by Bridget Haggerty
Most Irish people think he was American. Most Americans think he was American. To set the record straight, this is a brief tribute to the man from Omagh, Co. Tyrone who wrote
Red Sails in The Sunset
and many other favorite standards. One of the most successful songwriters of all time, he had more hits in the USA than anyone until Lennon and McCartney.
Just about everyone is familiar with Jimmy Kennedy's lyrics, but very few people have ever heard of him and even fewer know that
Red Sails in the Sunset
was inspired by a beautiful summer evening in Portstewart, which is located on Northern Ireland's famous Causeway Coast. As for
South of the Border
- another of his popular songs - that one came about when he either received or sent a holiday picture postcard from Tijuana, Mexico - we're not sure which.
Jimmy was born on July 20, 1902 and by his own reckoning, he wrote 2,000 songs. Of these, 200 became world hits, while 50 became what are known as "evergreens", i.e. all-time popular classics.
[Continue]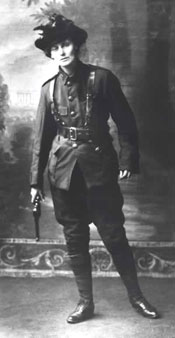 Constance Georgina de Markievicz: Suffragette, Socialist, Soldier
by Joe McGowan
"How can I voice my grief
For the patriot dead?
Sorrow and tears are often brief,
Though many will be shed —
Not alone in Lissadell
But around the peopled earth,
Wherever Irish exiles dwell
Or freedom struggles to have birth."
Dr. James P. Gallagher
Who was this woman with the unpronounceable surname, whose name and deeds blazed across the Irish skies in the momentous years of the early 20th century? From what noble Gaelic stock was she sprung? Surely her family pedigree must rank among the finest of the old Gaelic aristocracy, be as eminent as the O'Neill or the O'Donnell, as proud as the O'Connor or the O'Dowd!
Most rebels are made so by poverty and oppression. Constance Georgina Gore-Booth, for that was her maiden name, came not from such a background, but from a Protestant 'planter' family. This eldest daughter of Anglo-Irish landlord Sir Henry Gore-Booth, and his wife, Lady Georgina, was born on February 4 th 1868 at Buckingham Gate, close by the Royal Palace in London.
[Continue]
The Irish Kitchen: Uisce Beatha - The Water of Life!
by Bridget Haggerty


Whether it's a wedding or a wake, what Irish celebration would be complete without "uisce beatha" or the water of life - Irish whiskey!

As a child growing up in London of Irish parents, I remember that my mother always had "a drop" in the house, just in case our parish priest paid us a visit. My dad wasn't allowed to touch it, unless it was a very special occasion, as in toasting a newborn at the christening reception. At other times, such as Christmas, he'd drink Guinness - never the whiskey. This was true of many Irish households - the man would do his drinking at the pub and the priest would do his drinking in private, as would be the case in wealthier homes where whiskey was considered a lot more respectable than either wine or stout.

[Continue]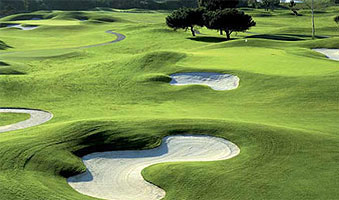 Basic Irish: Golf

Ever played golf in Ireland? It's no idle boast that the Emerald Isle has some of the most picturesque courses in the world. And they're challenging as well. Which is why movie stars like Mike Douglas fly in from the states just to play a round. In this week's lesson, Aideen offers words and phrases related to what one wag described as the greatest excuse for a walk. We especially like the phrase for Golf Club - as in the one you might belong to - sounds suspiciously close to Come and Golf!

[Continue]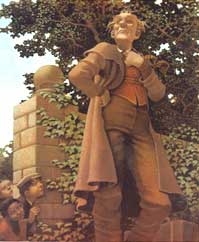 Kids' Ireland: The Selfish Giant
by Oscar Wilde
Oscar Wilde's classic children's tale about how a selfish giant's life is transformed by the arrival of a special child who teaches him about love and friendship

Every afternoon, as they were coming from school, the children used to go and play in the Giant's garden.

It was a large lovely garden, with soft green grass. Here and there over the grass stood beautiful flowers like stars, and there were twelve peach trees that in the springtime broke out into delicate blossoms of pink and pearl, and in autumn bore rich fruit. The birds sat on the trees and sang so sweetly that the children used to stop their games in order to listen to them. "How happy we are here!" they cried to each other.

[Continue]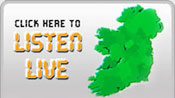 Live Music from Mayo

A link to the internet service from Midwest Radio out of Mayo. Broadcasting from their state of the art studios; Midwest Irish Radio plays nothing but the best Irish music. No matter where you are in the world, you are never too far from Ireland when you listen in.
Click here for: Irish Midwest radio.



Shop for the best of Irish products from the comfort of your home

We combed the internet to find reliable resources for the most popular Irish products: Aran Isle sweaters, Guinness glasses, Waterford Crystal, genuine blackthorn walking sticks, the flag of the Republic and more. Some of these shops have become friends; others we trust from their reputations and some offer products that are completely unique. We hope you enjoy browsing through what's on offer and we are confident you will find gifts for any occasion or person, all with an Irish flair.



---
Authentic Irish clothing from Aran Sweaters Direct

---
Graduate students use Dissertation Geek - the best thesis writing company.
Math homework problems? Visit mathprepa.com for free help.
---