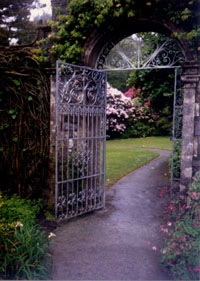 Fáilte
Welcome to Irish Culture and Customs, a labor of love we began several years ago. What started as a surprise milestone birthday trip to Ireland became the beginning of a journey through time. A 2,000-year voyage on a quest to learn as much as we can about everything Irish. So here's where we are so far - more than 700 pages that range from Irish poetry, superstitions , Kids Stories and recipes to specific Irish calendar celebrations such as St. Patrick's Day , Beltane, Samhain and the Feast of St. Brigid. Whether it's an Irish symbol such as the shillelagh, the Shamrock and the Book of Kells or an Irish craft like Aran Isle knitting, you'll discover a wide range of topics in our index. We hope you find the little bit of Ireland you may be looking for and we encourage you to share what you discover with your loved ones on your family website, blog, or social network.



---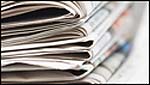 Today's Irish headlines
We comb the newspapers and web sites to find news to start your day with a positive spin. In this section you will also find links to stories from the past two weeks as well as links to the major Irish newspapers, the current time in Ireland and a link to the weather forecast.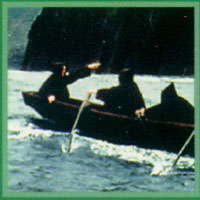 St. Brendan,The Navigator
by Bridget Haggerty
Also known as Brandan and Borodon, Brendan was born about 484 A.D. near Tralee in County Kerry. He was ordained by Bishop Erc and sailed around northwest Europe spreading the Christian faith and founding monasteries — the largest at Clonfert, County Galway. Legend says that the community had at least three thousand monks — their rule dictated to Brendan by an angel. He died at the age of 93 and he was buried at the monastery in 577 A.D.
Brendan and his brothers figure prominently in
Brendan's Voyage
, a tale of monks travelling the high seas of the Atlantic, evangelizing to the islands, and possibly reaching the Americas in the 6th century. At one point they stop on a small island, celebrate Easter Mass, light a fire - and then discover the island is an enormous whale!
[Continue]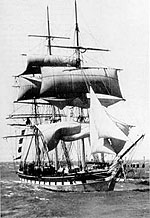 Irish Australian & looking for your ancestors?
by Bridget Haggerty

A very hot topic in Australia at the moment is where did you come from? According to the most recent census, there are almost 2m people living in Australia who claim Irish ancestry and Irish-Australians form the second largest migrant group after the English. If you are one of the many Australians who are proud of your irish roots, no doubt you are interested in how your family came to live in the land down under. Basically, the history of the Irish in Australia can be divided into two distinct groups - forced transport and subsidized travel.
Forced transport

It's a well known fact that many of the Irish who first went to Australia didn't go of their own free will. In the early nineteenth century, Britain embarked on a social engineering scheme that saw Australia become the first colony to build a society on the labour of convicted felons. About 50,000 of them were Irish men, women and juveniles who were sentenced to transportation for crimes that in the majority of cases were minor - petty theft being the most common.
[Continue]
May - the month of mirth and merriment!
by Bridget Haggerty
When I was a little girl, we collected flowers on the day before May 1st and made little posies for the neighbors. While my mother usually didn't allow us to pick her flowers, for this special occasion, she'd allow us to augment our collection of wild blossoms with a few from her garden. So, joining the buttercups, daisies, ground violets, dandelions and sprigs of pussy-willow, would be a few precious pansies, primroses or other spring blooms.
We carefully divided our collection into several small bunches and tied each one with a ribbon. Then, very early on May Day, we made our deliveries. The idea was to make it a surprise. So, we knocked on the door, left the flowers on the doorstep and hid. I can still see the looks of delight, especially on the faces of our elderly Irish neighbors. With this one small gesture, it was likely they would have been reminded of May mornings in Ireland, long ago.
[Continue]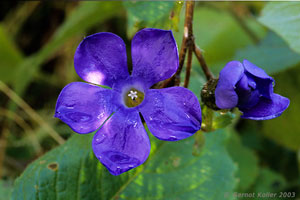 The May Day Dew - Should you roll naked in it?
by Bridget Haggerty
The plainest girl will be beautiful if she rises early on May Day and bathes her face in morning dew at sunrise. So goes the old Irish saying...
If she was daring enough to undress and roll naked, she was given great beauty of person; the dew was also believed to bring immunity to freckles, sunburn, chapping, and wrinkles during the coming year. It cured or prevented headaches, skin ailments and sore eyes and, if applied to the eyes, it ensured that its user rose every morning clear-eyed, alert and refreshed, even after a very short sleep.
[Continue]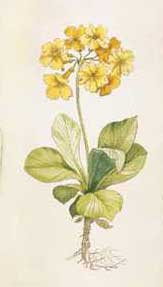 How to prevent Mayhem...
by Bridget Haggerty
In old Ireland, it was believed that the 'good people' moved their place of residence between sundown on May Eve and dawn the next day. With supposed legions of spirit folk on the move, it was also thought that magic, both for good and evil, was at its most effective at this time of year - some even venturing to say it was even stronger than at Halloween.
Which is why there are countless superstitions and customs associated with Beltane, the second of the four major festivals in the Celtic calendar. By the way - you will never see this writer refer to the inhabitants of Ireland's spirit world as 'the little people.' The proper name is 'good people'. According to all of the old stories, they loathe the term that is so often used to describe them - and it's with a little fear and trepidation I even write it here. For, while they wish to be known as 'good people', it's a well-known fact that they love to play tricks — and this time of year is one of their favorite occasions for mischief-making. So, how to prevent mayhem wrought by the fairy folk?
[Continue]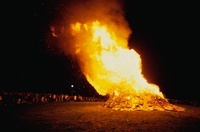 Beltane Bonfires and Nettle Soup
by Bridget Haggerty
Oh, to have been in Ireland a few hundred years ago at this time. The most dramatic part of the Beltane celebration was the community bonfire. People would gather around it, often bringing chairs or stools in order to "sit out the wake of winter." The best singers and musicians in the crowd would perform and there was always joyous dancing, often until the wee hours.
The fire was usually lit on May Eve - fed by whatever a village could spare - and was kept going until sunset on May 1st. In general, most people extinguished all fires in their homes on May eve. And, it was considered incredibly unlucky to even light a cigarette or candle and take it beyond the front door. In keeping with the old ways, "new fire" had to be brought back to the house from the Beltane flames.
[Continue]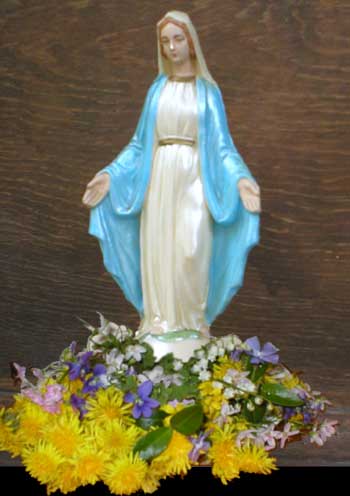 The Bright Flames of May
by Cormac MacConnell
It was a May Day that I remember well, a long time ago now, and I was wearing a pair of short trousers and the warm wood of the First Class desk was warm against the backs of my thighs and the Mahon twins were standing in front of the teacher, Miss Rooney. Oona was in floods of tears. Hughie was defiant, arms folded across his small gansied chest, but the tears were not too far away either. In between huge sucking kind of sobs Oona was looking deeply into her mother's cloth shopping bag.
To me it seemed to be filled with wadded pages of the local newspaper, The Fermanagh Herald, but everybody in the class already knew what was down in there and the terrible thing that had happened ten minutes earlier at Keenan's Cross beside the school.
[Continue]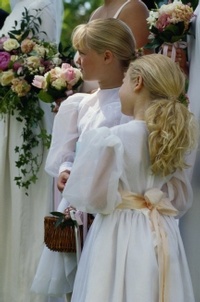 Marry in May and Rue the Day
by Bridget Haggerty
When I told our daughter about this old Irish verse, she changed her wedding date from May to April:
Marry in April if you can, joy for maiden and for man.

I am convinced that if couples make the effort, they can have a totally Irish celebration from beginning to end - even to the pre-wedding parties. There's one quaint custom where the groom was invited to the bride's house right before the wedding and they cooked a goose in his honor. It was called Aitin' the gander and it has to be where we get the expression "his goose is cooked!" We threw one of these dinner parties for our daughter and everyone had a great time. (The apple-potato stuffing has become a family favorite!).
[Continue]


The Irish Kitchen: Recipes in celebration of Spring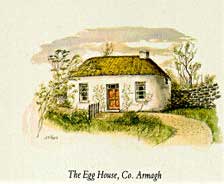 by Hartson Dowd
Once I've found the first snowdrop under the Rhododendron bushes surrounding the pond, I know that spring is around the corner. The approach of spring promises new vegetables and fruits. Fresh green watercress and tender nettles and sorrel appear.
The start of the year in Ireland's rural calendar is Imbolc - February 1 - the beginning of spring. It is the start of the first stirrings of life beneath the earth, and it was said that on St. Brigid's day, the saint placed her foot in the water and warmed it, giving rise to the belief that from that time on, the weather should improve, spring plowing could begin and milk and butter production would increase.
[Continue]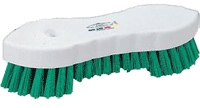 Basic Irish: - Spring Cleaning
We now have a lesson with appropriate words for all those chores we love to hate. As always, we are indebted to Aideen, our native speaker, for translations and pronunciations; and also for correcting us when we make a faux pas as in the word 'immaculate'. In Ireland this is reserved for the Blessed Virgin. So, she insists that we settle for spotless!
[Continue]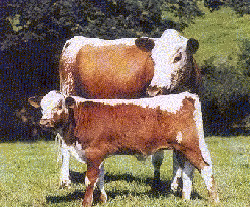 Kids' Ireland: The Bewitched Kerry Cow
by Bridget Haggerty, edited and adapted from a story by Miss Latitia Maclintock
Not far from Rathmullen, in county Donegal lived a family called Hanlon and in a farm-house, some fields distant, people named Dogherty. Both families had good cows, but the Hanlons were fortunate in possessing a Kerry cow that gave more milk and yellower butter than the others.
Grace Dogherty, a beautiful young girl, who was more admired than loved in the neighbourhood, took much interest in the Kerry cow, and appeared one night at Mrs. Hanlon's door with the modest request:
"Will you let me milk your Kerry cow?"
[Continue]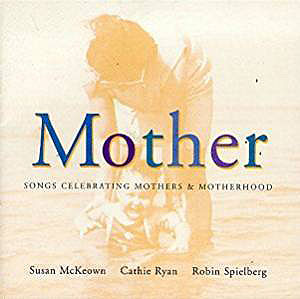 Celtic Music for Mother's Day
by Kerry Dexter

In Ireland, Mothers' Day is traditionally celebrated on the fourth Sunday in Lent, which means it falls in March or April. In the Irish diaspora, though, in places such as the United States, Canada, and points beyond, it is often marked in the second Sunday in May. If you'd like a bit of music to go along, give a listen.
Susan McKeown, Robin Spielberg, and Cathie Ryan each brought different experiences as mothers, daughters, and musicians to the project they ended up calling Mother: Songs Celebrating Mothers & Motherhood. From these varied lives they selected and created music and combined voices and instruments in ways that honor Celtic tradition and reach beyond it as well.
[Continue]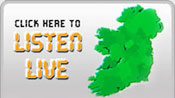 Live Music from Mayo
A link to the internet service from Midwest Radio out of Mayo. Broadcasting from their state of the art studios; Midwest Irish Radio plays nothing but the best Irish music. No matter where you are in the world, you are never too far from Ireland when you listen in.
Click here for:
Irish Midwest radio
.
Shop for the best of Irish products from the comfort of your home
We combed the internet to find reliable resources for the most popular Irish products: Aran Isle sweaters, Guinness glasses, Waterford Crystal, genuine blackthorn walking sticks, the flag of the Republic and more. Some of these shops have become friends; others we trust from their reputations and some offer products that are completely unique. We hope you enjoy browsing through what's on offer and we are confident you will find gifts for any occasion or person, all with an Irish flair.
---
Authentic Irish clothing from Aran Sweaters Direct

---
Graduate students use Dissertation Geek - the best thesis writing company.
Math homework problems? Visit mathprepa.com for free help.
---