Green is significant to Ireland and the Irish. More so than any other country. But in today's world it has become significant to every country on the planet. Even my youngest son has started a small company called Green Streets. Its purpose is to provide ways to manage water. Governments and even large private Institutions are doing much but it still comes down to each and every one of us. What we do for ourselves improves all of us. We can help the environment and save money at the same time. So... I present here a page of resources to give us guidance and information to help us do just that. Please click Green Home Resources and I hope you will find what you need.

—Russ

---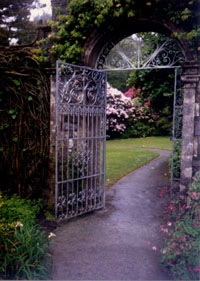 Fáilte
Welcome to Irish Culture and Customs, a labor of love we began several years ago. What started as a surprise milestone birthday trip to Ireland became the beginning of a journey through time. A 2,000-year voyage on a quest to learn as much as we can about everything Irish. So here's where we are so far - more than 700 pages that range from Irish poetry, superstitions , Kids Stories and recipes to specific Irish calendar celebrations such as St. Patrick's Day , Beltane, Samhain and the Feast of St. Brigid. Whether it's an Irish symbol such as the shillelagh, the Shamrock and the Book of Kells or an Irish craft like Aran Isle knitting, you'll discover a wide range of topics in our index. We hope you find the little bit of Ireland you may be looking for and we encourage you to share what you discover with your loved ones on your family website, blog, or social network.



---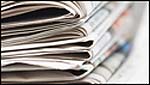 Today's Irish headlines
We comb the newspapers and web sites to find news to start your day with a positive spin. In this section you will also find links to stories from the past two weeks as well as links to the major Irish newspapers, the current time in Ireland and a link to the weather forecast.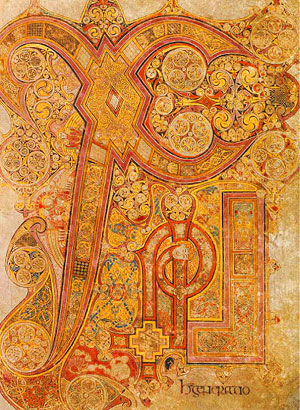 Emblems of Ireland:The Book of Kells
by Michael Carroll
Almost as synonymous with the Emerald Isle as St. Patrick and the Shamrock, The Book of Kells is probably the most famous example of medieval illumination and calligraphy still in existence. Guest author, Michael Carroll, has uncovered some fascinating facts about this national treasure. For example, did you know that the book was written and decorated not by one hand, but several?
Scholars have detected the work of at least three different artists, who may or may not have been the calligraphers as well. Subtle variation in the lettering reveals something of the personality of each individual scribe. One seems to have preferred rounded letterforms written in a dignified hand, while another left evidence of his extroverted nature in his use of brilliant red ink and flamboyant pen flourishes.
[Continue]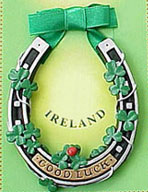 God Between us and All Harm - Irish Superstitions
by Bridget Haggerty
In all my years, I've never met a more superstitious person than my Dublin-born mother, Lena O'Flaherty. It was bad luck to put shoes on a table or chair, place a bed facing the door, bring lilac into the house, cut your fingernails on Sunday, give a knife as a gift, or wear green - except for a bit of Shamrock or ribbon on St. Patrick's Day.
My mother grew up in a land that's renowned for its belief in superstitions, and while Ireland has become a very modern country, it's safe to say that many of her inhabitants, as well those of Irish descent living elsewhere, still throw spilled salt over their right shoulder or worry about seven years bad luck if they break a mirror. No doubt, you can add a dozen more to your own personal list, but we're going to relate some odd ones you may never have heard of before.
[Continue]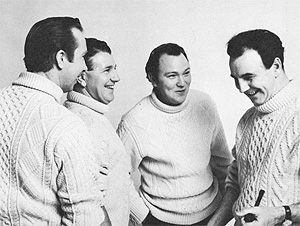 Aran knitwear - From plain and practical socks to one of Ireland's most popular souvenirs
by Bridget Haggerty
I first saw a traditional Aran sweater when I watched the Clancy Brothers & Tommy Makem perform on the Ed Sullivan show - a popular TV program in the United States. What I didn't know back then was that when the three brothers became professional and very popular folk singers – along with their countryman, the great Tommy Makem – their mother, worrying about her boys' health in the freezing New York winters, sent them the thick sweaters which became their trademark. Almost overnight, the sweaters were in high demand. According to Liam Clancy, after their performance on the show, sales of Aran sweaters rose by 700%. During the 1960s, even with all available knitters recruited from the three Aran islands and from other parts of Ireland, there was difficulty in fulfilling orders from around the world.
What the Clancy Brother's mother had sent her boys was a unique knitwear style in the traditional white báinín colour - pronounced bawneen. The Aran jumper, as the word sweater is known in Ireland, takes its name from the Aran Islands off the west coast of Ireland. Originally, the sweaters were knitted using unscoured wool that retained its natural oils (lanolin) which made the garments water-resistant and meant they remained wearable even when wet. Nowadays the lanolin is generally removed, but it was this waxy substance secreted by sheep that gave the sweater its all-weather versatility and the perfect garment for island farmers and fishermen who had to brave the elements.
[Continue]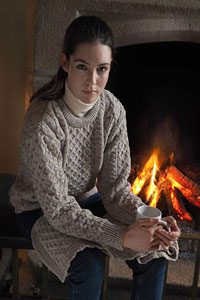 Aran Isle Sweaters - how a dropped stitch gave rise to a popular myth
by Bridget Haggerty
From Clifden to Cork, it was the same response - no-one seemed to know anything about an Aran sweater in the O'Flaherty pattern. We even asked a professional knitter who was giving demonstrations at Blarney Woolen Mills in Cork. I can still see her, atop a dais, where she expertly turned out the classic stitches of the isles. And, just as expertly, thwarted my efforts to locate the elusive sweater.
Before going to Ireland on our last trip, I had read an article about the Aran Isles in the National Geographic. I was transfixed by the story that garments for husbands and sons were knit in a special family pattern so that in the event a man was lost at sea, if and when his body was found, he could be identified by the sweater on his back. Even a trusted authority, Anthony Bluett, writes in his book "Things Irish" that ..."a particular design could identify a given family, just as tartans were used for the various clans of Scotland."
[Continue]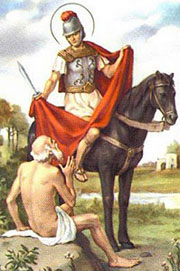 Irish Celebrations - The Feast of St. Martin
by Bridget Haggerty
A legend from Co. Wexford says that the fishing boats were out on the morning of one November 11th, when an apparition of St Martin was seen walking on the waves. He admonished them to put their oars into the water and return to their harbors. All those who ignored his warning perished in a storm that came up in the afternoon. Since then, no Wexford boat would put out to sea on St. Martin's Day.
It was also the custom in Wexford on November 11th, that if a sheep or goat was ill and seemed likely to die, the farmer would put a slit in one ear and devote the animal to the saint. If it recovered, it would be killed and eaten on a future St. Martin's Day. It would not be sold in the interim - not even for ten times its value.
In the brief history that follows, you'll discover that St. Martin is the patron saint of France. So, how did he come to be so loved by the Irish? In my research, I was surprised to learn that St. Martin is the uncle of St. Patrick and that he was the one who gave Ireland's patron saint his monastic habit and his tonsure.
[Continue]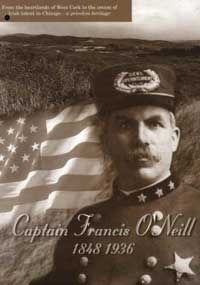 Francis O'Neill - The Man Who Saved Our Music
by Bridget Haggerty
He was an Irish immigrant; a Chicago cop; an author; a scholar; a husband, and the father of ten children. He was also responsible for the gathering and publication of the largest collection of traditional Irish music ever assembled. His name was Francis O'Neill, and while he's greatly admired in the world of traditional Irish music, he has remained an obscure figure to the general public. In the interest of the 3,500 Irish songs he saved for posterity, it's time to make amends.
Francis O'Neill was the youngest of seven children. He was born in the year 1848, in Tralibane, County Cork. It was the last year of Ireland's Great Hunger. When he was 16, he ended up at sea. In our research we found one account that said he had an opportunity to become a teacher. In another, he was given a letter of introduction to the local bishop and his family sent him off to become a priest. Whatever the truth, other yearnings pulled him in an altogether different direction from either teacher or priest. He ran away and became a cabin boy on an English merchant vessel.
[Continue]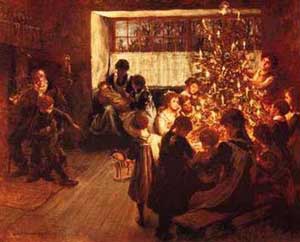 Holiday Trims from The Irish Kitchen
Contributed by Hartson Dowd
For many of us, Christmas means a return to the family homestead and the cheer of Grandmother's kitchen. Her tree and home were garnished with apple wreaths, candied citrus peels, and popcorn garlands. These customs she brought from her mother's home in Ireland. We continue the tradition in ours.
When our children were small, we decorated a spruce tree near our front porch. The tree was young then (like us) and we could reach it with a step ladder. We used popcorn and cranberries with a scattering of other fruits. My memory tells me we added some nuts for the squirrels. It was a treat to watch the birds enjoying their Christmas tree as much as we enjoyed ours.
- Bridget & Russ

[Continue]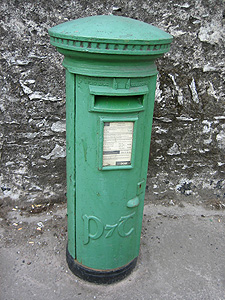 Basic Irish: Post/Mailing and Shipping
In England, the Royal Mail delivers the post. In the USA, the United States Post Office delivers the mail. In Ireland, there is no confusion - customarily, the word mail isn't used at all.
Phrase: The Post (Postal Service)
Irish: An Post
Pronunciation: on pussth
[Continue]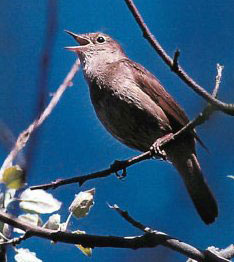 Kids' Ireland: The Nightingale and the Rose
Edited and adapted by Bridget Haggerty from a story by Oscar Wilde.
Oscar Wilde was both unhappy and unlucky in love and this had a great influence on his work. This beautiful story is from his collection of fairy tales for children. But it has such a sad ending that we thought young readers might enjoy it more if it ended on a happier note.


It was winter. The student leaned on his elbows and stared out through the window on a garden that was bereft of flower, leaf or fern.
"She said she would dance with me if I brought her a red rose" cried the student; "but in all my garden there is no red rose."
From her nest in in the old oak tree the Nightingale heard him, and she looked out through the branches, and wondered.
[Continue]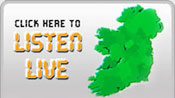 Live Music from Mayo
A link to the internet service from Midwest Radio out of Mayo. Broadcasting from their state of the art studios; Midwest Irish Radio plays nothing but the best Irish music. No matter where you are in the world, you are never too far from Ireland when you listen in.
Click here for:
Irish Midwest radio
.
Shop for the best of Irish products from the comfort of your home
We combed the internet to find reliable resources for the most popular Irish products: Aran Isle sweaters, Guinness glasses, Waterford Crystal, genuine blackthorn walking sticks, the flag of the Republic and more. Some of these shops have become friends; others we trust from their reputations and some offer products that are completely unique. We hope you enjoy browsing through what's on offer and we are confident you will find gifts for any occasion or person, all with an Irish flair.
---
Authentic Irish clothing from Aran Sweaters Direct

---
I'm looking for experts to help me do my math problems for college.
Looking for an essay company you can trust? US essay writers is a students favorite writing company.
---