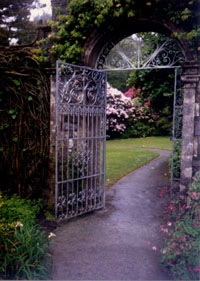 Fáilte
Welcome to Irish Culture and Customs, a labor of love we began several years ago. What started as a surprise milestone birthday trip to Ireland became the beginning of a journey through time. A 2,000-year voyage on a quest to learn as much as we can about everything Irish. So here's where we are so far - more than 700 pages that range from Irish poetry, superstitions , Kids Stories and recipes to specific Irish calendar celebrations such as St. Patrick's Day , Beltane, Samhain and the Feast of St. Brigid. Whether it's an Irish symbol such as the shillelagh, the Shamrock and the Book of Kells or an Irish craft like Aran Isle knitting, you'll discover a wide range of topics in our index. We hope you find the little bit of Ireland you may be looking for and we encourage you to share what you discover with your loved ones on your family website, blog, or social network.





---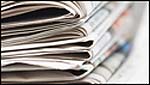 Today's Irish headlines
We comb the newspapers and web sites to find news to start your day with a positive spin. In this section you will also find links to stories from the past two weeks as well as links to the major Irish newspapers, the current time in Ireland and a link to the weather forecast.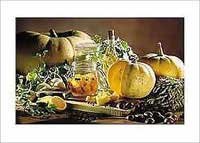 How the Irish invented Hallowe'en
by Brendan Sharkie
The Celts celebrated Hallowe'en as
Samhain, the Feast of the Dead
, when the deceased revisited the mortal world. This Oiche na Sprideanna (Spirit Night) marked the end of summer.
During the 8th century, the Catholic Church designated the first day of November as All Saints Day - all Hallows. Thus All Hallows Eve became Hallowe'en. It was an occasion of family reunion after booleying. (Booley - a milking place). Booleying was a system of moving cattle and sheep to summer pastures on higher ground or distant moorland. Young folk and even whole families left the village after the crops were sown and migrated to the booley area. Small homes were built with turf or sods, or of wicker work, and roofed with branches or heather. A chair or two, the cast iron pot, a creel and a few household items would have been strapped to the donkey's back. The little churn was slung on one side of the animal, into which the youngest child was often thrust, its head being the only part visible.
[Continue]
An Irish Halloween - Part 1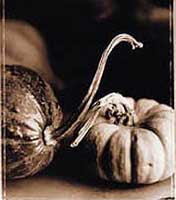 by Bridget Haggerty
Ever since the time of the Druids, many customs and traditions have evolved in celebration of
Samhain
, which is New Year's Day in the Celtic Calendar. When Christianity came to Ireland, the church took a dim view of Druidic festivals and created the vigil of All Soul's Evening, (or All Hallow's Eve) on October 31st, the Feast of All Saints on November 1st, and All Souls Day on November 2nd.
[Continue]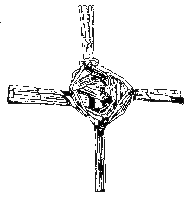 Protect your property and yourself - make a Parshell!
by Bridget Haggerty
The Parshell is a Hallowe'en cross which is customarily woven on October 31st. It is placed over the front door, on the inside of the house, and is believed to help protect against ill-luck, sickness and evil spirits until the following All Hallow's Eve...
A new one was made the next year and the old one moved to another part of the house. Often, the old Parshell was placed in the barn to help protect the livestock. Custom decrees that on taking down the old cross, one must say "Fonstarensheehy." What this means, we have no idea, but we'll try to find out!
In the meantime, here are very simple directions for making a Parshell:
[Continue]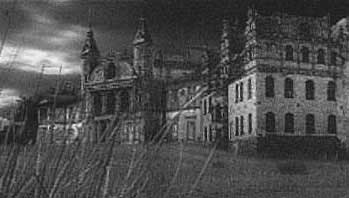 Creepy Irish Castles and Houses
by Bridget Haggerty
Only in Ireland will you hear terrifying tales of shots still being heard in the execution yard of St. John's Castle in Co. Limerick; of a Cistercian monastery and graveyard where a strange ball of fire is sometimes seen; of Cuffesborough House with its phantom horse; of Castleboro House where Lady Carew still tries to rescue her needlepoint from fire; and then, there's Aughanure, where the Hangman Hempenstall still walks, and let's not overlook Mullingar and Lord Belvedere's "jealous wall"....
[Continue]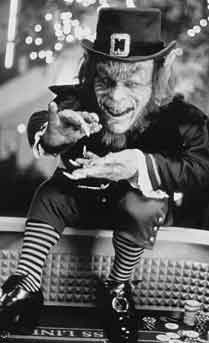 Creepy Irish Creatures
by Bridget Haggerty
The lore of supernatural beings in Ireland is unlike that of the rest of Europe in one very important respect: spirit powers in the Emerald Isle have been endowed with names and personalities.
Of all the unearthly phenomena associated with Erin, two of the most famous are the
Leprechaun
and the Banshee. Always solitary, it is erroneous to ever consider a company of Leprechauns, or a group of Banshees. However, according to folklore, the Leprechaun was once part of a community called "Luchor-pan or the wee bodies. Over time, the name became corrupted and this corruption gave rise to the notion that "brog " or shoe was part of the name. Thus, Leprechauns became shoemakers to the Good People, as well as the protector of their treasures. And, for whatever reason, Leprechauns were identified with some very anti-social personality traits, including irascibility, cunning, doubletalk and a liking for their own company.
[Continue]
The Dullahan - Ireland's Headless Horseman
by Bridget Haggerty
It is said that after sunset, on certain festivals and feast days, one of the most terrifying creatures in the spirit world, the Dullahan, can be seen riding a magnificent black stallion across the country side.
Wherever he stops, a mortal dies.
Clad in flowing black robes, the Dullahan has no head on his shoulders. He carries it with him in his hand, and because he is endowed with supernatural sight, he will hold the head up high. This allows him to see great distances, even on the darkest night.
[Continue]
The Irish Kitchen: Barm Brack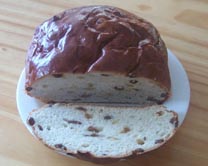 This recipe comes from Aideen, the generous soul who provides the translations and pronunciations for our Irish language pages. Traditionally baked for Hallowe'en, some of the 'lucky' ingredients used and their 'significance' vary from house to house and region to region, so I've given the ones we always used. Two never change - the ring and the coin! Some houses use a pea and a bean for wealth and poverty, a thimble for spinsterhood etc. I have
read
of a religious medal, to forecast a life in Holy Orders, but I can honestly say I can never remember it being used!
[Continue]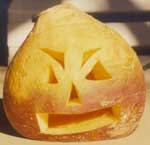 Basic Irish: Halloween and Samhain
It's Trick or Treat in the USA and Help The Hallowe'en Party in Ireland, but wherever you are, this week's lesson focuses on words and phrases associated with the day before the Celtic New Year - Samhain (sow-en).
[Continue]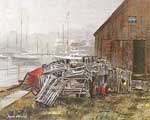 Kids' Ireland: The Soul Traps
by Grainne Rowland
Jack Doogan was a fisherman, just like his father and grandfather before him. Well, not
quite
like his ancestors! For his father and grandfather had been friends with the merfolk. But Jack had never seen a merman or mermaid. And that bothered him mightily!
"Why shouldn't I meet and become friends with the merfolk?" grumbled Jack. "Am I not as good a fisherman as my father? Did I not bring in the biggest salmon in all the history of Co. Donegal? And do I not navigate as well as my grandfather? Haven't I saved many a man from a wet death in the depths by sailing out in raging storms on rescue missions? So why do the merfolk not come to meet me?"
[Continue]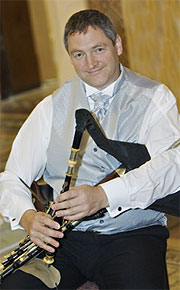 Music Review: Ronan Browne - Truly an artist for all time
by William Ramoutar
It's been a while, but do you remember where you were when you heard the Eurovision interlude put together for the 1994 contest to advertise Dublin and of course the rest of Ireland? Do you remember? Well I have to say it blew this lad off his feet. The phenomenon was of course Riverdance. That was the name of the tune and it grew from a seven minute showcase of the country into three shows travelling the world and but for a few things that have happened since, it has left the world stage. But in my estimation, that is only temporary. They will be back.
You remember it started off with the wonderful a cappella group Anúna with ethereal voices washing over you, then the drums, well at that time tom toms, but shortly after of course it was a few lads with drums that had been designed for the show. Of course then the uilleann pipes opened up and the remarkable Ronan Browne played them with such fire and passion that they were catapulted into the limelight like they never had been before.
[Continue]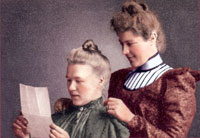 Letters
We receive many lovely letters from visitors to our web site and subscribers to our newsletter. As we're fond of saying, your feedback helps to make all of the time and effort worth while. While we have a Readers Write Page where we post comments from time to time, we've decided to also select a Letter - one that, for whatever reason, tickled our fancy.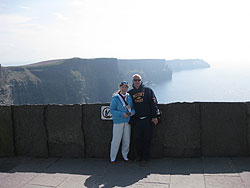 This past spring I went to Ireland with my son and his wife & her family. What a wonderful experience - way too short a time. I would have loved to sit and plan my days in a much more leisurely fashion but what we saw was all too wonderful This was my first time there - did a bit of checking on my grandmother's birth place: Roscommon. I would so love to return.
Thank you for this opportunity to be a part of your wonderful home page. Thank you, too, for "Irish Culture & Customs" - it gives us the chance to know more about Ireland and its people.
Bonnie Hirschler
Photo Caption: This is Bonnie and her son Michael Hirschler at the Cliffs of Moher.
ED. NOTE: When we asked Bonnie to send us a photo, she very kindly sent us two. We choose the one of her and her son at the Cliffs of Moher because it is such an iconic image of Ireland and one that is immediately recognizable. Standing more than 500 feet at the highest point and ranging for for nerly five miles over the Atlantic Ocean, on a clear day one can see the Aran Islands, Galway Bay, as well as The Twelve Pins, the Maum Turk Mountains in Connemara and Loop Head to the South. The cliffs take their name from a ruined promontory fort "Mothar" which was demolished during the Napoleonic wars to make room for a signal tower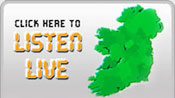 Live Music from Mayo
A link to the internet service from Midwest Radio out of Mayo. Broadcasting from their state of the art studios; Midwest Irish Radio plays nothing but the best Irish music. No matter where you are in the world, you are never too far from Ireland when you listen in.
Click here for:
Irish Midwest radio
.
Shop for the best of Irish products from the comfort of your home
We combed the internet to find reliable resources for the most popular Irish products: Aran Isle sweaters, Guinness glasses, Waterford Crystal, genuine blackthorn walking sticks, the flag of the Republic and more. Some of these shops have become friends; others we trust from their reputations and some offer products that are completely unique. We hope you enjoy browsing through what's on offer and we are confident you will find gifts for any occasion or person, all with an Irish flair.
Notices

Did you get your Newsletter?
We try to send one out once or twice a month. If you aren't receiving it, something is wrong. Let us know and we'll try to solve the problem. Note: subscribers are automatically deleted from the data base if the newsletter bounces back multiple times. Full or disabled mailboxes will also cause a subscription to be cancelled. If you have any questions, please contact
Bridget
.